We all wish and desire to have someone special in our lives -someone to laugh and cry with, to share burdens and successes with, to help and support one another through life's toughest times. More importantly, we want someone to grow old with. Unfortunately, not all relationships end in "happily ever after".    
Many of those who ended up in unwanted pregnancies or separation grow skeptic about falling in love again. They say that their "not-so-good" experience in their previous relationships have brought about certain fears and issues on love. Others, however, were made stronger and even better people by being a single parent. They are those who have risen above the low points, transformed their brokenness into learnings, and enjoyed a second chance at love.   
These 3 women illustrate the blessing of second chances: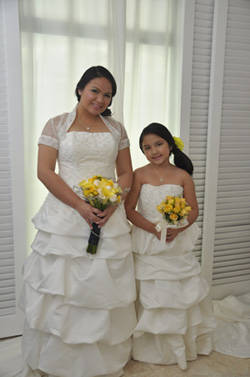 Learning to let go
Ingrid was only 21 years old when she became a single mother. She met her child's father during an event they were both involved in. "Our first year was really sweet.  He introduced me to his family.  He made me feel so important, which led to intimacy because I trusted him so much." 
Later on however, things started to change between them. Ingrid knew there were other women, but she still accepted him nonetheless. Then she discovered that she was pregnant. "The day I found out I was pregnant I was happy and sad at the same time.  Happy, because I thought this will make him change his ways, but then I wasn't really sure."  
Disappointed, her parents asked her to leave their house. She rented a room for herself, while her child's father seldom visited. Her family took her back in when she was seven months pregnant - thanks to her sister – and in December of 2003, she gave birth to a beautiful baby girl.  
Ingrid later got a job offer abroad. She had to leave her daughter behind in the Philippines under the care of her sister. It was also around this time when her daughter's father offered to marry her.  "But I said NO, knowing that he had been unfaithful in the past, and asked him to wait until the right time comes. He was extremely unfaithful when I was around, what more when I'm miles away?" 
After months of working abroad as an Events Manager for a prestigious hotel in Dubai, Ingrid finally realized that she was ready to move on without him.  "I decided to end my relationship with him. My life continued as a proud single-parent!"
She was quite happy being single and had relationships thereafter, but never hid the fact that she has a daughter, which she felt they had to accept. In 2008, Ingrid met Rick, 32, a Civil Engineer, through a Catholic support group for singles in Dubai.  Their friendship grew while serving together in the group's music ministry.  
It wasn't difficult for Rick to accept Ingrid's situation. He himself had a sister who was also a single-parent.  Rick's family accepted Ingrid, even if they have not met her personally at first. "I was so blessed to be in this kind of situation. I firmly believe that God has revealed His plans, His perfect plans for me with Rick, his family, my daughter and my family." 
After two years of being together, they finally decided to get married in August 2011.
However, being an instant family posed new challenges for Ingrid most especially her 8-year old daughter. Since both Ingrid and Rick were based abroad, there really wasn't much opportunity for her daughter and husband to bond together. "My daughter knows her as "Tito Rick", she knows that he is my husband, and she knows that she is our priority. It is difficult to build the relationship between them as "father-daughter" because they are far apart." Ingrid knew in her heart that only time will eventually bridge this gap.  
Rick and Ingrid are now expecting their first child, and Ingrid made sure that her daughter was the first person she told about her pregnancy. Rick, on the other hand, is nervous yet excited. "I trust that he will be a great dad to my daughter and all of our kids." This time, she is looking forward to building the family of her dreams with her husband, daughter and baby.  "I know I am ready as I have the love and support of everyone around me."
"Being a single parent for me is a gift -- a gift which means life is giving me a chance to be someone stronger than what I think of myself, better than I hope I  could ever be, and powerful that I could make decisions that will change my  child's life. Being married, on the other hand, is a bonus."
[previous|page|next]
Sweeter the second time around 
Sugar, 26 years old, was a product of a broken family. She had a difficult life with her father so she left with her mother and siblings and lived in the province. She witnessed how her mother singlehandedly raised them and played the role of both a mother and a father to them. "I told myself that when I grow up I'll find an ideal relationship with someone who will love me thoroughly and exclusively."
She met Von Ryan when she was 20 years old. Sugar didn't actually believe in courtship so things happened so fast between them, and they eventually decided to live in together. "A mistake that led to another mistake", was how Sugar describes this phase of her life.  
At 21, Sugar got pregnant outside marriage.  "It was that time I learned that the man I loved was not really ready for me and our baby."
Sugar was extremely brokenhearted for she really considered him to be the man she hoped to spend the rest of her life with. Her dreams were shattered as Von turned his back away from her and their baby.   But she decided to be strong for her child and continued the pregnancy. 
"I didn't want to have a broken family so I still tried to work things out with him although I knew that he was having an affair with a married woman"  
When things didn't work out between them, Sugar decided to take matters into her own hands, drawing inspiration from her mother who managed to raise them on her own. "My child depends on me so I should move forward and be strong".  
She decided to pursue a job abroad thinking it's the best way to secure her child's future. She left her daughter, who was only four months old at that time, under the care of her family. "It was difficult to be away from my family most especially from my daughter but it was an opportunity for me to heal and assess myself".
For three and a half years, she didn't see her child while working as a Fitness Instructor abroad. She had also lost touch with Von, her daughter's father.      
On her child's 4th birthday, after a long wait, Sugar was finally granted a chance to go back home for ashort vacation. Since she knew that it was a special day for her daughter, she decided to get in touch with her child's father, whom she has never spoken to for almost 4 years."At the back of my mind, it will be a time for us to reconcile and be good friends."
Not knowing what to expect, Sugar met a totally different Von this time. He had given up his 4-year affair and was on his way as well to a better and changed life. During the birthday celebration of their child, which was also her Christening, both Sugar and Von stood before God as parents of their daughter, Samantha. Von realized a lot during the Christening of their daughter, even praying for enlightenment. "Learning that I'd become a woman after God's own heart and loved the woman that I'd become, Von knew in his heart that his prayer has been answered."
Von eventually proposed marriage to Sugar before she went back abroad. "It was a grand surprise, a day I won't forget. He asked for forgiveness for all he's done wrong and thanked me for everything i endured in the past. He asked for another chance."  
Of course, it wasn't easy for Sugar to commit and trust Von again. But she left everything to faith that this time things will be different for they have both grown up to be better people, individually.  
Sugar is now back in the Philippines, starting a small internet business. She and Von are engaged to be married this year.  
"I've realized that I also had my share of mistakes. I should not put the blame on other people. I was blessed to have that personal relationship with God when I surrendered everything to Him.So I stopped planning, stopped wishing and allowed God to bring His thrilling plans for me and my family, one that I cannot even imagine."
[previous|page|next]
Standing firm
Joan was broken hearted when her fiancée of 7years got another woman pregnant. It was while recovering from this experience in her life, that she met a non-Filipino, non-Christian colleague in her workplace. Since Joan felt that she was ready to entertain suitors once again, she got into a relationship with him.  
However, when she became pregnant, she discovered that he was not ready to be a father to their child. He even wanted Joan to abort the baby. Their 3-year relationship did not work out due to their differences in culture, religion and principles.
Joan was firm in keeping the child despite being left on her own, working hard to support her son financially. She was 24 years old at that time. Through this tough situation, she felt that she became more fulfilled, contented and even happier to have a son. "I made the right decision of keeping my son and God has continued blessing me through him."
Then she met Vhan, who is 2 years younger than her, "When he proposed, the first thing I asked him was about me having a child; he said he did not mind it and accepted me entirely."
His family knew Joan was a single parent while they were still friends that's why it wasn't difficult for them to accept her later on when she and Vhan finally got married in 2005.  
Vhan shared a close bond with Joan's son. "They are best-buddies. My husband is so loving and responsible that it's as if he is his real and biological father."
Though Joan and Vhan now have their own son, this didn't change their relationship as a family at all. 
Joan has this to share of her experience as a single mother, "There are moments when we think we are right but it's still better at times to listen to our parents' and friends' advice to avoid mistakes. Be strong! In every trial and burden, there are a lot of good things in store for us. Be grateful and think that being parents is our blessed role in life. Our children are our best gifts so let's treasure our time with them. Let's make it worthwhile, enjoy and love them as much as we could."
Indeed, no matter how tough, how unfortunate, how bad life had been, there are always opportunities for second chances.    
Finally, here are some thoughts from the book, "The Rules of Life":
"If you're revisiting the past because of regrets, then you need to be clear that you can't go back and undo what you've done. If you hang on to guilt, you're only damaging yourself. We've all made bad decisions that have adversely affected people around us that we professed to love but whom we treated disgracefully. What you can do is to resolve not to make such bad decisions again… that we all acknowledge where we messed up and are trying our hardest not to repeat the pattern." 
Hoping for a second chance of falling in love is truly tough. You must first learn to love yourself, let go of your hurts and be the best version of yourself. Once you have loved the person within you, other people will also learn to appreciate the person that you can be.


Credits: 
Ingrid Reyes-Iballar
Sugar Abigail Dela Paz
Joan Baraquia-Calderon


Main photo by Marco Bonito - O informivoro via flickr creative commons