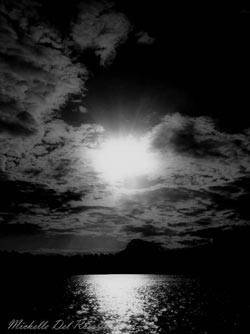 Death. This may be a hard read for most of you. Such is the irony of living in this culture and these times.  This is often a taboo subject when dealing with children, for reasons ranging from an exchange of fear:  that kids may be afraid of many things associated with life; to extremes such as superstition or just plain nonchalance and a general belief that they will find out "in due time".

Like most all of you, I have lost family members and friends. Some who have passed on naturally, and some who were just too young to go. As an adult, we are very conscious that this is indeed something dismal, sometimes even depressing.  We seek consolation, we express ourselves through tears and conversation and sometimes decide to remain silent for a time. But consider this, if we, with knowing minds cope up with these occurrences, what about those that are not yet equipped with enough emotional control and have overly imaginative minds? This is where our role as parents comes in to play.  
 
To most everyone, the termination of life is a negative force. I agree that most aspects of it do not make for a positive experience, but it in end, it does not have to be so bleak. After all, it is a part of existence, a cycle.


According to the late, renowned psychiatrist Dr. Elisabeth Kubler-Ross, grief comes in five stages:  
1. Denial
2. Anger
3. Bargaining (in thought)
4. Depression
5. Acceptance

This is from a personal, human standpoint.  But in a general overview of the world, evolution and society, death happens, and life begins anew. So after the final stage of acceptance, given that you adhere to Dr. Kubler-Ross' philosophy: Death happens. Life goes on.


Age-Appropriate Ways to Introduce to Your Child the Concept of Death
Since our children are much too young to deal with this at a philosophical level, there are ways to open their minds towards the cycle. No pressure needed, however; it is much better if discussed before a passing occurs, whether it be a relative or a pet.
Click here to read more about age-appropriate ways to introduce to your child the concept of death.
[previous|page|next]
Read more about age-appropriate ways to introduce to your child the concept of death.
You can start the topic by opening books or websites with tasteful and positive looking pictures of cemeteries or heroes' memorials and the like, but do avoid mediums like the news, as images and stories tend to be overtly gruesome or difficult to understand. This is not a one time thing.  Kids need time to attune to the idea, so gradually introduce it and be prepared to calmly and factually explain things and answer questions over and over again.
 
1. From ages 3 to 6, a child has no concept of the permanence of death. They may think that the deceased may return, or will awaken. Those who are more aware may jump to most outlandish conclusions: "If somebody dies of a heart attack, and if I get a boo-boo near where my heart is, I am having a heart attack and I will die". Funny for us, serious for them.  

We must be cautious yet firm when explaining everything.  We should not use euphemisms such as "passed away, sleeping nor gone to the province" as they will be taken in a literal context. Religious or not, you must explain the biological fact that creatures die, without getting into much detail.

You can tell them that the person's body is not "working anymore" and that doctors tried their best but they could not fix it. There will be much confusion and many questions such as "Will I die too?" or "When will you die?"  The only way to allow a child to develop a realistic attitude towards death is to keep answering his or her questions the best way you can. If you don't know the answer, be truthful. Give your child a hug and say "I'm sorry, I really don't know the answer. Maybe someday I will, maybe I won't, but I'm here for you".


2. From 6 to 9, it's in the extremes. A child can sometimes grasp the entire concept or be completely confused to the point of believing that he or she caused it by wishing it so. Like if an uncle passes away, they may revert to that one day that said uncle had scolded them and they wished they were dead. Also, they may believe that death is contagious, or something that can happen at the will of someone else.   Correct these ideas by talking them through, reading age appropriate books to them about the subject, and encourage them to express their feelings through art or writing.  
Click here to read more about age-appropriate ways to introduce to your child the concept of death.
[previous|page|next]
Read more about age-appropriate ways to introduce to your child the concept of death.


3. At 9 to 12, most all understand, but some believe that only "bad" people die, and thus render them afraid to do anything because it may be a "bad" thing. This behavior will discourage healthy exploration and learning, again, talking is the key. Realize and respect that a child may choose to be silent for a while at this stage.
 
Be particularly careful when interpreting death alongside religion. Words like "Your friend who died in an accident went to Baby Jesus" might cause confusion. He or she may think negatively about your faith in general. It is also a good thing to accompany your child to your priest, pastor or imam about death and your faith.
 
We must be aware that all children express all feelings differently. We should make sure that these manifestations are encouraged, and watch out for destructive behavior. However, when the topic of death is lovingly explained to them early, their views will be much more positive. Also, no matter what you believe in, and especially these days that we remember those that have gone, take heart in this ancient African saying…"Nobody is truly dead, until they are forgotten".
 
So it may sound odd, twisted and distorted in many ways, but may you have an enjoyable weekend of loving memories. May you and your family get together, talk and recall all the good things that your loved ones who have passed have done, and all the great memories they have brought. Remember also those who have fought for our freedom, our national heroes and soldiers, and the inordinate things that they have accomplished so that we can live our lives in independence.   
 
Death is one thing, but to treasure a life one has lived is not only honorable to those that are not with us, but to ourselves and our children.
Photography by Michelle Del Rosario