The 10 Roles a Father Plays in his Child's Life

Real dads tell us what they consider their roles are in their children's lives.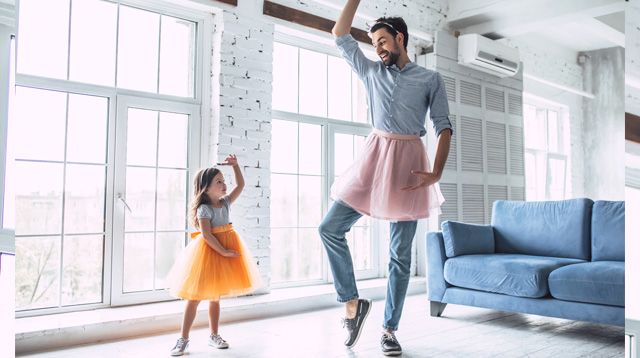 Kung gusto mong basahin ang nakasulat dito sa Tagalog, mag-click lamang dito.

When one talks about parenting, one cannot dismiss the important role that fathers have to play in raising a child. Although a mother's love is undoubtedly irreplaceable, children need their fathers to develop healthily, too.

A study done by researchers at the University of Maryland School of Medicine in Baltimore found that "children who have fathers in their lives learn better, have higher self-esteem and show fewer signs of depression than children without fathers." It was also seen that children who "perceive their fathers as supportive feel a greater sense of social acceptance and show fewer signs of depression."

Dr. Stephen F. Duncan, Ph.D., in an article he wrote for the Montana State University Extension Service titled "The Importance of Fathers," says, "Father involvement makes a real difference, whether in the areas of intellectual development, sex-role development, or psychological development. Most kids do better when their relationship with Dad is close and warm, and when Dad lives with them."

Undoubtedly then, fathers have important roles to play in their children's lives. Here are 10 of them:

1. Priest
For Francis A Buenaventura, MYP Language B Teacher and Learning Support Teacher at the Beacon School, Taguig City, his roles in his kids' (Patricia, 13; Freedom, 7; Miguel, 6; and Fides, 7 months old) lives are crystal clear.

"As much as I can, I make sure we are a family that lives according to the commandments and will of God," Francis explains. "This helps us all be more attuned to God's love for us.  "On a deeper level, this role gives me the chance and opportunity to simply direct my children's lives towards God, especially during their growing up years."

Meanwhile, Ramon F. Santiago, an independent financial broker under the International Marketing Academy and a trainer at the Wealth Academy, and father of four grown children, draws from his 37 years of parenting experience to share his thoughts on a father's role.

"God has given the father a very special and unique role in the family," says Ramon, who is also an active leader in his Catholic lay community, Couples for Christ. Ramon explains that the family is like a domestic church, and a father has an important role to play in the spiritual life of the family. "He has to lead the family in prayer such as before and after meals, blessing of the children before they go to school or work, and the sharing of God's word."

2. Protector  
Francis says, "I feel this is innate among fathers all over the world. I'm not being sexist but I've observed that men must be sensitive even to the simplest security issues that concern our lives," he says. "Protection doesn't just involve physical safety but also emotional security, financial security and others.

As for Ramon, he believes that fathers must not only protect their children physically from any danger or harm, but also protect them morally and spiritually. "Studies have shown that many of the problems in society today, such as learning disabilities, emotional, behavioral and psychological problems that lead to juvenile delinquency, pre-marital sex; drugs and crime; are the result of growing up without a father due to broken marriages. There are so many forces in the world today that attack and erode family life and values."

ADVERTISEMENT - CONTINUE READING BELOW

3. Provider
"I've always felt that being a provider is not and should not be a culturally-driven role for fathers. Providing for one's family is part of the promise a man makes on his wedding day," Francis emphasizes.

For his part, Ramon says the father not only provides for the spiritual needs of the family but also its material and emotional needs, so he is responsible for having a means of livelihood that will support these needs.

"Together with his wife, he must teach their children how to live within their means, and at the same time demonstrate to his children in practical ways how to be financially responsible and independent," he says.

4. Teacher
Francis also says that he is his children's teacher. "It would be unfair for kids not to learn anything from their fathers. Whether they are learning academic things or they are doing activities at home, children should always be taught by their fathers."

Don Vivas, an HR professional and father of three (Elle, 5; Jill, 3; Kail, 2 months), is also expressive about his role as "Daddy":  "A father opens a child's eyes to the world; through him, his children experience what life is all about and how life should be lived."

Don says he finds it most fulfilling when he fills and expands their minds and hearts and prepares them for life, thus, questions like "Why?" and "What's that Daddy?" are constant questions his two older girls ask.

5. Playmate
Francis is proud to say that he is their kids' playmate. "My kids would always tell their mom that they like it when I'm around because they can play around with me. From flying paper airplanes to playing board games and hide and seek in our small home, I can easily identify myself as their playmate," he beams.

CONTINUE READING BELOW

Recommended Videos

6. Companion
Fathers must also provide time for their families. "A book I read many years ago, entitled 'The Five Key Habits of Smart Dads,' states that children spell out l-o-v-e as t-i-m-e," Ramon shares. "It also says fathers have to 'maximize the big moments in their children's life such as birthdays, recitals, school performances, sports games, parents-children school meetings, church activities of kids, school awards, graduation, engagement.'"

As a grandfather of eight, Ramon also believes that fathers don't stop being involved in their children's lives, even when they already have their own families. "Fathers should spend time helping their children with their children," he adds.

7. Trainer
"Is this how you do it, Daddy?" and "How do you sing that song again?" is something that Don says will be heard over and over again in the Vivas' household.

8. Talent developer
Statements from his daughters like: "I can kick the ball straight to the goal, Daddy!" and "Daddy, I want to play the piano also!" make Don feel extra proud.

9. Procreator
"The father is also a procreator," Ramon says. "Both husband and wife have been given a unique God-given role — to participate in the procreation of children. Thus, the procreative act in marriage is sacred. Sex is not a commodity, and parents have the primary responsibility of teaching their children that sex is a gift from God — something that should be cherished, respected and protected."

10. Servant
Lastly, Ramon believes that the father is the head and servant of the family. "He has to lead and demonstrate his roles and responsibilities to his wife and children," he explains. "Though the father is the head and leader of the family, he has to exercise these roles in the spirit of servant leadership. He serves without expecting anything in return, and should also be ready to admit his own limitations and weaknesses with humility."

ADVERTISEMENT - CONTINUE READING BELOW

Xavy Sotto Padilla is the director of Family and Life Quad Media (FliQ Media) and father to Sabine, 4; Aida, 3; and Franko, 1. He sums up what he thinks are the most important things a father should teach his children in three words: Faith, Hope and Love.

"As a father, I have the responsibility to teach my kids about our faith," Xavy, a fulltime Catholic lay missionary for 15 years, shares. "I must be able to answer their questions while in Church (e.g. Why is Jesus on the Cross? Why are there bad people?) and show them a good example of how a person should live. It has to start with me."

"I also have to bring them hope. That after a thunderstorm (they are scared of loud noises), there will be a new day. That after they fight, they can still be the best of friends," he says.

"And lastly, love - that I love them no matter what. I may teach, correct and guide them - but at the end of the day, I love them as my children."

Of course, fulfilling all these roles is a difficult and challenging thing to do. Let's send out our positive vibes to all the dads out there, especially on Father's Day, and show the fathers in our lives our support and encouragement!

How about you, SP readers? What do you think a father's roles should be? We'd love to get your comments!


Sources:
http://www.umm.edu/news/releases/fathers2.htm#ixzz1xBU7ddzG
http://msuextension.org/publications/HomeHealthandFamily/MT200008HR.pdf

Celebrate your pregnancy milestones!


Enter your details below and receive weekly email guides on your baby's weight and height in cute illustration of Filipino fruits. PLUS get helpful tips from experts, freebies and more!

You're almost there! Check your inbox.


We sent a verification email. Can't find it? Check your spam, junk, and promotions folder.

Trending in Summit Network