What Really Happens on The Wedding Night

If not sex, then what?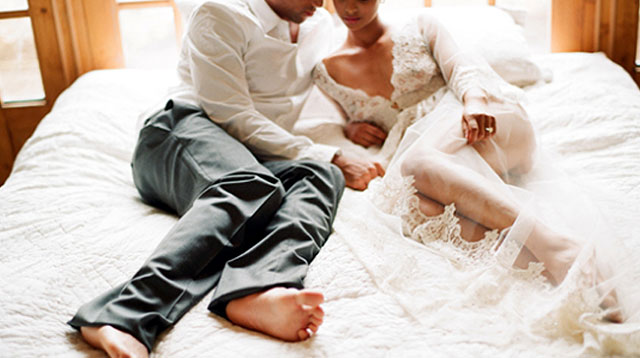 Photo from ohlovelyday.com

Be honest: Did you "make love" all night long? Of course you did, at least that's what happens in the movies, right? Well, not always.

Don't get us wrong. Sure, you dreamt of that night, anticipating the most passionate sex you'll ever have. That bed of roses, intense eye-contact while you're doing the deed, that climax, cuddling after and sleeping wrapped in your beloved arms, and even waking up to seeing your partner for life next to you.  

For some, though, that kind of lovemaking does not happen on their first night as husband and wife (think morning sex!). 

What other parents are reading

So what happens then? Well, here's what we got when we asked couples to fill in the blank: "On our wedding night, we…"

1. "…slept through the night!"
What do you do after a long event that requires you to smile, pose, attend to your guests, in hopes that everything will go as smoothly as you hoped? Why, sleep, of course. An entire night of lovemaking can wait till you're well-rested and in the mood. This, truthfully, is the number one response.

There are other reasons why couples have no choice but to get some shut-eye. Rene Borromeo said they had no other choice but to sleep because his wife Weng was pregnant and was ordered to go on bed rest. On the other hand, lack of funds to book a proper hotel room deprived Rhommel Perez and wife April of the privacy they needed on their wedding night. "Our wedding reception was held at home. Our relatives from the province slept in our house, too, and we had to share our room with some of them." Talk about a union of both houses!

ADVERTISEMENT - CONTINUE READING BELOW


2. "…got very, very, very drunk!"
That's how Kei Mamangun Sison puts it (yes, emphasis on "very" three times over). And she's not alone. Turns out this is the second most common thing that happens on wedding nights after "just sleeping." Well, it's a party after all, in honor of you and your new spouse. You could be having so much fun, you couldn't refuse to drink a toast made in your honor. (They say it's rude to say no, so…)

Alwyn San Jose was already buzzed on Johnny Walker drinks that evening, so when they went back to their hotel room, they just slept. Dad-of-three Ken Ruben shares that they opted to use their hotel room to carry on the festivities—and the booze drinking—till the wee hours, with close friends who stayed for the night. 

What other parents are reading

3. "…watched TV all night!"
Because you have the room to yourselves, why not? That's an acceptable thing to do on your first night of uninterrupted alone time together. Throw in some comfort food in the mix and it's already a night to remember? Jackie Fadul-Kumar shares, "After our wedding (we had an afternoon ceremony), we enjoyed a heavy dinner, walked around the streets of Hong Kong, and when we got back to our hotel, we just watched TV all night and pigged out on junk food. Slept around 3 a.m.!" Lea Suy also did the same thing. "We were so tired to move that we just decided to catch up on our favorite TV series until we fell asleep." 

ADVERTISEMENT - CONTINUE READING BELOW

Recommended Videos


4. "…got stuck in an airport/airplane."
You planned the perfect wedding, and it was awesome. You also planned the perfect honeymoon in a paradise somewhere in the country or abroad. But, alas! You can't possibly have everything you want, say the powers that be. "We were stuck in the airport because our flight got delayed. It was medyo bagyo during our wedding," shares Margot Jose, an account executive and new mom.  Chris and Alex Espino had a better experience, in that they were on a long-haul flight to Los Angeles on the night of their wedding.


5.  "…needed to fix the books."
Honestly, who would prefer computing and calculating wedding expenses when it's supposed to be sexy time? This couple, Robert and Mae Garner, received many envelopes as gifts (you know, cold cash) as they told their guests they're migrating soon after tying the knot. "We just wanted to make sure, as my mom advised us, to take note of who gave what and how much, so we can properly send them thank-you notes before we got too busy processing our move to Australia," explains Mae. 

Bernadette Santos, on the other hand, had to spend extra, since a lot of their wedding guests failed to RSVP. "Before going to the hotel room, we had to pass by an ATM, so we could pay our parents back for the cash they shelled out during the reception. By the time we got to our hotel room, we were spent," she relates. She meant that literally and figuratively.

ADVERTISEMENT - CONTINUE READING BELOW

What other parents are reading

6. "…were high!"
On love? Yes, of course, but also high on something else entirely, says Ana Punongbayan, with a wink. You just got married, and may finally be out of your parents jurisdiction, so to speak (if you are not yet independent, that is). To heck with it, you and your husband can do whatever you want on your wedding night, as long as you spend it together and have fun!

Whatever happens on your wedding night is entirely up to you and your spouse. If you want sex to be a priority that night, well and great! However, you need not pressure yourselves into making love if neither the time, place, nor opportunity permits it. Don't worry, surely you'll find time (or make time) for sex after your wedding night. You have an eternity to spend with each other, after all.

What other parents are reading

Celebrate your pregnancy milestones!


Enter your details below and receive weekly email guides on your baby's weight and height in cute illustration of Filipino fruits. PLUS get helpful tips from experts, freebies and more!

You're almost there! Check your inbox.


We sent a verification email. Can't find it? Check your spam, junk, and promotions folder.

Trending in Summit Network