Your Shared Emotions With Your Husband Is Why People Say 'Magkamukha na Kayo!'

It seems funny, but it turns out that there is an explanation why couples tend to look alike.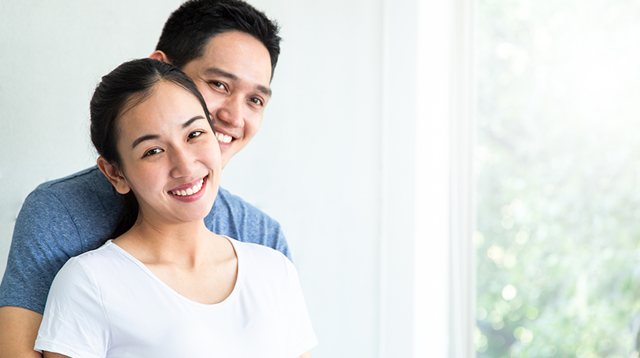 Maybe you've had people tell you and your spouse, "Magkamukha na kayo!" You may have also noticed while looking at pictures or in the mirror that you and your spouse are indeed looking more and more similar. It seems funny, but it turns out that there is an explanation why couples tend to look alike, especially if they have been married for a long time!

A study conducted by researchers from the University of Michigan found that "decades of shared emotions result in a closer resemblance due to similar wrinkles and expressions," as Time Magazine reports.

So, yes, those years of laughing at funny TV shows and parenthood stress could manifest physically. "You might have the same laugh lines, the same worry lines, and the same pissed-off lines because you've had a lot of the same life experiences," Scary Mommy writes.

The study, which was conducted in 1987 by researchers Robert Zajonc, Pamela K. Adelmann, Sheila T. Murphy, and Paula M. Niedenthal, tried to figure out whether married couples tended to become similar in terms of physical appearance after being together for a long time, even if they originally bore no particular resemblance to each other before.

The participants were provided an array of photographs of faces with the backgrounds blacked out. They were then asked to match the men's photographs with those of the women who resembled them most closely. According to the New York Times, two dozen of the photographs were taken in the early days of the couples' marriages, while another two dozen were taken 25 years later.

ADVERTISEMENT - CONTINUE READING BELOW

The researchers found that while the couples exhibited a few physical similarities with one another, these similarities were not dramatic. The New York Times said some cases involved subtle shifts in facial wrinkles and other contours of the face. BUT they were distinct enough that the participants were able to easily match photographs of the couples when they were older but not so much when the photos showed their younger selves.

To explain the results of his study, Dr. Zajonc proposed "that people, often unconsciously, mimic the facial expressions of their spouses in a silent empathy and that, over the years, sharing the same expressions shapes the face similarly."

People tend to be attracted to others similar to them

Though married couples do appear to grow physically similar to one another the longer they stay together, experts also say that people actually tend to seek out partners who are similar to them from the start, whether in terms of physical appearance or values and characteristics.

According to Justin Lehmiller, a social psychologist, research fellow at the Kinsey Institute, and the author of Tell Me What You Want, it is only natural for people to "gravitate" toward people who possess qualities that are familiar or similar to them, and that this attraction might largely happen in an individual's subconscious.

Lehmiller tells Time that "what is familiar to us tends to be what we like and are drawn to," even if we may not be consciously aware of it.

More recent studies have also yielded results that help support Lehmiller's claim. For example, in a 2013 study, participants were shown photographs of their partners that had been digitally altered to include features of other people's or the participants' own faces. The participants who rated the photographs as 'most attractive' had their facial features.

ADVERTISEMENT - CONTINUE READING BELOW

Recommended Videos

Why does this happen? It might be because familiarity can make an individual feel safer or even more comfortable with someone else. "There's an element of predictability when you date somebody of a similar background," Ty Tashiro, author of The Science of Happily Ever After, tells Reader's Digest. "They're less threatening, less scary. They'll be more of a familiar person from the start. Familiarity is something we find attractive."

Aside from familiar characteristics, Reader's Digest also talks about other factors that can have a bearing on how people seek who to date. These include geography — for instance, some people might date people they met because they live in the same area or go to the same school.

What other parents are reading

Does being similar guarantee that a couple will stay together?

Research has suggested that the likelihood of a couple staying together can be improved by their similarity with one another. According to Anthony Little, a lecturer at the University of Stirling in Scotland, United Kingdom, "In a cross-sample of the population, relationship length was positively correlated with similarity. There is research suggesting that couples are less likely to stick together if they are dissimilar. People who stay together are the most similar."

That being said, some experts also say that it is impossible to distinguish one characteristic that guarantees whether a couple stays together or not — not even their similarities.

"Attraction is this very complex phenomenon, and there are so many factors that play a role in it," Lehmiller tells Time. "Initial similarity might lead you to be attracted to somebody, but it doesn't mean you'll have a happy relationship. Attraction is not something that's easy to predict."

ADVERTISEMENT - CONTINUE READING BELOW

Abdel Abdellaoui, a genetics researcher at VU University in Amsterdam, the Netherlands, also tells Reader's Digest, "We are not even close to being able to predict the success of your relationship. I would not dare to advise someone on partner choice on what we know, especially genetics-wise. Just follow your heart."

What other parents are reading

Celebrate your pregnancy milestones!


Enter your details below and receive weekly email guides on your baby's weight and height in cute illustration of Filipino fruits. PLUS get helpful tips from experts, freebies and more!

You're almost there! Check your inbox.


We sent a verification email. Can't find it? Check your spam, junk, and promotions folder.

Trending in Summit Network