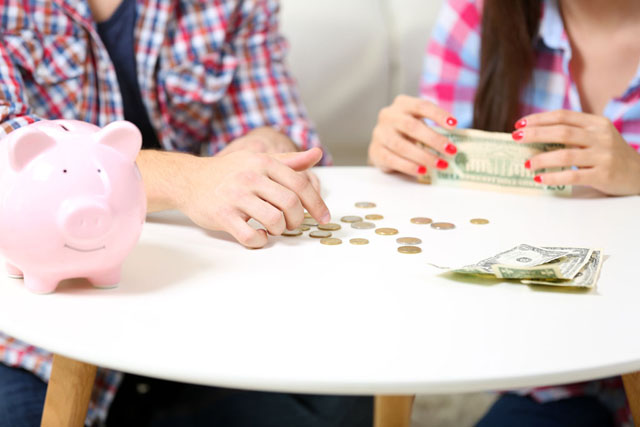 Photo from xtraspace.co.za

Weddings are the stuff of magic. You have a grand venue, layers of tulle and lace, overflowing champagne, and enough romance to make even the biggest cynic shed a few tears. Marriage, on the other hand, is the stuff of reality. The confetti and rose petals have been swept away, and now the real work begins. 

One struggle that most couples face is the responsibility of managing their finances. It sounds easy enough at first: You just pool all your resources, pay the bills, and save whatever's left over. However, it's a setup that could get muddled when you take into account different spending habits, clashing priorities, existing debts, emergency expenses, and the general rise in the cost of living.

Money management can be a source of stress for couples, so it's necessary to come up with a financial plan early on. Need a system of your own? One of these money strategies from real-life couples may work for you.

Strategy #1 He gives her an allowance. 
Aoi and Hiroshi Tanaka*, married for more than 27 years

Aoi, a former full-time housewife who recently joined the workforce, says that her husband gives her a specific amount every month. From this, she gets 20 percent for savings, and spends the rest on household expenses: utilities, food, maid's and driver's wages, and so on. 

Why it works for them: Years of practice has allowed Aoi to gauge their monthly expenses, like when and where to scrimp (like grocery items that may not be considered necessities at the time), or how to provide leg room for other bills (such as rising electricity costs).


Strategy #2 They combine their salaries. 
Lorenna DG Laanan and Marco Laanan, married for three years 

Lorenna, an employee, shares that her husband has put her solely in charge of handling their money. "During paydays, we combine our finances. I get a portion for our household expenses (such as rent and household bills), a portion for savings, and then I return whatever's left to him," she says. Lorenna gets part of her own salary to pay for other expenses like the groceries and their day-today needs, while her husband takes care of rent. From their combined earnings, they set aside 30 percent for savings and spend whatever's left for personal splurges.

Why it works for them: Lorenna enjoys her role as the budget manager, and they both agree on the importance of setting aside cash for personal splurges. "Deprivation doesn't do any wonders to anyone," she says.


Strategy #3 One spends, the other saves. 
Tricia and Bong Cruz*, married for 12 years 

Though they run a two-income household, they only touch Bong's salary where 50 percent of his income is spent on basic expenses such as groceries, utilities, their daughter's school service, etc. The other half is split evenly between Bong and his wife, for their own personal use. Tricia's whole salary, on the other hand, goes straight to the bank, but it is not totally off-limits. "This is where we get cash for our insurance and loan payments, as well as other investments," says Bong. What's left—around 40 to 45 percent of Tricia's income—then becomes their savings.

Why it works for them: Because they don't treat their salaries as their own, they've grown to be really conscious of their expenses. "There are times, of course, when we need to compromise some of our hilig or luho," says Bong. "We can't just withdraw and spend money on a whim. We usually discuss big expenses, and stick to our personal budget for our wants." 


Strategy #4 They keep their salaries separate. 
Minka and Ralph Roxas*, married for three years

This pair maintains separate accounts for their own wages and just splits the expenses and financial responsibilities between them. Ralph handles the household bills and day-to-day expenses, while Minka's salary takes care of big ticket items as well as savings and investments. "When Minka moved into my condo, all the bills were already in my name so it seemed logical for me to just continue paying them," he explains. "Plus, I cook and my wife doesn't, so I also do the groceries." They do keep a joint account where they keep money gifts given to them as a couple. 

Why it works: Their strategy serves them well not only because it's convenient for both parties, but they are managing their money according to their skillsets. Despite the division of responsibilities, they regularly consult each other, treating every spending issue like a corporate decision. 


All the strategies share something in common: teamwork. Each couple recognized their strengths and weaknesses embraced their roles, and made sure the lines of communication were always open. Sounds like a good marriage to us. 


*Names have been changed to protect privacy.

Text by Myra Mortega-Calulo & Elaine Natividad. This article originally appeared in the June 2013 issue of Good Housekeeping Philippines and adapted online on Femalenetwork.com. Edits have been made by the Smartparenting.com.ph editors.