6 Conflicts About Money That Can Destroy a Marriage

From keeping secrets to mishandling finances, here's how money puts a strain in any couple's relationship.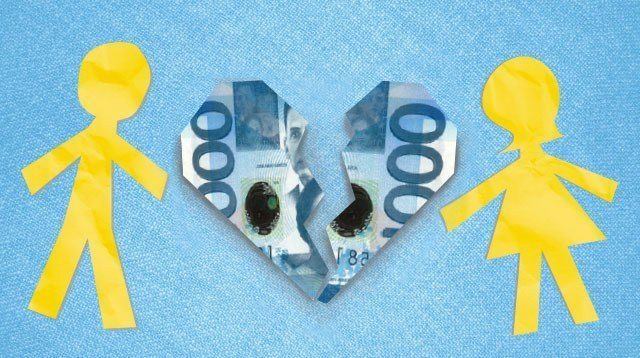 They say that a successful marriage takes a lot of work, and constant communication, trust, and transparency is needed to keep the couple together. That's because, in the course of any relationship, disagreement and conflict are bound to arise, especially when it comes to money, which, according to a 2016 Relationship Index by Pru Life UK, is among the top causes of arguments in Filipino couples.

Money talks can cause a strain in any marriage, and that's why it's so important to address the issues before they worsen and create a permanent dent in the relationship. Fitz Villafuerte, blogger, entrepreneur and a registered financial planner, breaks down the possible conflicts couples face and how to resolve it.

What other parents are reading

Conflict #1: Taking on traditional roles when it doesn't fit the relationship
Most couples grow up thinking that husband and wife have set roles when it comes to handling finances. Mom pools the money and is responsible for budgeting, while Dad is responsible for the significant financial decisions. According to the 2016 Relationship Index, 48% of married men say they are the ones who have the most responsibility, and yet only 13% of married women say their spouses can control the spending.

In reality, Fitz says that there should be no gender bias when it comes to managing the finances. "At the starting level, the responsibility should be equal on both parties because financial decisions will affect them and their relationship," he says. "But further along the planning, either one usually becomes involved in the decisions. It may be because that person is more knowledgeable or has more time to plan." Still, he asserts that the other one should always involve himself or herself in the final decision. 

Simply put, don't go into the relationship thinking that one of you has to assume a traditional role. Because what if the husband has a knack for budgeting? Would he relinquish the position to the wife just to follow standard practice? Fitz gives this example: "When buying a family car, both husband and wife should discuss what they prefer for the family, considering their needs. Then, assuming the husband has more knowledge in cars, he can do the research and look for suppliers. He can narrow down the choices, discuss each with his wife, and both of them can decide which one to buy."

Conflict #2: Not having a plan on how to manage the finances
If both husband and wife are earning money separately, it will make sense to split their money using the 'his, hers, ours' strategy. "This system has been effective for most couples, especially for those who are both working, but one earns more than the other," Fitz shares. "The rule most couples I've met follow is 90% of their income is for the family (ours) while the remaining 10% is for each one's discretionary spending." For some, however, it can build resentment over the individual purchases made. 

The key to making this set-up work is open communication and testing what works best for the family, says Fitz. "I've also met happily married couples where the husband gives everything to the wife, who then acts as the finance manager for the family. Usually, the wife gives her husband allowance for his expenses. However, both can never buy anything over P2,000 without getting the approval of the other."

Conflict #3: Having one account for the whole family 
According to the 2016 Relationship Index, 58% of married couples have joint bank accounts (25% of whom only have joint accounts and no personal accounts). Merging finances is a good strategy if you talk openly about your income, expenses, and financial goals, but you might also feel confined when you can't get hold of your own money.

"It's still good to maintain individual accounts for your personal savings," Fitz advises.  "In the unfortunate event that one of you dies, half of the money in the join account gets frozen and will be subject to estate taxes. Having individual accounts allows more flexibility in your source of funds." Here are five bank accounts that your family should have.

ADVERTISEMENT - CONTINUE READING BELOW

What other parents are reading



Conflict #4: Keeping secrets
If you've been hiding money, you're putting your relationship in serious trouble, more so if you're nursing a bigger issue, say, a gambling problem, or have incurred debt. Lying to your spouse can put a strain on your relationship, and it can pave the way for bigger emotional issues such as lack of trust (because it has already been broken).

"Talk about the reason why secrets are being kept. Address that first before moving on and solving other problems that exist in that secret," says Fitz. "For example, if the husband has a gambling problem and he's concealing it, the first step to solving this is to talk to him, accept him and not judge him, and then help him get better. Once there's no more shame and fear in admitting such truths, then the husband will be more open to addressing the gambling problem together with the wife."

Conflict #5: You have clashing money mindsets
While many arguments stem from money at first, it soon becomes an issue of conflicting personalities. Your partner may have an underlying reason as to why she's uncharacteristically mad that you used your credit card to buy high-def speakers. Perhaps she came from a family who struggled with debt, which is why she's afraid that you might not be able to pay it off later on.

It's important to understand how you and your spouse view money and you both know your family's financial goals. For example, if you argue about investments, because one wants to live in a house and lot while the other wants a condo lifestyle, then that's an issue that you need to resolve, says Fitz. "That will certainly dictate how and where you will want to invest." Fitz encourages you to talk about it as a couple and come up with doable solutions along the way. 

Conflict #6: You don't align when it comes to providing financial support to other family members
According to the 2016 Relationship Index, Filipino adults are very generous to each other and like to offer mutual financial support. And because Filipino families are known to have close ties, it's not unusual for married couples to provide support for their parents. But resentment may build if the spouse forgets to inform the other just how much support they are giving. Fitz is quick to remind the couple's needs to come first. "Any excess of one's income after contributing to the household is what they can use to chip in," he says.

Fights about money are common in any relationship. The important thing to always remember is to communicate openly -- you're a team, and you need to come up with concrete solutions together when solving money concerns. But if the relationship has gone beyond petty fights, consider enlisting a third party to resolve your issues. It can be a financial planner, your pastor, or even a therapist. "There's no shame in getting counseling," says Fitz. 

Always remember: No matter what you have to help yourselves and each other get back on track.

CONTINUE READING BELOW

Recommended Videos

What other parents are reading

Celebrate your pregnancy milestones!


Enter your details below and receive weekly email guides on your baby's weight and height in cute illustration of Filipino fruits. PLUS get helpful tips from experts, freebies and more!

You're almost there! Check your inbox.


We sent a verification email. Can't find it? Check your spam, junk, and promotions folder.
Trending in Summit Network