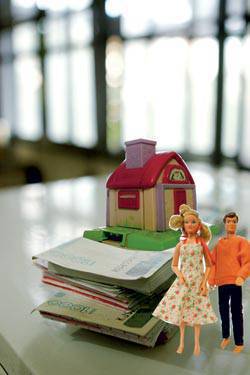 No amount of money can ever equal the personal fulfillment parents receive from their newborn. Celebrating a new life is a priceless experience that can, by no means, be quantified.
That said, babies do require a lot of hard work and money— especially for soon-to-be moms and dads who are new to the world of bottles and diapers, 3 a.m. feedings, and vaccinations. Costs accumulate—from the second you find out you're pregnant to years after you've given birth.
Like with any other major outflow you've got planned for the future—a house and lot, a car, or a vacation—saving up and investing your money is key in preparing for a new baby. Laying out a specific budget can help you organize your funds, and help you see clearly the different ways with which you can work around your current income.
"Before baby" budget
Seeing your pregnancy test turn positive or hearing the words "You're having a baby" from your doctor signals the beginning of your foray into parenthood. This is the perfect time for you to get your act together—emotionally, mentally, physically, and of course, financially.
TIP: Cut down now. Baby becomes priority number one now that you know what's up ahead. It's time to trim down your expenses by cutting down on unnecessary luxuries and setting up a pregnancy fund. Small sacrifices like eating at home rather than spending on restaurant meals can contribute to a hefty sum over the nine-month pregnancy period.
Click here to see the average costs of pre-natal checkups, ultrasounds and hospital bills on delivery.
[previous|page|next]
Here are the average costs of pre-natal checkups, ultrasounds and hospital bills on delivery.
1. Pre-natal checkups: P300 to P700 for every visit
● 1 week to 28 weeks: one checkup every four weeks
● 29 weeks to 36 weeks: one checkup every two weeks
● 37 weeks onwards: one checkup every week
● Pregnancies with complications may warrant more frequent visits.
● Aside from the doctor's fees, consider the cost of any laboratory tests your doctor may order.
2. Ultrasounds: P1,000 to P1,200 at hospitals, P600 to P700 at independent ultrasound establishments, P4,000 to P5,000 for 4D ultrasounds
● Early in pregnancy: transvaginal ultrasound, usually to confirm or diagnose pregnancy
● 20 weeks to 24 weeks: one to two pelvic ultrasounds to screen for gender, congenital anomalies and fetal biometry
● 28 weeks to 32 weeks: 4D ultrasound for 3D images and movement of baby in the womb
3. Hospital bills on delivery: P30,000 to P100,000 for normal delivery depending on conditions of delivery and type of hospital, and P60,000 to P100,000 for C-section. The charges you incur while delivering your baby are divided among professional fees, nursery charges, and hospital charges.
a. Professional fees
● Obstetricians and anesthesiologists each have a separate fee for your delivery. Anesthesiologists typically charge about half an obstetrician's fee.
● A delivery without anesthesia will allow you to save, although birth plans do change during labor, when mothers can't bear the pain.
● A natural delivery will cost less, but sometimes C-section deliveries are called for during emergencies. 
b. Nursery charges
● A baby that is healthy and does not require any special supervision or treatment may be allowed to room in with you, saving you from paying any nursery charges. If this is the case, make sure you stock up on anything you may need to help take care of your child.
● Babies that require strict nursery watch will incur special charges. Depending on the illness, antibiotics, and other medicine needed, costs may range from P40,000 to P50,000.
c. Hospital charges
● Private hospitals charge the highest when it comes to delivery.This includes operating room costs, delivery room fees, etc. C-section deliveries will cost about double the amount of a normal birth.
● The type of room you pick can also affect the entire hospital charge.
● Government maternity hospitals and lying-in clinics offer the lowest rates—it is possible that mothers only need to pay for medicine, procedures and/or laboratory tests.
● Ask if your chosen hospital offers a package for delivering mothers.
● Over-staying and being confined can also add to the bill—if your baby is healthy after a normal delivery, it is possible to check out as early as 36 hours after delivery. Before leaving, always make sure to get a clean bill of health from your doctor.
● Signing up for health insurance, SSS, and Philhealth can deduct a considerable amount from your charges, too.
Click here to read on about the average costs of post-natal checkups, vaccinations and baby gear.
[previous|page|next]
Read on about the average costs of post-natal checkups, vaccinations and baby gear.
"Baby is born" budget
Babycare doesn't just involve regular checkups, vaccinations, and necessities at home (diapers, bottles, etc.)—it also means caring for yourself as you get back on your feet. There are non-negotiables you must be willing to invest in, while other facets of this transition period include a lot of items you could definitely scrimp on.
1. Post-natal checkups: P300 to P700 for every visit
● These checkups depend largely on your type of delivery.
● 1st week to 3rd week: one checkup every week for C-section deliveries
●  3rd week to three months after: one checkup every month
● For normal deliveries, you are only required to have a checkup a week after you are discharged (to check if your uterus is back to its pre-pregnancy size, to see if your menstruation has resumed, and to discuss birth control plans).
2. Vaccinations: P1,000 to P1,500
● For your baby's first year, the cheapest vaccines can be availed through the government's Expanded Program on Immunization (EPI), which is available in health centers and government hospitals. The EPI allows babies zero to 12 months old to obtain the following vaccines free of charge:
● BCG Hepatitis B (three doses)
● DTP
● OPV (three doses)
● Measles
Private pediatricians offer other important vaccines:
● Hemophilus influenza b (Hib)
● Pneumococcal conjugate
● Rotavirus
● Influenza
● Chicken pox
● Combination vaccines and newer ones give your baby very minimal reactions, but also come with a hefty cost (P2,000 to P4,000).
● On top of vaccination fees, you also need to pay an extra amount for the doctor's professional fee.
3. Baby gear
Depending on whether you go brand name or generic, there is a wide range of options for all the baby items you'll be stocking up on. We've pegged a price point for each essential you can work around with your existing income.
● Bottles: P1,000++ for a pack of three
● Breastfeeding pump: P1,000 for manual pumps, P10,000 to P15,000 for electronic pumps
● Formula milk: P400 to P700 for a 500g can, P850 to P900 for a 900g can, special formula such as hypoallergenic milk or lactose-free formula costs an extra 10 to 20 percent; cans typically last for about one and a half weeks
● Sterilizer: P2,000 to P5,000
● Crib: P10,000 to P15,000 for
3-in-1 cribs (crib-playpen-toddler's bed), P10,000 and under for portable cribs
● Stroller: P4,000 to P7,000 for umbrella-type strollers, P12,000 and up for more sturdy types
● Car seat: P3,000 to P8,000
● Diapers: P300++ for a pack of 36
Click here to see real budget tips from real moms while welcoming a new baby.
[previous|page|next]
Here are some real budget tips from real moms while welcoming a new baby.
Real Budget Tips from Real Moms
Moms dish on what's kept their wallets happy while welcoming a new baby.
● Choose items that can last beyond your first baby. Good, sturdy products may be expensive but should last a lifetime—a lifetime of more kids and babies! —Pauline Peronilla Cauton, mom to Joaquin, 2
● Breastfeed to save on formula and bottles (also best for baby's and mom's health). Use linen nappies when at home—and just use diapers overnight and when taking baby out (linen nappies are also easy on baby's sensitive skin). Buy more practical, comfortable, basic baby clothing rather than frivolous clothes they'll outgrow quickly. —Ciel Tagaza, mom to Carina Maia, 4 months
● List all your expenses before you do your groceries or baby shopping, so you will be restricted to buying only the items on your list. —Cristina Fernandez, mom to Rafael Mateo, 1
● My husband and I were actually planning to move out of his parents' house given that we want to be independent—but the best advice I got since getting pregnant was for us not to hurry with the move. Living with the in-laws has helped us a lot in saving! —Althia Coo-You, due to give birth to a baby boy this month
Sources:
Aurora Feliciano-Bauzon, M.D., professor of Pediatrics, UST Faculty of Medicine and Surgery; active medical consultant in Pediatrics at the UST Hospital
Pauline Peronilla-Cauton, M.D., resident physician, Cardinal Santos Medical Center, San Juan
Photography by Jun Pinzon