A Step-By-Step Guide to Building Your Child's College Fund

The experts all say: Don't procrastinate. Your child may be a long way off from college, but the time to start preparing for it is now.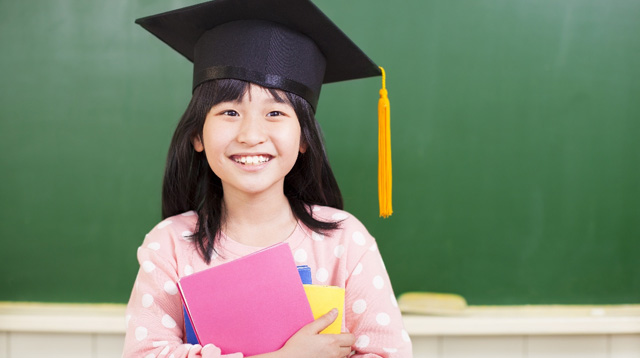 The reality is many of the best schools, particularly at the college level, are expensive. For many of us, paying for our children's education means allotting yearly bonuses to tuition payments. But while this method may work for now, it may not work later on, as children move higher up the education ladder.  

"Ang inflation ng tuition is different from the nation's inflation," says Ofelia Tordesillas M.D., senior financial planner at MoneyDoctors Inc., which provides customized financial coaching to its clients. "Ang nation's inflation, we're looking at an average of 4 percent. Ang tuition costs, nagra-rise exponentially -- 10 percent or even more." While tuition fees increase by an average of 10 percent a year, salaries don't experience the same bump annually. 

What other parents are reading

So what's a parent to do? The experts all say: Don't procrastinate. Your child may be a long way off from college, but the time to start preparing for it is now. Here are the steps you should take to build up your child's college fund:

Step 1: Choose a school you can truly afford. 
It's useful advice from Francisco J. Colayco, founder of Colayco Financial Education. We all desire for the best education for our kids, but at what cost? Colayco explains. "Others have made the serious mistake of enrolling their children in high-end schools simply because they had enough money for their children's first year. One or two years later, they end up 'downgrading' their children's education to less expensive schools, resulting in a traumatic experience for their children."

If you foresee yourself heavily relying on your credit card, then that is a red flag -- you should probably look at other school options. "Choose the school you can truly afford without having to get into credit card debt. Note that you can borrow, if necessary, but based on a real ability to pay on time. If you are already in debt for your child's education today, how can you seriously even prepare for college fees?" says Colayco.

Step 2: With your school target in mind, set a goal amount you need to save up for.
The formula is straightforward, says Eduardo "Edric" Mendoza Jr., a registered financial planner and lead anchor of ANC's personal finance show, On the Money. "First, get the current tuition fee. Second, determine how much tuition increases every year; data shows 10 percent  is conservative. Third, determine how many years until your child enters college. Last, compute for the Future Value (you can use this calculator) or how much it will cost when your child enters college," explains Mendoza.

To illustrate, let's say you would like to send your eight-year-old child to either Ateneo de Manila University or De La Salle University. ("Data shows P160,000 to P200,000 tuition for one year across Ateneo and DLSU," says Mendoza.) With your child going to college in ten years, and pegging current tuition at P180,000, you'll be paying nearly P470,000 just for the first year of college. The total cost for a four-year course? Nearly P2.2 million! 

Even if your preferred university costs less (say, P100,000 a year for Far Eastern University), you'll still need about P1.2 million for your child to complete his or her education.

ADVERTISEMENT - CONTINUE READING BELOW

What other parents are reading

Step 3: Form a plan on how you will hit the goal amount.
The minute you become a parent you really need to have a savings strategy (for suggestions, click here and here) to come up with the amount needed for your kid's college fund. Mendoza's suggestions: "Save up monthly until the time comes. Build a business that can provide for these expenses when the time comes, if you don't have one or aren't a part of one already. Figure out how to pay for it when the time draws near -- pull out a loan, use salary bonuses, or other income at that time. Or some combination of the three."

It may be challenging trying to build a cache of P2.2 million just by purely saving -- this amounts to over P18,000 a month over 10 years, on top of paying for other expenses like your child's current education -- so both Colayco and Dr. Tordesillas recommend investing to meet your goal. 

Step 4: Determine how much to invest. 
Use a Total Value of Money calculator (check for apps at Google Play Store and iTunes) to figure out how much you need to set aside per month to reach your target amount. For example, having a target amount of P2.2 million and an investment instrument that yields 8 percent per year means you have to set aside about P12,000 a month, which is P6,000 less than the monthly amount if you just straight-up tried to save P2.2 million. 

"Of course, it pays to know kung mas may magandang investment vehicle. Like, for example, if I factor in 10 percent instead of 8 percent, then [the amount you set aside per month] goes down," says Dr. Tordesillas.

Should you have extra money, you can try investing a large amount right now that will eventually grow into the amount you need by the time your kid goes to college. 

Having a one-time lump sum investment, if you can afford it, takes away the burden of saving monthly to reach your target. To reach the P2.2 million target in 10 years for example, you'll need to invest roughly P700,000 in an instrument yielding 12 percent annually.

CONTINUE READING BELOW

Recommended Videos

What other parents are reading

Step 5: Decide where you can invest. 
Now that your goal is in sight, and you know how much you can realistically set aside per month, it's time to determine where to put your money so that it starts working for you.

If your child is 8 years old or younger, you may want to consider stocks, says Dr. Tordesillas. "Not necessarily buying your own stocks, but getting into a program where the underlying portfolio is stocks or equity. [You could still have] professional fund managers managing the funds on your behalf."

Of course there are those who may not have the stomach for stocks, which have relatively higher risks than more stable (but lesser-earning) bonds. "If you go very conservative, it cannot bring you close to your quantified goal," she says. "Kung halimbawa, conservative ka, mix ng assets could be 50/50—50 percent na bonds, 50 percent na stocks or equity. Or it could even be more kung talagang mas conservative ka, 70/30. Pero di pwedeng wala kang stocks. Kasi yung stocks, yun ang growth sizzler, eh."

She adds that the closer your child gets to college, the more cautious you should be. "Let's say the child is 9 to 13 years old. You should create a more conservative portfolio. If you have four years or even three years before he reaches college, i-transfer mo na [yung investment] sa money market or mga short-term government funds. Out of the equity market na. Ilagay mo na dun sa safe. Lock in your profit."

Mendoza says, "As you choose amongst the options, make sure to  investigate the product -- ask friends, family who may have bought similar products; investigate the company -- ensure it has a good track record; and assess your risk profile -- companies offering these funds will help you determine this." 

Colayco says that his favorite options are mutual funds or unit investment trust funds (UITF). "There are many type of funds, depending on your particular situation. Over a 20-year period, I would would choose a reputable equity fund that has shown proven growth over the years. Try a PhilEquity fund or one of the FAMI funds. These have demonstrated annual cumulative returns in the range of 12 percent to 20 percent over the last decade or longer."    

Colayco does issue a word of caution. "The higher the interest rate, the higher the risk." So don't put your money in something you don't understand. Educate yourself first, and talk to a financial planner to gain a better understanding of your options.

Step 6: Start now!
The number one mistake people make is waiting until it's too late.  "Parang, sige lang, there's another tomorrow. There's another year," remarks Dr. Tordesillas. "Pero sa lahat ng bagay, especially sa savings and investment, let time be on your side. Kasi if you start early enough, it will become more convenient and economical. If you have a long timeline for your money to grow, it will not take much from your monthly [budget]." 

And while the education landscape may change significantly in the future, especially with the advent of online courses and other technological developments, it still pays to be prepared. "So should we still save up for a college education? Yes, definitely!" insists Mendoza. "At the very worst, that money may not go to the college education, but instead can be cash you can use for your life then." 

This article originally appeared in the September 2015 issue of Good Housekeeping Philippines magazine. Minor edits have been made by the Smartparenting.com.ph editors. 

ADVERTISEMENT - CONTINUE READING BELOW

Celebrate your pregnancy milestones!


Enter your details below and receive weekly email guides on your baby's weight and height in cute illustration of Filipino fruits. PLUS get helpful tips from experts, freebies and more!

You're almost there! Check your inbox.


We sent a verification email. Can't find it? Check your spam, junk, and promotions folder.
Trending in Summit Network