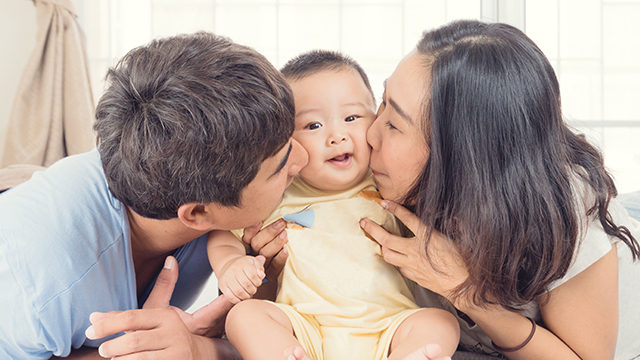 As a new parent, you may feel reluctant to buy your dream home because you think your single-income household cannot afford it. Buying a house seems impossible at this stage because there are far more important things to spend on, such as your family's day-to-day expenses and your baby's immediate needs.
Financial adviser and entrepreneur Don Soriano thinks this is not the case for everyone. In a recent interview, this money guru shared some of his most useful pieces of advice for couples who want to make their dream home a reality.
1. Have the right mindset when it comes to money.
Money management is all about having the right mindset. It's not enough you save — you need to invest your money, too. According to Soriano, ideally, 10 to 20 percent of your income should be allocated to investments.
By investing, your money will grow in the long-term, which will help make buying a home more realistic and attainable. "If you don't control money, the money will control you," Soriano says.
2. Find sources of extra income.
These days, having one source of income may not be enough to achieve financial freedom. Soriano suggests having side jobs to earn more. Try putting up an online store or selling pre-loved belongings, among other ways.
3. Educate yourself on financial literacy.
Working on being financially literate is simpler than you think. You can read books or articles, watch online videos, or even sign up for seminars on financial literacy.
Remember, the money and time you'll spend on learning should be considered an investment. "Put money in your mind because it will be [the best weapon in] your arsenal," Soriano says.
4. Avoid unnecessary spending.
Examine your spending habits and always ask yourself this question, "Do I really need this?" Keep in mind that the smallest of expenses add up and will affect bigger financial goals, such as purchasing a home.
To help with budgeting, Soriano encourages people to try the JARS Money Management System. How it works: the income is split into six bank accounts, or actual money jars, with each one having a specific purpose, such as necessities, long-term investments, and even charity.
5. Choose the best payment scheme for big-ticket purchases.
A shiny new smartphone or an expensive entertainment system may seem a reasonable buy when it comes with an attractive payment scheme (say, 0-percent or low-interest installment plans), but consider how this will add up to your monthly expenses and, therefore, affect your budget. You may even end up spending more. Instead, see if there are alternative payment schemes and pick the one that won't put a strain on your budget.
Financing your dream home may be difficult but not impossible if you're mindful about your family's spending. Study the many different purchase options in the market, list your requirements, and consider the pros and cons to help you determine the best one that fits your family's needs and spending power.
Once you've decided and planned how to finance your dream home, start searching for the ideal place to suit your family's needs. Consider Empire East Highland City, a 24-hectare mixed-use township. Young families will enjoy the amenities that include a mall, a park, and a sports club.
Empire East Highland City is poised to become the "first elevated city in the Philippines" that's set to rise along Felix Avenue at the boundary of Pasig and Cainta. It is strategically located near business districts in Metro Manila, as well as tourist destinations in Antipolo, Tanay, and other parts of Rizal.
Empire East Highland City is under development and expected to open in 2024.
Find out more about Empire East Highland City by visiting Empire East's official website and following them on Facebook, Instagram, Twitter, and YouTube.
Don Soriano is a financial adviser and entrepreneur and is not affiliated with Empire East.