How You Can Be Financially Independent Even If You're a Stay-at-Home Parent

Just because you stay-at-home does not mean you should be less savvy about money.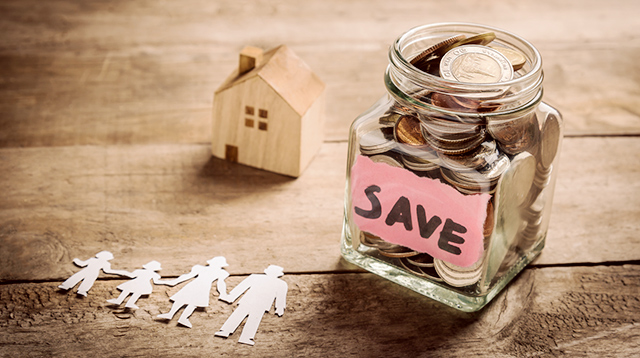 Is there a way to be financially independent while married even if you're not working? The answer is YES!

While it would be easier when you are making your own money, stay-at-home parents (not just moms because the advice we're about to share holds true for husbands and wives) can make plans for their nest egg and emergency fund.

How to be financially independent even if you're not working

You may be worried about taking this path or mentioning your plans to your spouse. You are not alone. Money is generally a sensitive, if not taboo, topic for many couples. Maybe you want to avoid conflict or you fear your partner's anger or disapproval. But couples need to learn how to talk about money openly and honestly. It's surprising (and dismaying) how two grown-ups can turn into spoiled children when they start talking about money. However, the sooner you and your spouse can agree on how to handle this subject, the better for your relationship and financial security.

Begin by having your respective financial accounts

After marriage and if one partner stops working, it seems easier to just have a joint banking account and become a supplementary card holder to the working spouse. You can have those, but it's important that you also have your own. If your husband or wife is working, they will at least have their own bank account where their salary comes through each payday. There's nothing wrong if you want to have your own, too.

ADVERTISEMENT - CONTINUE READING BELOW

What other parents are reading

You may ask: "What money can I put in that account when I don't have an income?" Well, many women before you have found creative ways. Grace* convinced her husband to place their savings in a time deposit, and he agreed the interest will go to her. "It's not much, but it started as my pamper money, so I can buy new clothes or get a massage. I decided I prefer to open an account and save the money instead."

When Dara's maid left, she did not find a replacement and was touched when her husband told her she should get the salary earmarked for household help. "He understands that I will do the work anyway and that the small pay is not nearly enough for all that I do. But the gesture was so welcome."

What other parents are reading

Agree on your money roles at home

Audrey travels a great deal for her work and when she started making more money than her husband, he quit his job to raise their two kids. "We were teasing each other one day and he said you can be CEO and I can be the CFO, and we realized those are the roles we can play when it comes to handling money."

As CEO, Audrey is responsible for generating income and ensuring there is enough for their needs (basic necessities, car mortgage) plus extra to cover their future dreams (to own a home, send the children to good schools). As family CFO, Luis handles the day to day budget and makes sure they get more bang for their buck with good deals, rebates and securing bargains.

ADVERTISEMENT - CONTINUE READING BELOW

Recommended Videos

"I think back and I know that if we both acted as CEOs, we will argue over big things and small things. But by being open about our money situation, and we always keep in mind that the priority is our family, the arguments became heart-to-heart talks," confided Audrey.

What other parents are reading

Know your family's net worth

When only one spouse is working, the other spouse one can end up being in the dark about the family's finances. But both of you should know your family's net worth, which is simply your income minus your expenses. Get the working partner to share his side, while you as the non-working spouse track all the expenses as accurately as possible.

When Grace and her husband attempted to track what they make, own and owe, they were both relieved to see that dream to own a house could become a reality in less than five years. "If we are careful with our savings and investments, we can buy a comfortable home just outside of Metro Manila. When we were computing our net worth, that's when I saw our savings was not earning interest and suggested we place it in time deposit until we find something better. Then my husband said since that was my idea, I can keep the interest for myself."

When you have a clear picture of your family's net worth, the two of you can make plans for the future. Maybe you will see that your family needs two working spouses and not just one. If income from one partner is enough, start to plan for future expenses such as schooling, buying a home or investments. Discovering where your family stands financially can be empowering. Use that knowledge wisely as you map your future.

ADVERTISEMENT - CONTINUE READING BELOW

What other parents are reading

Set personal spending boundaries

It's interesting that when it came to money boundaries, Audrey confessed she found it more useful than Luis. "I was the one earning money for the family and it came with guilt if I spent on things for myself. But I need to dress smartly for work so that requires shopping and personal grooming."

When she told Luis how she felt, he suggested they each have a "budget" they can spend on themselves guilt-free. "It turns out he wanted to treat himself to video games so now that we each have a 'budget', there is no more shame when we indulge, so long as we follow the limits."

With personal spending budgets, spouses can buy anything up to the agreed limit with no need to consult each other. This way, you don't feel like you have to hide that you have a new blouse or a new phone. It's also one more way to build up your own finances as you can choose to spend your budget or save it.

Dara chose to save hers, and she joined a group of 11 other moms for "paluwagan." They contributed a set amount monthly to a pot, and each Mom gets a turn during the year to withdraw her pot. When Dara's turn came, she collected Php24,000, and she invested Php20,000 in a mutual fund and spent Php4,000 on new clothes for her, her husband and the kids too.

"If you really want to save, you will find a way but you need to be ready to make sacrifices too. In my case, I gave up small treats to make sure I can contribute to the 'paluwagan' monthly."

ADVERTISEMENT - CONTINUE READING BELOW

What other parents are reading

Insure your future and finances

Grace remembers that after their first daughter was born, her husband bought a life insurance policy for himself. "The insurance agent kept telling him to also get one for me, but he said no need. But the agent was persistent, maybe to make more commission or maybe she knows better, so my husband said if you can explain it well, we will buy. And she did, so now I have insurance too!"

The agent explained that insurance was not just for the working spouse nor to be used in the event of accident or death. With many insurance products available today, you could choose to get a policy that also includes an investment portfolio with proceeds you can redeem anytime. Grace eventually got a term insurance that ends in 20 years, but she starts receiving payouts every other year starting the 11th year. At the end of the policy, she gets a lump sum amount. "It's my nest egg and retirement account too, God willing I live for the next 20 years. And if not, I will be able to provide for my family's needs in some way."

What other parents are reading

Take it from Grace, Dara and Luis, just because you stay-at-home does not mean you should be less savvy about money. Feel free to be enterprising and pursue hobbies that can give you income even if small. Do you bring your kids to school and some of the Moms want to carpool? Tell them no need to carpool, you can drive every day, but they need to pay a fee, so that's another extra income for you.

ADVERTISEMENT - CONTINUE READING BELOW

Being able to have your own money gives you confidence to make decisions, even if small ones, about your own and your family's finances. Financial independence builds trust between partners – and where there is equality, there is harmony too.

*Name withheld by request

Aneth Ng-Lim began her career as a writer and happily returns to her journalism roots after working as a communications specialist in the government and the private sectors. While working for a bank as a consumer education head, she honed personal finance skills and increased her money smarts. A woman empowerment champion, she is a proud mom to two teenage daughters.

What other parents are reading

Celebrate your pregnancy milestones!


Enter your details below and receive weekly email guides on your baby's weight and height in cute illustration of Filipino fruits. PLUS get helpful tips from experts, freebies and more!

You're almost there! Check your inbox.


We sent a verification email. Can't find it? Check your spam, junk, and promotions folder.

Trending in Summit Network