5 Surprising Reasons Why You're Always Fighting Over Money (And How to Finally Stop)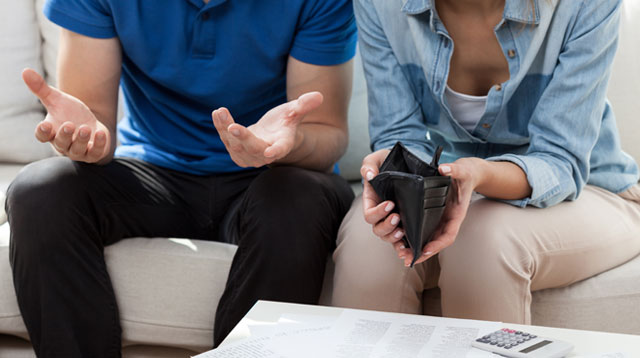 You know why fights over money can get so ugly? Because you're not really fighting over money. 

"Money's entangled with emotions, beliefs, and expectations. It can represent many things that couples rarely talk about and sometimes are not even personally aware of," says psychologist Anita Verano. "You think you're talking about the budget, but you're actually expressing frustrations over issues that you're ignored or avoided."

Take this very common example. Your husband complains, "Bakit ang laki ng grocery bill?" You know he's not asking for the receipt. But while he's worrying about whether his income's enough to cover all the bills, you're feeling judged for how you managed the money.

What other parents are reading

If you have other problems, that suppressed anger is going to leak out in your reply.

"Mas mahal nga ang binili mong sapatos, eh." (Translation: I don't agree with your priorities.) 

"So ano, gugutumin ko yung mga anak mo?" (Translation: why can't you see what I'm doing for the family?)

"If you're always fighting over money, or if your fights make you feel really bad — parang meron kang gusting sabihin pero tumatatahimik ka para wala nang gulo — I suggest you ask what is really bothering both of you," Verano says.

What other parents are reading

Since a lot of the issues may be subsconscious or confusing, here are some questions to help you understand yourself and your partner.

Are there vivid childhood experiences or relationships that could have affected your attitudes towards money?

Dr. John Gottman, founder of The Gottman Institute, calls this the "money map." There are people, moments or situations that defined both our financial dreams and fears.

ADVERTISEMENT - CONTINUE READING BELOW

For example, if you saw your parents struggle to buy food or pay tuition, then you may be obsessed about saving because you never want to experience not having enough. But if you had a very controlling parent and equate spending money with freedom, saving doesn't feel like freedom. It feels like being sucked back into our childhood feeling "I can't do what I want."   

Gottman says you need to articulate and come to terms with the feelings you have about money. Otherwise, your money map will make you sabotage your budget because your subsconscious is driving you to make bad decisions.

What other parents are reading

Are you Spender or a Saver?

"We almost always marry our financial opposite. You're either born to save or born to spend. That can lead to enormous power struggles and trust issues and regular fights," says David Bach, author of Smart Couples Finish Rich.

His simple solution is to automate your financial life. "When couples decide to work on their finances together, they attempt to do a budget first. That is a guaranteed recipe for fighting."

But if you automatically transfer some of your salaries to a savings account and bills, you're both forced to limit the rest of your expenses to whatever's left in your ATM. You can't fight over money you don't have.

What other parents are reading

 

Is there a power struggle?

Money can sometimes mean independence and respect: "I want to be able to make decisions about money without having someone's permission." If this is the cause of your conflict, relationship coach April Mesini suggests keeping three accounts: one for yourself, one for your husband, and one for the household. "Having your own personal money diffuses the power struggle," she says.

ADVERTISEMENT - CONTINUE READING BELOW

Recommended Videos

She also suggests agreeing on a price ceiling for big ticket purchases "Agree on an amount of money where you have to check with each other and mutually agree before spending."

What other parents are reading

Have you set family goals and priorities? 

"When your values are clear, your financial decisions become easy," says David Bach. "A lot of people don't realize that they are spending money in conflict with their values."

Let's say you decide that you value education, or that you value experiences over things. You want your children to have that mindset too. But then you realize you've spent over Php20,000 on toys or arcade games in the last year. Would it have been better to have spent that on getting them enrichment classes or a family trip? What is more aligned with your values and parenting goals?

What other parents are reading

See fights as an opportunity to have an honest conversation

These are just some of the issues that are behind your fights over money. Verano suggests that when you're both calm and not stressing over a particular expense, sit down and talk about what money means to you. "What are your values, fears, goals, and expectations? Why do you react to certain phrases? What situations make you feel bad?"

This conversation won't solve your financial problems, but it will help you understand where you're both coming from. "So next time when you talk about money, you won't take things personally. You can focus on making objective financial decisions together."

What other parents are reading

Celebrate your pregnancy milestones!


Enter your details below and receive weekly email guides on your baby's weight and height in cute illustration of Filipino fruits. PLUS get helpful tips from experts, freebies and more!

You're almost there! Check your inbox.


We sent a verification email. Can't find it? Check your spam, junk, and promotions folder.

Trending in Summit Network