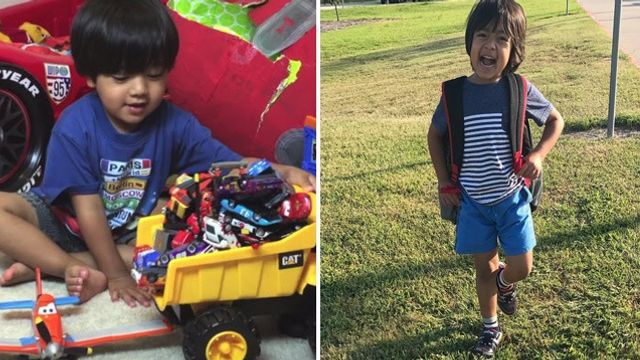 Remember when we would answer veterinarian or pilot when someone asks us what we wanted to be when we grow up? Ask kids today the same question, and "become a YouTuber or vlogger" is a typical answer. 
There were a lot of young YouTube stars that caught our attention this year, including dancing siblings Niana and Ranz Guerrero and Bretman Rock, who even made it to Time Magazine's list of Most Influential Teens.

But if you're looking for a kid who's well-loved by children and parents alike, you might want to check out Ryan Toys Review, the YouTube channel that is currently making waves in news websites. Why? Ryan, the 6-year-old wonderkid behind the channel, reportedly made US$11 million in one year just by unboxing and reviewing toys and uploading the videos on the video-sharing website.
According to TubeFilter, Ryan's parents created the Youtube channel in 2015, uploading videos of their then-3-year-old kid unboxing toys, trying them out and reacting to them.

"Ryan was watching a lot of toy review channels and one day he asked me, 'How come I'm not on Youtube when all the other kids are?' So we just decided — yeah, we can do that," his mom says in an interview with TubeFilter last year.
According to The Washington Post, their first upload was a 15-minute video of Ryan in a toy store, buying a Lego Duplo train set, and then building and playing with it at home. At first, the channel didn't get many views. The Washington Post said he slowly built an audience and got a surge in viewership when his parents uploaded a video of him opening a giant egg surprise containing more than a hundred vehicles from the Disney Pixar Cars movie.

There are a lot of toy unboxing videos on Youtube, but what makes Ryan so fun to watch is his wide-eyed wonder each time he opens a new toy. He is respectful and sweet to his mom and dad, and his innocent, adorable, and funny antics make his channel safe to watch by even the youngest kids.
At present, Ryan Toys Review has 10 million subscribers, with videos averaging hundreds of millions in views. Many of his viewers come from the U.S., but he also has a sizeable following from the United Kingdom and the Philippines, his dad tells TubeFilter. His most viewed video (see below) is at 1 billion! While many of his uploads still involve unboxing and reviewing toys, he's also expanded his "offerings" by performing challenges, doing science experiments, and even starring in his own video animation!

As an influencer, the toys Ryan "reviews" more often than not receive a boost in sales after his video comes out. "If a product gets ten million, twenty millions views, and you see that Ryan loves it, or other kids love it, it has a huge impact at retail," says Jim Silver, CEO of the review site Toys, Tots, Pets, and More in an interview with The Verge. "He's really the youngest success that we've seen. Most of the time the kids were in the six plus range, just because of the vocabulary and the maturity to do a review."

While most Youtubers interact with their audience outside of the website, Ryan's identity is closely guarded by his family. Comments on his videos are disabled, and his last name and where he lives remain a secret.
His mom, who used to be a high school chemistry teacher but who left her job to focus on the channel full-time according to TubeFilter, has given interviews in the past but refuses to be named. While they've opened an Instagram account and their own family Youtube channel, Ryan's Family Review, where they vlog about their daily lives, they've somehow managed to keep their private lives away from the public eye. (We sent a message to their YouTube channel, but we have yet to receive a response.)

In the same interview with TubeFilter last year, Ryan's parents said that as of September 2016, 99% of the videos uploaded to their channel were not branded. But they also admitted that they were already exploring the business of branded videos. As for the toys that Ryan reviews, he doesn't get to keep all of them. His mom says that they give the toys away to friends and family, and many of it goes to charity.

With a huge following, it's a wonder if Ryan's video stardom has become a priority over his education. But his mom says that while they film two to three videos at a time, they try not to interfere with Ryan's school schedule. "Majority of the filming takes place during the weekend, and then we'll edit while he's in school," his mom tells TubeFilter.

As for Ryan's "career," his mom says that it will ultimately be up to their son if he wants to continue with reviewing toys. "Right now, he loves making videos. Every time I tell him we're going to film, he gets so excited," she tells TubeFilter. "As long as he's loving it and it doesn't disrupt his daily routine, we plan on continuing. But the moment he's not having fun anymore, that's when it will be time to stop."
Want to know more about Ryan? Here's five of his most viewed videos!
1. This video of Ryan searching for a bunch of "egg surprise" while playing on a giant inflatable has gotten over 1 billion views!

2. Ryan's claim-to-fame is another "egg surprise" video. This time he opens a giant egg with more than a hundred toy cars inside.

3. It's not only toys that bring this kid joy. He also loves indoor playgrounds!

4. Here's a 5-minute video of an energetic Ryan playing with balls and inflatables and then opening an "egg surprise." What's not to love?

5. Ryan plays inside Chuck E Cheese, a popular US restaurant chain. His happy face all-throughout the video is addictive!