A Boy Asks Pope Francis if His Dad, Who Did Not Believe in God, Is in Heaven

Pope Francis shows his compassion when he gives the boy his answer.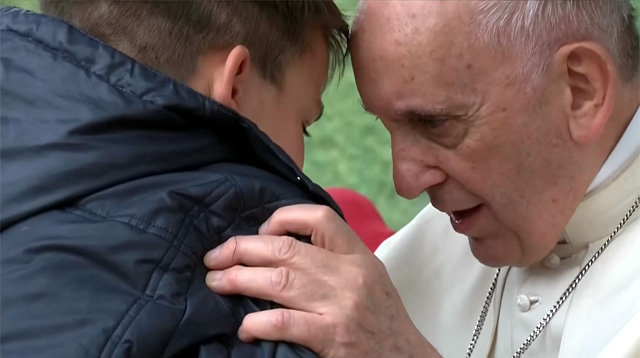 At a gathering for a children's question-and-answer session last April 15, at St. Paul of the Cross in Corviale, Italy, Pope Francis received a question that can be tough to discuss with a child: a loved one's death. And, in this case, the boy was asking about the loss of his father. He wanted to know, "Is my dad in heaven?" 

In the video footage of the event, the boy, seated near the stage, approached and stood at the microphone, could not ask his question initially. The crowd, composed of both kids and adults, could be seen smiling and clapping encouragingly. But the boy muttered, "I can't do it," and started tearing up.

More from Smart Parenting




ADVERTISEMENT - CONTINUE READING BELOW

CONTINUE READING BELOW

Recommended Videos

The pope then told the child, whom he addressed as Emanuele, to come to him and whisper the question in his ear instead. The boy, who was now sobbing at this point, walked towards the stage and received a comforting embrace from the pope. When he calmed down, the two had a brief private conversation before Emanuele returned to his seat. 

Afterward, the pope said, "If only we could all cry like Emanuele when we have an ache in our hearts like he has," the National Catholic Reporter reported. "He was crying for his father and had the courage to do it in front of us because in his heart there is love for his father." 

With the boy's permission, the pope shared that the boy's father, who did not believe in the existence of God, recently died. He wanted to know if his father would get to heaven despite his lack of faith.

ADVERTISEMENT - CONTINUE READING BELOW

More from Smart Parenting




As tough as the question was, Pope Francis answered it with honesty and understanding. First, he commended the father as a parent — pointing at how Emanuele described his dad as a "good man." 

"A boy that inherited the strength of his father also had the courage to cry in front of all of us. If this man was able to create children like this, it's true that he is a good man."

"That man did not have the gift of faith, he wasn't a believer, but he had his children baptized. He had a good heart," said Pope Francis, adding that God also has a father's heart.

ADVERTISEMENT - CONTINUE READING BELOW

More from Smart Parenting




Then, the pope asked, "Does God abandon his children? Does God abandon his children when they are good?" 

The kids in the crowd responded with a resounding "no."

"There, Emanuele, that is the answer," Pope Francis said. "God surely was proud of your father, because it is easier as a believer to baptize your children than to baptize them when you are not a believer. Surely this pleased God very much." 

ADVERTISEMENT - CONTINUE READING BELOW

This pope's message: if your heart is good, it will shine through.

See the full video below. 

Trending in Summit Network