Andrew Schimmer's Wife Jho Rovero Is Finally Home After Almost A Year In ICU

Jho's family documented the first part of the hospital discharge on their YouTube channel, and netizens say, "Don't skip ads."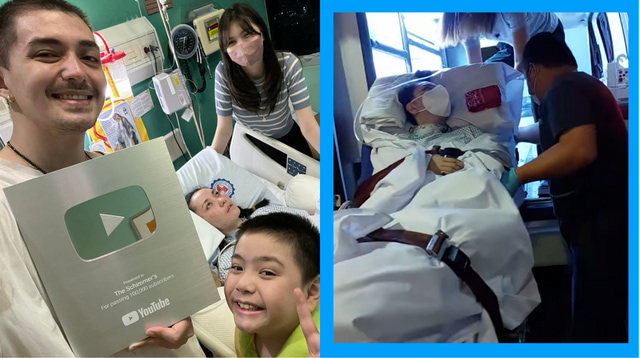 Actor Andrew Schimmer and his family prove that faith can move mountains, as they finally bring home his wife Jorhomy Rovero after almost a year in the intensive care unit (ICU) of St. Luke's Medical Center in Quezon City.

Jho was admitted to the ICU in November 2021 due to a severe asthma attack that led to brain hypoxia. 

Since then, Andrew and his family have been sharing their journey on social media, asking for prayers and support from netizens.

Recently, Jho has been recovering well and even hugged her 8-year-old son Sander.

On October 10, in a video, Andrew was finally able to say, "Today is the day, mga kapatid. Makakalabas na ng ospital ang aking asawa."

"Excited kaming makita yung facial reaction niya pag sinakay na namin siya sa ambulance at habang bumabiyahe. Kasi first time niya ulit after almost a year, first time niyang masisilayan ang labas ng ospital."

"Guys, maraming maraming salamat. From day 1 up to this point, di niyo kami iniwan," a grateful Andrew said.

Going home

In a raw and unedited video uploaded on The Schimmers' YouTube channel early this morning, the family documented Jho's transfer from the intensive care unit (ICU) to the ambulance. 

PHOTO BY

SCREENSHOT FROM YOUTUBE /THESCHIMMERS

ADVERTISEMENT - CONTINUE READING BELOW

Andrew thanked the nurses, and the hospital staff was also emotional to see one of their longest-staying patients go home.

'Don't skip ads'

The video, which is part 1 of Jho's homecoming, made netizens emotional.

Acknowledging that the family would still have hospital bills and medications to pay, netizens remind each other: "Don't skip ads."

Andrew has been transparent in his vlogs that he has been receiving monetary help from his friends and even strangers online, and for that, he's very grateful.

That's why netizens are calling on others to watch their entire video without skipping the ads as their donation to the family.

PHOTO BY

SCREENSHOT FROM YOUTUBE /THESCHIMMERS

Recently, Andrew's family's YouTube channel reached more than 100,000 subscribers, gaining them the Silver Play button. To which, her eldest daughter Andrea said, "Sa susunod na vlog mo, mommy, wedding day mo na. Ako ang maid of honor ni mommy. Kasama kita magwawalk sa aisle."

PHOTO BY

FACEBOOK /JOHNANDREWSCHIMMER

"Excited na kong makauwi ka. Ang ganda na ng room mo, inayos na namin. Para pag mag-go home komportable ka," she said.

ADVERTISEMENT - CONTINUE READING BELOW

3 ways to care for yourself when caring for a sick loved one at home

Caring for their mom at home will be a new challenge for Andrew's family. They would need all the help they can get. They should also make sure to care for themselves, so they can better care for Jho.

Here are some ways to care for yourself, if you are caring for a family member who is recovering at home, according to Harvard Health Publishing.

1. Ask for help.

Since there will no longer be nurses and doctors at home, any assistance with housework or cooking counts. If anyone is open to help, take it so you won't have to exhaust yourself. 

READ ALSO: Mom's Intuition About Her Daughter's Fever Saved Her Child's Life

2. Don't mind the guilt.

Sometimes, you might feel like you are not giving it your all, or you could've done something to make things better. It could be overwhelming. When this happens, talk to someone you trust or even a professional if necessary. You can also join a support group like the Smart Parenting Village, where you can talk to other people who can relate with you.

ADVERTISEMENT - CONTINUE READING BELOW

3. Keep moving.

Staying active or just doing some exercise can improve your mood and boost your energy. Try to get some exercise and me-time for just a few minutes.

This mom tells parents to keep their sick kids at home, after her child got confined in the ICU. Read here.

Trending in Summit Network