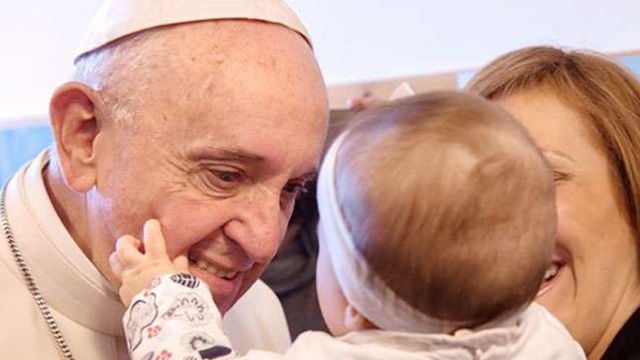 The challenges of breastfeeding don't only include worrying about your milk supply — most often, it's about worrying what other people think when they see you popping your breast out to feed your baby. A lot of moms think twice before nursing in public, moreso if it's inside religious institutions, like the church. In fact, some parents already get criticized for bringing older kids to mass. What more crying babies who can only be calmed by breastfeeding?
Well, the next time you're shamed for breastfeeding in public, tell them the Pope has your back.
During a homily for an annual baptism service held inside the
Sistine Chapel
at Vatican City last January 7, Pope Francis once again showed support for breastfeeding mothers.
"If they start performing a concert (by crying), or if they are uncomfortable or too warm or don't feel at ease or are hungry, breastfeed them," Pope Francis said, as reported by Reuters. "Don't be afraid. Feed them because this, too, is the language of love."
This is not the first time that the pontiff has expressed his views on the act. In 2013, Pope Francis used breastfeeding "as an analogy for feeding humanity," according to The Independent.

He tells the story of a young mom who attended his weekly Papal General Audience (in the Vatican) whose baby started crying out of hunger as the Pope was passing by. The Pope approached her and urged her, saying, "Please give it something to eat!" But the mom was too shy to breastfeed in public, especially since the Pope was passing. To this, Pope Francis said, "I wish to say the same to humanity: give people something to eat!"
The Argentinian Pope also made similar remarks about breastfeeding in 2014, 2015, and 2017, all during the annual baptism services at the Sistine Chapel. Last year's baptism service was particularly notable, as he says that the Virgin Mary breastfed the baby Jesus, too.
"The babies are crying because they are in an unfamiliar place, or because they had to get up early, or sometimes simply because they hear another child crying. Jesus did just the same," the Pope said, as reported by NPR. "And if your children are crying because they are hungry, then go ahead and feed them, just as Mary breastfed Jesus."