Chesca Kramer Addresses Controversial Social Media Post

An illustration of the roles of husbands and wives did not sit well with some of her followers.
This story was updated, October 23, 9:41 p.m. to reflect Doug's statement. Read below

Last October 17, Chesca and Doug Kramer's Facebook account, Team Kramer, shared a post called "Instructions for Christian Households." It was accompanied by a photo that illustrated the individual roles of a husband and wife based on a Bible passage from Colossians 3: 18-25.

The photo depicted three umbrellas—Christ as the biggest umbrella, with the husband, as the protector and provider for the family, as the next umbrella. The wife was below the husband as the managers of the home. Chesca also uploaded the same photo and caption on her personal Instagram account on the same day.



Shortly after it was posted, the reactions were comments of "Amen" while some women tagged their significant others. Then, as the post got shared on newsfeeds (it has gotten over 26,000 reactions, over 6,000 shares and 800+ comments), many of the comments showed displeasure and disbelief, labeling the post as a "medieval" point of view. 

Many of the negative comments focused on the Bible passage, particularly the verse that mentioned "slaves." Some also noted the photo promotes a "patriarchal society," when equality among men and women should be promoted in these modern times, especially in the context of familial obligations.

What other parents are reading

But there were those who felt people misunderstood the Biblical passages, especially what it means for those who practice the Christian faith (Chesca and Doug are Born Again Christians). They also defended the Kramers from what they feel is judgment on the couple's decision on the roles they each play in their family.  

The Facebook account, Team Kramer, did reply to some comments and issued clarifications like this one:

"When God established marriage and the roles of husband and wives, he did not make us any less or inferior to each other. We are created equal but we have different responsibilities. In a corporation, what would happen if you had 2 CEOs? Would the company run smoothly? Of course, there are designated roles and responsibilities."

What other parents are reading

Chesca also replied to comments in her personal Instagram and clarified what she meant by roles of husband and wife, stressing a husband's job is also to provide his family's emotional and spiritual needs. 




ADVERTISEMENT - CONTINUE READING BELOW

She also responded to a follower who wondered about the "instructions" for single mothers. 





Chesca agreed with one commenter who said that women are as capable as men when it comes to being providers. If roles were reversed, Chesca wrote she sees no problem. 

This line, "Wives, submit yourselves to your husbands, as is fitting in the Lord," also became a point of contention in many of the comments. Chesca explained what she meant by "submitting to your husband" in an August 2016 blog post on the Team Kramer website.

"My life took a real turn when I became a wife and a mother because I made it a point that I'd really take what the Lord said to heart, like how I am in my marriage with my husband," she wrote. "I really let him be the head of the family and I also submit to him. For it says at Ephesians 5:22, 'Wives, submit to your husbands as to the Lord. For the husband is the head of the wife as Christ is the head of the church, his body, of which He is the Savior.'"

She elaborated that submitting to your husband is not an admittance of inferiority—it's actually just about mutual respect. She wrote, "Us wives should be okay with this submission because it says in the Bible that our husbands too should love and respect us, which means, that our opinions and thoughts should matter to them as well. Although I know I'm also my own individual, my husband's opinion matters to me and I want my children to see that I respect and love my husband. It's an example I want to show my kids so it'll be second nature for them to do the same, to respect their father and later on respect the partners they end up with."

In her replies to comments on her latest post, Chesca stressed that marriage is all about teamwork—no one is above each other.

ADVERTISEMENT - CONTINUE READING BELOW




What other parents are reading
Lastly, when one follower suggested that the image on her post leads to misinformation through misrepresentation, Chesca replied she stands by it. "I can't change it just to make other people comfortable. It will be poorly understood no matter how well I explain it if it's something that they don't believe in," she says.

She adds that while the set-up shown by the illustration works for her family, she also understands that other people have different styles and approaches. "I will never force my beliefs on anyone, but as a reminder since this is my account I will really post what speaks to me, what I like and things that are about me."

In the end, she says that the post was not uploaded to offend anyone. "My husband leads us, and we both manage our home together and work as a team raising our family. It has been working and this has been good for us. And for those other styles if it works for you well and good! Thank you!"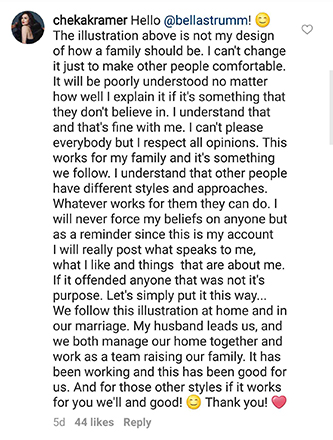 [UPDATE] After we posted this story on Facebook, Doug addressed the issues with a post on Team Kramer's Facebook, stressing that he does not believe his wife has a "lesser" role than him. 
ADVERTISEMENT - CONTINUE READING BELOW
He clarified, "I never treat or make Chesca feel she is inferior to me. In fact, I make her feel more important than myself. But this doesn't take away my leadership and stand to lead my family. And I mean this in all aspects, I choose to lead my family financially, emotionally, physically and spiritually. And guess who is my partner when I fall short at times? My wife. She gives life to our family. She gives me motivation to be the best father and husband to my family. So is a wife's role just as important as a husband? Yes! But do they have the same roles? No!"

On the issue of submission, Doug says the Bible isn't saying a wife needs to fulfill every wish of her husband. "In our set-up for our family, when there's decisions or choices that need to be made, I consult my wife first. We talk about it. Her input and suggestion matters because she is the mother of my kids and I love her. In the end, I will consider all things and make the final decision that will be best fit for my family." 

Read the rest of his statement below. 
ADVERTISEMENT - CONTINUE READING BELOW
What do you think, moms? Do you agree with what Chesca had to say about the roles of husband and wives? Share your thoughts and comment down below!
What other parents are reading

Trending in Summit Network