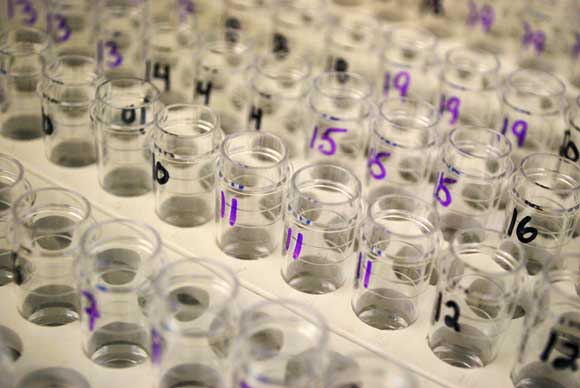 Photo by Chesapeake Bay Program via flickr creative commons
A couple recently discovered that their daughter, conceived via artificial insemination at a clinic in the state of Utah in the United States, was actually fathered by the clinic's receptionist.

The shocking truth came as "Paula", the mom, "Jeff", the dad, and "Ashley", the 21-year old daughter, had their DNA tested by 23andMe, a direct-to-consumer genetic testing company, in October 2012. Based on the test, father and daughter do not share any DNA markers, and thus are most likely not related. These findings were confirmed by a separate, more traditional paternity test.

In 1992, Paula and Jeff came to the private clinic Reproductive Medical Technologies, Inc in Midvale, Utah to conceive a child via artificial insemination using their own egg and sperm cells. The procedure was successful and later produced a daughter.

In search for answers, and not discounting the possibility that the testing may have made a mistake, Paula and Jeff sought the help of CeCe Moore, an independent genetic genealogist. After two more DNA tests by two different genetic testing firms, Ashley's DNA profile was compared against existing databases, and matched the profile of another individual.
This individual turned out to be the cousin of Thomas Lippert, now deceased, who used to work as a receptionist at the RMTI. To confirm suspicions, Lippert's mother agreed to take a DNA test, which confirmed that she is Ashley's grandmother – and that Lippert was very likely her father.

Moore, speaking on behalf of Paula and Jeff, said "For the mother, it's like being defiled". "It's disgusting — somebody tricking you into having their own sperm implanted in your body." For the father, "it's like a theft," and Ashley "has to grapple with the fact that this man is part of her biology," especially with what they have uncovered about Lippert's past: he was sentenced to six years in prison for conspiring to kidnap and abduct a Purdue University student and brainwashing her into loving Lippert.

The University of Utah is now offering free genetic testing to families who may have gotten the services of RMTI from the late 1980s to 1990s in light of these developments, and has issued a statement that it is investigating "credible information regarding the possible mislabeling or tampering of a semen sample at RMTI".
Source:
January 9, 2014. Stephanie Pappas. "23andMe Test Reveals Disturbing Artificial Insemination Switch" livescience.com