It's official: school's out! No more hours-long of study sessions, early morning wake-up calls, or homework and long exams. In what seems like just a blink of an eye, another school year has ended. What's left to do is to celebrate a job well done by both parents and kids alike. It doesn't matter if your child is moving up to a higher level or graduating—it's still a reason to celebrate!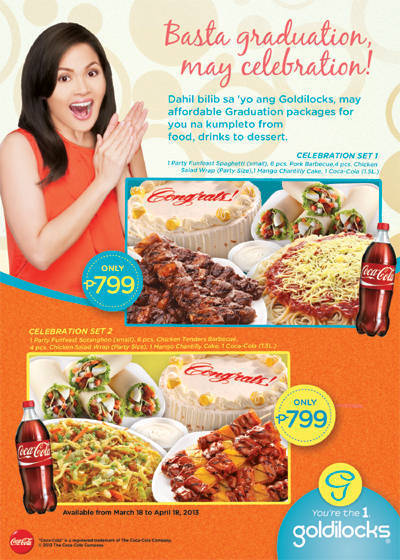 Are you looking to have a party, but aren't really giddy about the expenses you'll need to shell out? Maybe next year's tuition is at the back of your mind, probably a new laptop for your kiddo is in order, or your child wants swimming classes or summer camp this year. Don't worry - there's a budget-friendly option available for you at Goldilocks. For only P799, you and your family can have a complete menu with pasta, a main dish, refreshments, and dessert!

Goldilocks Celebration Set 1 includes 1 Party Funfeast Spaghetti, 6 pcs. Pork Barbecue, 4 pcs. Chicken Salad Wrap, 1 Mango Chantilly Cake, and 1 bottle of Coca-Cola 1.5L.

Goldilocks Celebration Set 2 is as filling, with 1 Party Funfeast Sotanghon, 6 pcs. Chicken Tenders Barbecue, 4 pcs. Chicken Salad Wrap, 1 Mango Chantilly Cake, and a bottle of Coca-Cola 1.5L.

These party packages, available from March 18 to April 18, 2013 are true to the Pinoy taste, it's like you cooked it from home yourself, but without the hassle!
 
Order the new Graduation Celebration Sets from Goldilocks today! It's going to be a party celebration that's worthy of both you and your child's hard work and achievements all year round.
Goldilocks Celebration Sets are available for dine in, take out and delivery. For more details, visit the Goldilocks Facebook page.
.