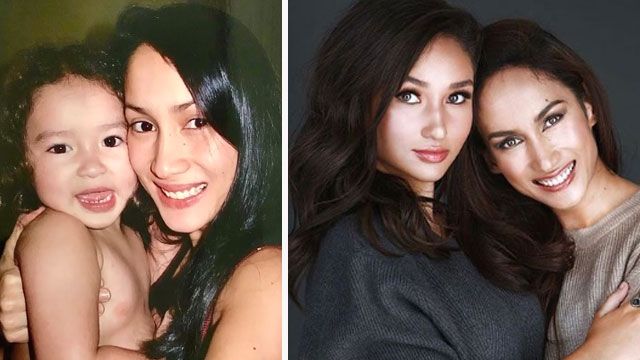 Has it really been 18 years since 'Sabado Nights' girl Ina Raymundo had her first child? The mom of five could not believe it either, but on October 10, 2019, Ina's firstborn Erika Rae became legal.
To mark this special day, Ina wrote Erika an open letter on Instagram, along with a video collage of photos chronicling Erika's life thus far, starting with Ina's pregnancy.
Ina said that from the time she was born, Erika's personality already shone through.
"That smirk, with your Angelina Jolie lips, you gave us the first time we held you in our arms...unforgettable.It's your newborn way of saying, brace yourselves mom and dad!"
She says Erika is "the most alert of all" because "the hospital in Vancouver forgot to give me an epidural."
Like many kids, Erika was fond of Barbie dolls and Polly Pocket, and of popular TV shows like 'Blue's Clues' and 'Totally Spies,' Ina says. Once she hit her tween years, Erika shifted from children's shows to Disney's 'High School Musical' and fell in love with the soundtrack, including the song 'You Are The Music In Me'.
"You've always been a songster too," Ina adds. "You and mama used to sing Big Girls Don't Cry over and over again in the car until Dad and Jakob's ears would bleed." Jakob is Ina and husband Brian Poturnak's 16-year-old son.
Ina recalls how Erika went through a phase where she wanted to be independent, which is typical of the early teenage years. "But somewhere along Middle School years, you somehow changed. Mom and dad are the un-coolest persons on earth. We get it. Those were your transition years," she acknowledged.
In an Instagram post in 2016, Ina said that the reason she barely has photos of Erika on her feed is because "she wants anonymity. She doesn't want to be on my IG. I truly respect that but I just want to share that my 14-year-old daughter is beautiful, smart, super strong (like her dad) and very independent."
This year, however, it seems Erika has come around and is more visible on Ina's Instagram. Many people say she is the spitting image of her mom. 
In her birthday letter for Erika, Ina expressed her pride for the woman Erika has become. "Now that you're finally 18, you've matured so much. You have a good head on your shoulders and a beautiful heart, Erika.
"You will always be the feisty and fiery one in the family but you are the sweetest too. We can see how you love your siblings so much and can be very protective of them. We are blessed to have you."
Besides Erika and Jakob, Ina and Brian are also parents to daughters Miki, 11, Anika, 9, and Minka, 6.