Indonesian Athlete Brings Home Gold Medal To Father's Funeral

Edgar Marvelo dedicates his victory to his late father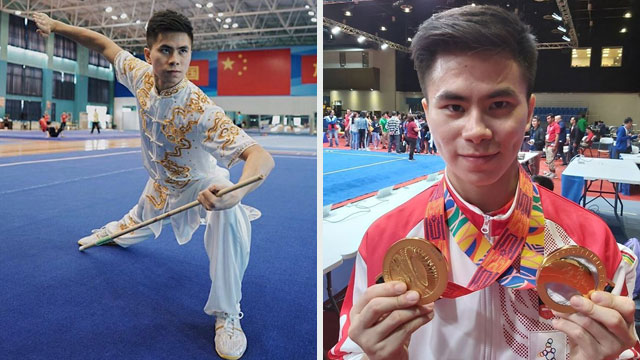 It was a bittersweet victory for Indonesian wushu athlete Edgar Xavier Marvelo as he won gold in the 30th South East Asian (SEA) Games after his father passed away back home.

On December 3, 2019, hours before the 21-year-old competed in the Gunshu and Daoshu events and claimed two gold medals, Edgar's family had called to inform him that his father Lo Tjhiang Meng had passed away.

According to reports, Edgar had asked permission to go home after learning about his father's death.

ADVERTISEMENT - CONTINUE READING BELOW

"Last night Edgar already knew [his father died]. At first he was asked to go home [by] the family. But, we also explained that all this time he had struggled with training. Before leaving, he had also met his father," Ngatino, Wushu Indonesia secretary-general, told CNN Indonesia.  

CONTINUE READING BELOW

Recommended Videos

Talking to reporters after his win, Edgar said in Bahasa, "Before his life support was removed, I told my dad that I promised to do this for him."

"I called my mom and told her to please tell everyone that I can't go home to Indonesia yet because there's a storm in the Philippines. I might only come home tomorrow morning."

On Tuesday, typhoon Tisoy (international name Kammuri) which brought winds of up to 215 km/h, forced the temporary closure of Manila's Ninoy Aquino International Airport.

Edgar dedicates his victory to his late father. On Instagram, he wrote, "2 Gold Medals, for Papa."

ADVERTISEMENT - CONTINUE READING BELOW

The SEA Games Facebook page shared Edgar's poignant story along with photos of the young athlete in victory and in sorrow, and netizens from around the region have expressed their sympathies and given words of encouragement to Edgar. They also commented that they are proud of him for earning this victory despite his grief.

ADVERTISEMENT - CONTINUE READING BELOW

He flew to Indonesia in time for his father's funeral, bringing home the gold medals he had promised him. 

"Finally meeting my dad, he's wearing my medal now," he wrote on Instagram Stories.  

Trending in Summit Network