Jackie Forster on Seeing Sons Andre and Kobe Again: 'I Tried My Best Not to Cry'

After twelve years, her prayers have been finally answered.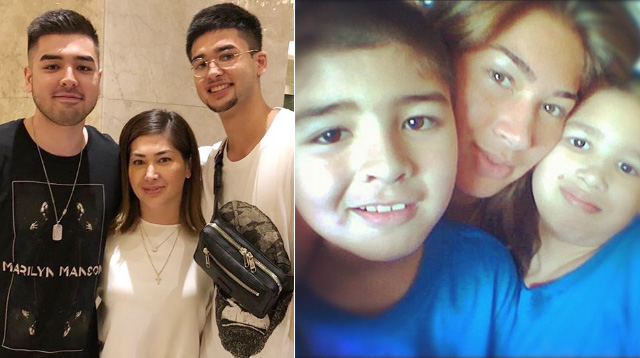 It was an answered prayer, a dream come true for mom Jackie Forster to be with her kids Andre, 22 and Kobe, 20, after 12 long years. It happened on Saturday, April 28, at a hotel in Mandaluyong City. 

"I feel like I'm just gonna wake up and this was a dream because for years, that's all I've been doing, dreaming for that day," Jackie said of the first meeting with Kobe in January 2018, in an exclusive interview with Pep.ph. 

A post by Jackie Forster in February 2015

It will be remembered that after her separation from her cager husband Benjie Paras in 2001, there was a lengthy legal battle over the custody of their sons. The two have remained with their father, who remarried in 2006.

Earlier attempts by Jackie to reach out to Andre and Kobe through social media have been met with indifference, but the mom never faltered in her prayers. "God is sooooo good!" she captioned a photo of her, Andre and Kobe taken over the weekend.

ADVERTISEMENT - CONTINUE READING BELOW

So how did it finally happen?

Jackie recounted that she received a phone call from Kobe earlier this year while she was in London and he was in California. "We had an overwhelming 40-minute conversation."

"He said, 'Ma, it's me Kobe,' and he said, 'How are you?'

"Naiyak ako, sabi ko, 'I'm better now because I'm really happy with my life, but I'm just tired.'

"I asked him if he wants to come to Europe, I can send him a ticket. But he said he can't leave because of school and basketball.

"And then he asked me, 'Can you come here?'

CONTINUE READING BELOW

Recommended Videos

However, with her family in tow—husband Michael, daughter Caleigh, 7, and sons Jared, 11, and Yohan, 2—it was not easy to hop on a plane and travel five thousand miles just like that.

But, knowing how important this is to her, Michael made arrangements and Jackie was on her way to see Kobe just three days later.  

ADVERTISEMENT - CONTINUE READING BELOW

"Meeting Kobe was just overwhelming. It didn't feel real... like, I thought I was floating.

"When I think about it now, we didn't even take pictures of that moment, of that day.

"I just really wanted to spend every second listening to him, answering any questions he had.

"He slept with me sa hotel ko and we just kept talking hanggang madaling-araw until he had to go to class."

What other parents are reading

Jackie said she stayed in the U.S. for a month, but they promised to keep their meetings private because "Ayaw niyang (Kobe) may makialam, ayaw niyang may manggulo."

With Kobe now ready to play professional basketball in Manila, and older brother Andre having carved a name for himself in show business, Jackie booked a flight to the Philippines for the much-awaited meeting. 

"It was very positive and it was a good first meeting," she says, after seeing her firstborn Andre again.

"Of course, I couldn't predict what to expect because even though I talk to him sa chat or Facetime him, iba yung in person.

"He's bigger than me, he has a beard and he has a moustache, he has big manly hands.

"But it was definitely hard for me to see him sit beside me and hug me.

"I tried my best not to cry.

What other parents are reading

"I think Andre and Kobe also didn't want to see me sad so they tried to make everything light lang."

How does Jackie feel now, after longing for this moment for so long?

ADVERTISEMENT - CONTINUE READING BELOW

"Being with Andre and Kobe feels like I just gave birth again."

"We don't wanna talk about the past, especially the kids. And the last thing the kids wanna do is to be put in a place where they have to choose, and it's not healthy.

"And being their mother, it's my right to protect them.

"We are all happy, we are okay, but we wanna move forward and we just wanna move on in peace."



Trending in Summit Network