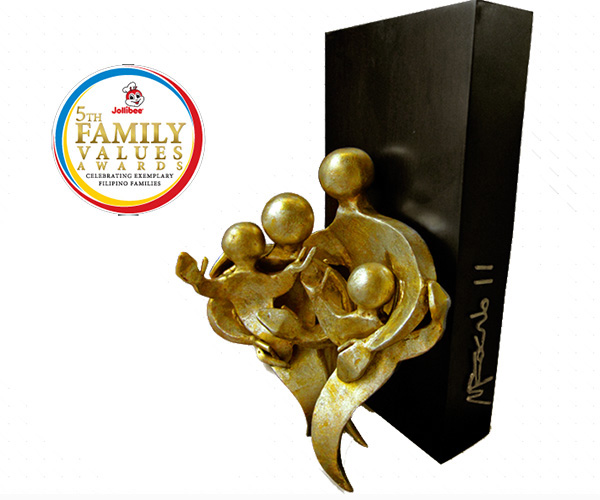 Generosity, compassion, and a genuine concern for others -— these are a few of the outstanding Filipino values that Jollibee celebrates through the annual Jollibee Family Values Awards (JFVA). Now on its fifth year, the JFVA is again starting its global search for outstanding Filipino families who have made it their mission to help others with their noble deeds and advocacies.

Since it began in 2011, the JFVA has grown into a nationally established, annual celebration of Filipino family values. The campaign has paid tribute to a total of 25 families from all over the Philippines and the world, each of whom are active in noteworthy advocacies that improve the lives of their fellowmen. Committed to encouraging Filipinos to do good deeds as one family, the JFVA has received praise from the nation's leaders, family and parenting advocates, and the media. It also took home various awards from the Philippine Quill and Anvil Awards, and was even lauded by the Church of Jesus Christ of Latter-day Saints, through the conferment of the Family Values Award (FVA) in 2013.

"Year after year, we are inspired by the various stories of generosity, hope and selflessness by the families nominated in the Jollibee Family Values Awards," said Jollibee Vice President for Marketing Harvey T. Ong. "Whether through acts of kindness, saving the environment, or supporting worthy causes that brighten the lives of others, these extraordinary families show that all of us can do our share and are capable of helping the less fortunate."  

Interested parties who wish to nominate model families -— including their own —- must accomplish the nomination form (available for free in all Jollibee branches nationwide or for download at www.jollibee.com.ph/familyvaluesawards), and answer the questionnaire on the nominated family's suitability and eligibility. Entries may be sent via mail to 5th Jollibee Family Values Awards, Stratworks, Inc., 2/F Zaragoza Building, 102 Gamboa St., Legaspi Village, Makati City or personal delivery to any Jollibee store nationwide. The deadline of submission of nominations is on July 31, 2015.


Recognizing model Filipino families
The 5th JFVA will select five winners from across the Philippines, each of whom will receive a cash prize worth P300,000, a trophy designed by renowned sculptor Michael Cacnio, and P10,000 worth of Jollibee gift certificates.

An OFW family whose noble pursuits have benefited others will also be recognized with a Global Pinoy Family of the Year award, and take home P300,000 in cash, a Cacnio trophy, Jollibee GCs worth P5,000, Jollibee Padala gift certficates worth P5,000, and a special prize from co-presenter, Coca-Cola Corporation.

For the second consecutive year, Jollibee will present special citations to families who promote the following advocacies: Children (co-presented with Children's Hour and San Miguel-Purefoods), Environment (Landbank), Education (National Bookstore), Persons with Disabilities (National Council on Disability Affairs), and Minority Groups (Kalipunan ng mga Katutubong Mamamayan ng Pilipinas, or KATRIBU). Recipients of these special citations —- to be chosen from the 15 shortlisted national finalists -— will take home P50,000 in cash, a plaque, and P3,000 worth of Jollibee gift certificates.


The 5th Jollibee Family Values Awards is made possible with the support of major sponsor Coca-Cola, official airline partner Cebu Pacific, and official hotel partners Crowne Plaza and Holiday Inn.  

To know more about the 5th Jollibee Family Values Awards, see posters at any Jollibee store nationwide or log on to www.jollibee.com.ph/familyvaluesawards.