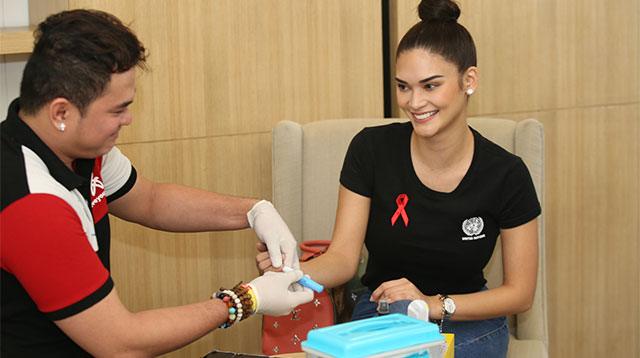 The statistics are staggering: approximately 56,000 people are living with HIV in the Philippines. The number of new HIV cases in the Philippines has increased from one per day in 2007 to 29 per day in 2017. Last year, there had been 7,200 new infections, and they all belong to the 15 to 24 age bracket, many of whom are still in their high school years.

These figures have compelled Miss Universe 2015 and UNAIDS Goodwill Ambassador for Asia and the Pacific Pia Alonzo Wurtzbach to take a bold action on her advocacy for HIV. She had herself tested for HIV before cameras in a mobile clinic run by the community organization LoveYourself at the Kalayaan Hall in SM Aura in Taguig City last August 9. UNAIDS Philippines explained that this was, in fact, the second time Pia has undergone a public HIV screening, but the first time she has done so in the Philippines.



The public HIV screening had been the highlight of the unveiling of Pia's "Project Progressive Information Awareness" campaign. Known as the "PIA Project," it aims to inform young people about HIV and help end the AIDS epidemic, not only in the Philippines but the Asia-Pacific region. 

ADVERTISEMENT - CONTINUE READING BELOW

"With the PIA Project we hope to see an increase in HIV awareness, spread love for people living with HIV, and make HIV testing among Filipinos a normal part of their health and wellness routine," said Wurtzbach. "I believe we can strengthen our bonds and achieve our shared goal of ending AIDS in the Philippines, Asia-Pacific, and the Universe."

What other parents are reading

Meantime, another "Pia" is lending her support to the cause: Rep. Pia S. Cayetano, who was the principal sponsor of the Reproductive Health Law when it was being passed in the senate.  

"Knowledge is power, and ignorance is not bliss. We need to educate people. Reproductive Health Law [is about] responsible sexual behavior, reproductive health education, and HIV/AIDS prevention and counseling is all part of it," the district representative for Taguig said. 

Rep. Cayetano also said that amendments are currently being done with the Reproductive Health Law. "The age of testing in the committee report is 15 and up, pwede nang mag-voluntary testing. Below 15, they just made it consistent with the U.N. Rights of the Child." She also stressed that the motivation for these changes is primarily the child's welfare, saying, "Kaya mo sya pinapa-test is because you do not want this child to be on his own and find out later on that he has a very serious condition. And let's not forget, may counseling yan na kasama."

"Marami pa ring Pilipino ang takot sa word na S-E-X. There are still certain sectors who feel that when you talk about this, you are promoting promiscuous sex or irresponsible sexual behavior, which is the opposite," the Congresswoman lamented. She stressed that information relating to sex should start at home, "because sometimes, mali talaga yung info [that they get elsewhere], malicious pa. Better if it comes from the parent, so you could tell your child, 'You know, there's nothing to be ashamed of, you can ask these questions.'"

What other parents are reading

As a parent to two daughters and one adopted son, what are her tips to initiating "that" talk with them? Based on her own experience, Rep. Cayetano says:

1. Keep it simple. 
"Only answer to the extent that the child needs to know, or the child asks. The child is usually happy with a simple answer. A 3-year-old might ask, 'Why is your tummy big?' And you could say, 'Oh, your baby brother or sister is growing.' End of story."  

2. Answer questions matter-of-factly.
"If you have teens, it's even easier to explain kasi you don't have to pretend. The act of sex? A teenager knows that, they know anatomy. Don't put malice in it, there's a man, there's a woman, and when they have sex, they have a baby. You'll be surprised, most kids already know it."

3. Don't make it about the kids. 
"I ask it about their friends, or schoolmates, [rather than them directly]. Like, 'Girls, sa batch nyo ba, do they know how a baby is born?' 'Do they know anything about contraceptives?' That way it's easier to get an answer."

The PIA Project is a collaboration among The Joint United Nations Programme on HIV/AIDS (UNAIDS); Love Yourself, a non-government organization that provides free and confidential HIV testing, counseling, and treatment in the Philippines; Love Gala, Asia's premier charity and award gala, and the City of Taguig led by Mayor Lani Cayetano. 

Trending in Summit Network