Milestones Unlocked: Leon, Primo, Pancho and Nala All Have Something to Celebrate!

Find out what our fave celeb cuties can now do! Plus, laud the new achievements of soon-to-be parents from showbiz!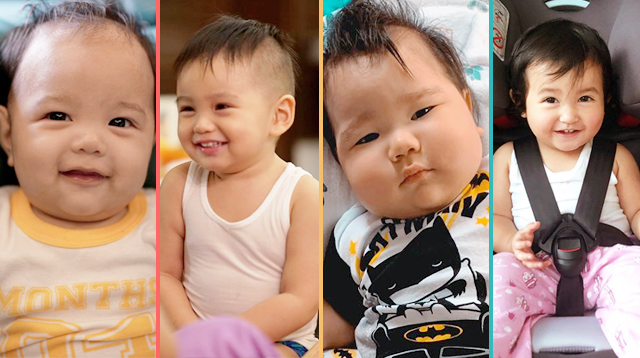 Iya Villania tried early potty training, and it worked (so far)!

Iya Villania's second son Leon Arellano is turning five months old this January, and already, the little one is showing signs of readiness for potty training. On her Instagram stories, the mom of two shared a snapshot of Leon doing his business on the toilet.

"I've tried three times already, and all three were successful. Within seconds [after being placed on the potty], he'd let it out," Iya wrote about Leon's successful tried to poop as she propped him on the toilet. "I find it so amazing that it's almost as if he knows what the toilet is for. I'm sure the position helps, too!" she added.

Iya admitted that she wasn't planning on potty training her Leon this early. "Honestly, I was just trippin' when I decided to put him on the loo! I didn't think he'd actually poop!" she wrote.

Within seconds of being placed on the potty, Leon Arellano let "it" out! He did it successfully three times already, said mom Iya Villania!

PHOTO BY

screenshot from @iyavillania/Instagram Stories

ADVERTISEMENT - CONTINUE READING BELOW

Early potty training, otherwise known as elimination communication, (EC) is not new. Mom Jennica Uytingco calls it Natural Infant Hygiene and did it with first daughter Mori. It's not about forcing babies to pee or poop. It involves observing and being sensitive to your baby's cues on when they need to pee or poo, and then sit them on a "potty" so they can do it without soiling their diapers. (Read more about EC here.)

Iya also lauded her firstborn son Primo Arellano for going to the toilet to pee "without telling anyone or asking for any help!" Primo wasn't able to do it mess-free "because he wasn't able to pull his brief down properly," his mom shared. "I was still very proud of his effort!" Iya wrote. The growing boy, however, was successful in peeing on his own after trying again after an hour.

Kuya Primo Arellano, on the other hand, went to the potty to pee by himself and even put himself to sleep during naptime!

PHOTO BY

screenshot from @iyavillania/Instagram Stories

ADVERTISEMENT - CONTINUE READING BELOW

Recommended Videos

The TV host added that Primo had been able to put himself to sleep during nap time. "Today was a big deal though [because] he was able to do so even when he knew Drew [Arellano, Iya's husband] and I were home. He normally needs one of us to be with him!"

Lots of milestones to celebrate in the Arellano household! Hooray for kuya Primo and little Leon!

LOOK: Pancho Bacarro Can Already Sit On His Own!

ADVERTISEMENT - CONTINUE READING BELOW

Mom Saab Magalona didn't share much about her son Pancho Bacarro's milestone, but many of her followers were super excited to see the little boy seated without anyone helping him or anything propping him up. Apparently, Pancho has been able to do it since December, and his pediatrician says he has "made so much progress." Pancho, who was born prematurely, is turning a year old in February.

In Saab's past Instagram Stories, Pancho didn't show much enthusiasm doing tummy time at first. Now that he can sit on his own, it's safe to say he had learned to love it and it helped strengthen his neck muscles.

In other news, Pancho also had his first trip to the dentist early this month. "Not scary at all! Doctor says my mouth is very clean and that I'm a good boy!" read the caption on his Instagram. Double hooray, Pancho!

Camille Prats shares a tip on having babies get used to a car seat

ADVERTISEMENT - CONTINUE READING BELOW

Preggo mom Camille Prats shared on Instagram a simple tip for parents who have a hard time getting their kids to sit on a car seat. Her husband VJ Yambao thought of it and it worked for their one-year-old daughter Nala Camilla.

"Daddy @vjyambao1 brought [the car seat] it to the house and left it sitting around. @nalacamilla would sit on it for a couple of minutes then get up to play and explore and then sit on it again like it's something fun to do," Camille wrote. "We let her do this as much as she wants so when we put it back in the car, she'd be familiar with it and wouldn't think twice on sitting on it. Good job daddy!" she added.

No fuss! Camille Prats's daughter Nala Yambao sits on her car seat comfortably.

PHOTO BY

screenshot from @vjyambao1/Instagram Stories

ADVERTISEMENT - CONTINUE READING BELOW

The pending legislation on the mandatory use of car seats to ensure children's safety while inside a vehicle is a signature away from becoming law. While many parents raised concerns about kids not being used to car seats and refusing to sit on them while in the car, it's not an excuse. Try Camille's advice—it might work for you too! 

Rona Tai appreciates Eric learning parenting skills

Soon-to-be first-time parents Rona and Eric Tai just ticked off an item on their to-do list before welcoming their baby: attending Parenting Emporium's classes! Eric's concern about him being big and the baby being fragile was addressed.

"I know nothing can compare to the real deal, but if we try to prepare and gain more knowledge as a parent, we'll have an idea on how to pacify or handle situations when they arise," Eric wrote on Instagram as a caption for a video of him trying to swaddle a baby doll. He's really getting the hang of it.

ADVERTISEMENT - CONTINUE READING BELOW

The "gentle giant," as his wife Rona refers to him, also praised the host on his learning efforts. "This comforts me knowing that I have a very supportive husband and a great father to be," the seven-months preggo wrote as her caption for the same video post.



Besides the basics, Rona and Eric also learned about emergency response for babies, such as what to do when the baby is choking. Both of them recommend that all parents-to-be learn and take classes, too. Great job, Rona and Eric!

Andi Manzano tours new baby nursery!

ADVERTISEMENT - CONTINUE READING BELOW

The new nursery is ready for the arrival of Andi Manzano and GP Reyes' second baby! They decided the baby room could double as a guest room as well, so they went with more neutral colors, white with hints of black, and light brown or light wood as accents.

"One of the things I looked forward to being pregnant was nesting and fixing the baby room. I went with the more mature style than the girly side of it all," Andi captioned her Instagram post about the new baby nursery. Soon-to-be big sister Olivia spearheaded the tour, and it looked like she really loved the convertible bed and the breastfeeding/rocking chair, and was fascinated at the wall decals. The baby nursery has also been equipped with a changing table, clothes drawer, and day bed with throw pillows.

Andi is already 38 weeks pregnant, and the baby may arrive any time now (her doctor already told her to stay put!). Hooray for Andi and Ate Olivia! Watch the full nursery tour below:

What other parents are reading

Celebrate your pregnancy milestones!


Enter your details below and receive weekly email guides on your baby's weight and height in cute illustration of Filipino fruits. PLUS get helpful tips from experts, freebies and more!

You're almost there! Check your inbox.


We sent a verification email. Can't find it? Check your spam, junk, and promotions folder.

Trending in Summit Network