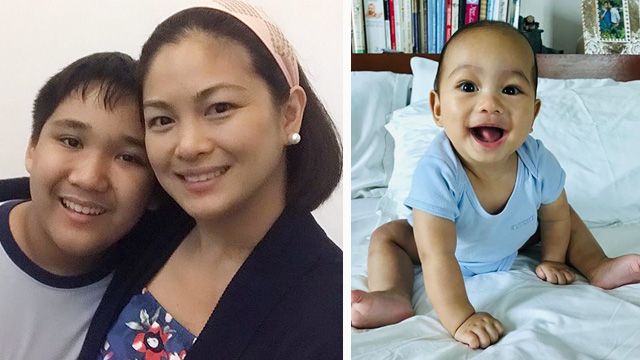 When mom needs an extra hand, who can she turn to? In Miriam Quiambao-Roberto's case, it's her panganay, Kuya Joshua, who became her trusty helper.
On Instagram, the mom of two shared how  her 11-year old son Joshua came to the rescue when their Yaya had to be away for a while. The loving Kuya took charge and looked after his 8-month-old brother Elijah. 
"No Yaya, No Hubby, No Problem," Miriam began her post. "Yaya has an emergency to attend to in the province and my husband @ardyroberto left for Iloilo for a talk. I'm left alone with my kids and needed to go for some treatment this afternoon.
"Kuya very kindly agreed to babysit his brother and they are now strolling at the park on our new @apricaph Nano Smart."
In a second post that day, Miriam gave an update on the siblings and how their little outing turned out. 
"He took him out for a stroll in the park but came back after 20 mins. I asked Kuya if baby enjoyed it. He said baby got bored after a while. Not sure if it was really the small baby or the big baby who got bored but I'm taking Kuya for his words," the celebrity mom, seemingly amused, wrote.
Not only did Joshua offer to look after Elijah, he also tried to keep him entertained in the car while their mom Miriam drove. 
"Loved listening to Elijah's laugh when Kuya sings him the Itsy Bitsy Spider song or plays peekaboo with him. This was in the car when Mommy was driving and Kuya needed to stay in the backseat with baby who was on the carseat," recounts Miriam.
The 44-year-old mom also proudly wrote about another sacrifice Joshua did for his brother. 
"Baby had a couple of poop blowouts today and even if Kuya hated changing diapers, he suffered the aroma since Mommy really [needed] an extra hand. Baby can no longer stay still to have his diaper changed."
And, later that day: "Same thing early evening today while Kuya was helping Mommy give baby a bath. This little boy loves his Kuya so much! I love seeing them have fun together!"
What a responsible and loving brother Joshua is! Such a helpful attitude can truly make any load easy. No wonder Miriam is so proud of her kids!