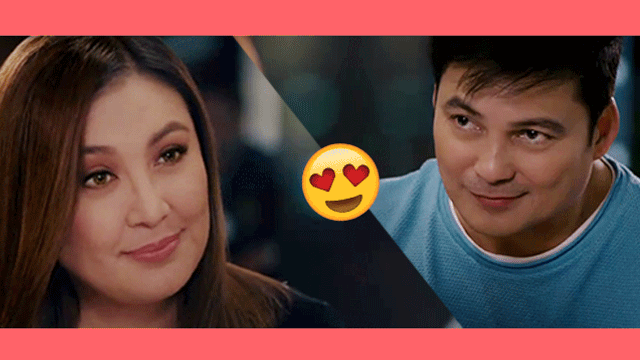 Sharon Cuneta and Gabby Concepcion may have long moved on from their failed marriage in the '90s (both are happily married now — Sharon with Senator Kiko Pangilinan, Gabby with Genevieve Gonzales). But fans (specifically the diehard Sharonians) of their love team have always expressed a fervent desire to see the two reunite in a project together.
Well, today, their prayers have been answered. Fast food chain McDonald's Philippines just dropped a new video starring the former couple! We urge you to take a moment to watch this.  
Sharon and Gabby have been teasing their fans about this reunion on their Instagram accounts over the past week, sending their fans in a frenzy. We all thought they were finally making a movie. But instead we got a McDonald's commerical, and although it was just 1 minute and 27 seconds, we weren't prepared for the feels!
It all started with Sharon posting an old photo of her with Gabby with the words, "This is only the beginning."
Then, the former couple followed each other on Instagram, and their fans just lost it. Naturally, their daughter, KC Concepcion, was over the moon with what happened.
"Never in my wildest dreams," says KC in her caption. Kami rin!
But it didn't stop there. This week, Sharon's Instagram feed was filled with old photos of her and Gabby.
She then confirmed that a reunion was happening with this sweet throwback photo...
…and this quote from their unforgettable movie "P.S. I love You." Buhay pa ba kayo?
Gabby also shared a photo back when he and Sharon were still sweethearts.
Then, the commercial went live. From the first shot of the Megastar, looking gorgeous while taking a bite of a Chicken Mcdo, to Gabby asking if he can share a table with her, fans' hearts were captured. And even if they were just stealing glances and smiling at each other, it was enough to inspire mega kilig.
Unsurprisingly, fans went wild over the reunion, proving that the Sharon Gabby love team never really died. As of this writing, it has been shared over 8,000 times with over 16,000 reactions and 2,000 comments.
Even if it's just a commercial, we're still happy to see Sharon and Gabby getting along. It's proof that exes can be friends, too! Just take a look at what happened behind the scenes!
And before you think that their current spouses are raising their eyebrows over this reunion, Sharon assures that her hubby, Kiko, is very supportive. When one Instagram user asked if Senator Kiko ever gets jealous because of all the throwback photos she's been posting, Sharon is quick to reply, "Naku, super secure si Kiko. Supportive!"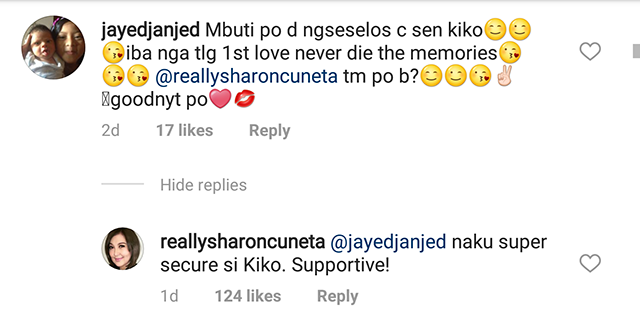 We think that's great news. Now can we get a part two?