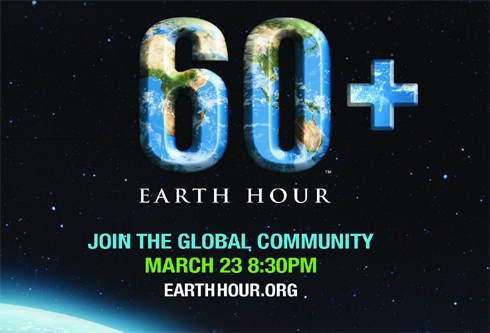 Pinoys the world over are renowned for their distinct bayanihan spirit – a brotherhood of kinship that galvanizes people to transcend times of crises.

Envisioned as the most visual way to stand against climate change, Earth Hour uses the simple action of turning off lights for 60 minutes to deliver a powerful message on the need for decisive climate change solutions. This simple act has captured the hearts and minds of people the world over.

Earth Hour began in 2007 as a single-city event. Today, it has become the largest recurring environmental mass-action, with 152 of the world's 196 countries joining the global switch-off.  

One of the movement's staunchest supporters, the Philippines has since 2009 topped town and city participation to earn the title of Earth Hour Hero Country. Locally spearheaded by the World Wide Fund for Nature (WWF-Philippines), organizers are gunning for the country's fifth consecutive first-place finish.

Earth Hour 2013 is slated for March 23 at 8:30 pm. Many of the nation's most iconic landmarks are expected to dim their lights in the largest call for action on climate change. Cities from around the world, from Argentina to Zimbabwe, are expected to join in.

"The EDSA revolution has shown how the Filipino's strong sense of spirit and unity can change the course of history," says WWF-Philippines Vice-chair and CEO Jose Ma. Lorenzo Tan. "Because we stand firm, we are able to set an example and be of positive influence to others. Having secured the top spot for four straight years, we should do all we can to ensure that the country again sends a clear message to the world – that individuals, when working as one, can rise to the challenge of climate change."
(Related story: How to Raise Kids who Care for the Environment)

Earth Hour 2013 aims to reach more people and provide further chances for participation by going digital. "At 8:30 pm this March 23, you can either initiate your own switch-off at your home or be part of bigger switch-off initiatives led by companies or organizations," explains Earth Hour Philippines National Director Atty. Gia Ibay. "You can sign up on the Earth Hour Philippines website by clicking here and show the world how you will participate."

Local communities, organizations, and corporations can download the Earth Hour 2013 Action Kit on the Earth Hour Philippines website if they will hold their own switch off events.
[previous|page|next]
Dare the World to Save the Planet Through 'I Will If You Will'
Taking off from last year's successful worldwide campaign for Earth Hour, WWF also invites Filipinos to empower their friends and colleagues to commit to protect the planet beyond Earth Hour.

The concept of 'I Will If You Will' centers around providing a social contract between two parties - connecting one person, business or organization to a 'promise' and their friends, family, customers or members to a 'challenge' - uniting them behind the common goal of creating a positive environmental outcome.

WWF-Philippines national ambassador and fitness enthusiast Rovilson Fernandez has pledged to conduct a free CrossFit class if 1,000 people pledge to use reusable bags instead of plastics.

His fellow national ambassador, extreme sports extraordinaire Marc Nelson, has also pledged to kite-board from Boracay Island to the main island of Panay while wearing a Panda headgear if 1,000 people commit to use reusable water tumblers instead of disposable plastic bottles.

Filipina equestrienne and actress Mikee Cojuangco-Jaworski, the newly-appointed Earth Hour Philippines Ambassador, has pledged to contribute 500 seedlings to WWF-Philippines' agroforestry programme at the Abuan Watershed in Isabela if 500 people agree to quit smoking for 5 days.

WWF challenges Filipinos to go beyond the 60-minute Earth Hour switch-off and initiate environmentally-friendly efforts. "It can be as simple as switching to energy-saving lightbulbs, turning off your mobile charger when not in use, or signing up for paperless banking," suggests Ibay. "It's about committing to change your lifestyle on your own terms, to change how you live in ways you can manage, in order to sustain the Earth."
(Related story: 7 Eco-Friendly Ways to Care for your Baby)

WWF-Philippines also accepts donations to fund its environmental initiatives, such as Earth Hour. Donors not only help sustain WWF programs; they can be part of various events and volunteer activities as well.

With easier ways for Filipinos to help Mother Earth through WWF, there is simply no excuse to sit back and remain a spectator. "WWF intends to create different opportunities for individuals to make a concrete contribution to the worldwide cause of protecting and saving the planet," Ibay concludes. "Each act of support matters – which is why we are calling on every Filipino to make that crucial choice to take action. By rallying the entire nation, we can do much more than we have ever done and show the world how our Bayanihan spirit transcends nations."

Earth Hour corporate partners Philips, Subaru (Motor Image Pilipinas, Inc.), ArthaLand, Smart Communications, LBC Foundation, Big Chill, and Starbucks have also announced their challenges. Participants may visit the website and upload their promises as well as accept the challenges of others. To spread the word and get more Filipinos to follow through, they can also share their dares publicly via their personal social networking accounts on Twitter, Facebook and other sites.

Dare the world to save the planet! Visit wwf.org.ph/earthhour or follow WWF-Philippines at Facebook.com/WWF.Philippines or Twitter.com/WWF_Philippines.