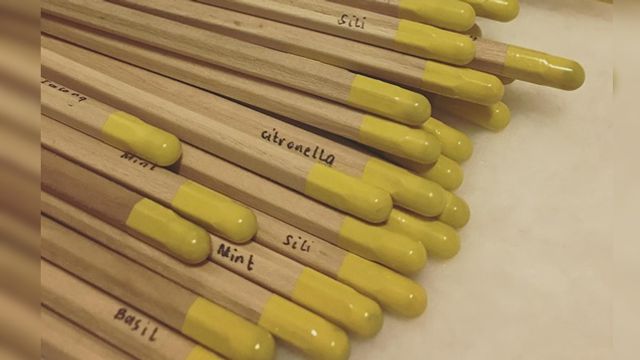 As more people advocate for a sustainable lifestyle, eco-friendly products have also become popular — Filipinos have begun switching to steel straws, wheat straw cutlery, shampoo bars, bamboo toothbrushes, cloth diapers and more. Now, a startup from Cebu has developed a pencil that can grow into plants after use, and it's just in time for the new school year.

Eco Hub Cebu, an online shop which offers eco-friendly products, launched the plantable pencils on its Facebook page in late May 2019, at an affordable price of Php20 each. It's described as a regular HB pencil that can be "transformed into plants when it is too short to use." Instead of a small eraser on one end, the pencil is tipped with a gelatin capsule that contains the seeds of different plants. Germination varies depending on the type of plant you choose, but one of their bestsellers, basil, can germinate between five to ten days after planting and you can have a fresh pot after two weeks.
According to an FAQ posted on their Facebook page, the plantable pencils are 100% natural and non-toxic. It is made of sustainable wood, graphite, clay, and non-GMO (genetically modified organism) seeds. For parents whose children love chewing on their pencils, accidentally ingesting the seeds and the capsule is safe — the capsule used on the pencils are preservative-free, non-GMO, allergen-free, and gluten-free.

Owner Mary Rose Arnejo says the pencils were inspired by a company called Sprout, which is the first company in the world to make plantable pencils. "We saw this first from Sprout World and thought of providing this to our fellow advocates as another alternative to everyday use," she says in an interview with ABS-CBN News.
"The idea is to plant the pencil stub when it's too short to write or color with," said Eco Hub Cebu in their FAQ. "This gives it a new lease on life. Instead of being thrown away, the plantable pencil becomes a symbol of sustainability."

The pencils may be ordered online and shipped anywhere in the Philippines. Price starts at Php20, but you may also buy them for wholesale at Php18 each (orders must be 50 to 99 pieces). For bulk orders of 100 pieces and above, pencils are priced at P16 each.

Choose from eight plants, namely mint, basil, carrot, sunflower, tomato, chili, lucky clover, and morning glory. You can even have your pencils engraved!
Not just for profit
Since the invention was picked up by various news outlets, Eco Hub Cebu has reported a surge in orders. But more than the profit, the startup is hoping that their pencils can spark a change in people to incorporate sustainable practices to their lifestyles.

"I do hope that we go beyond this craze and understand that dili enough nga pamaagi ang pagpalit sa plantable or any other eco-product sa pag-save sa environment (I do hope that we go beyond this craze and understand that the method of using plantable pencils or any other eco-product is not enough to save the environment)," said Arnejo in a public Facebook post on her personal account. "Kung mopalit lang ta para makiuso, palihug ayaw na lang (if you're going to buy [a pencil] just because it's on trend, please don't buy anymore). What we sorely need right now is responsible consumption and universal action towards sustainability."

Arnejo adds that all she wants is for her niece and all the younger generations to live and grow up seeing sea creatures in their natural habitats and not just in movies. "We have roughly 10 years, guys, let's do this collectively," she says.