Scarlet Snow Practices Her Miss Universe Walk and Zia Shows Interest in Beauty Biz!

These toddlers are the future of beauty!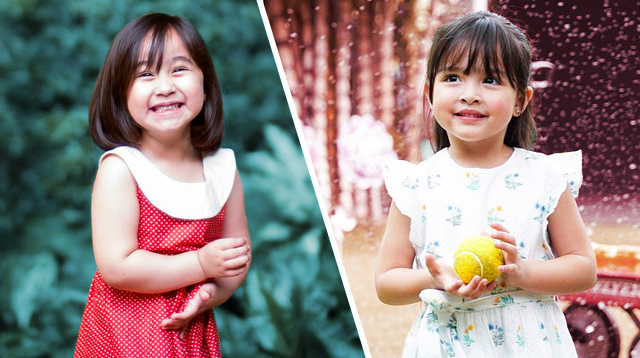 Scarlet is practicing her Miss Universe Walk

Still on a Miss Universe high, the mom-and-daughter tandem of Dr. Vicki Belo and Scarlet Snow just did a walk-off inspired by 2018 Miss Universe Catriona Gray's famous lava walk and slow-mo spin. A few days ago, the beauty doctor showed her catwalk skills in a video to the tune of "Pretty Woman."

Yesterday, in the video that was first posted on @scarletsnowbelo's Instagram account, Scarlet does the same — complete with shoulders and hips swaying, accompanied by a fierce facial expression — then stops to pose a la beauty pageant contestant. Of course, she also did the spin! The video ends with Scarlet turning and walking the other direction...to play with her toys. Aww.

ADVERTISEMENT - CONTINUE READING BELOW

Followers of the 3-year-old social media darling left encouraging messages on Instagram, agreeing that Scarlet has the makings of a future beauty queen. Everyone was delighted...but one. Dad Dr. Hayden Kho's comment reads, "(surprised emojis) What's this???!!! VICTORIA!!! (angry face emoji)" — all in good fun, of course.

Daddy Hayden reacts to Scarlet's "lava walk"

PHOTO BY

@scarletsnowbelo/Instagram

Once again, Scarlet made everyone's day with her cute antics!

Zia could be a future hairstylist

Marian and Dingdong Dantes' 3-year-old daughter once again showed her fascination for beauty — hairstyling, in particular — in a video posted by celebrity hairstylist Celeste Tuviera on Instagram two days ago. During downtime at a shoot, Celeste captured Zia holding her toy scissors and a comb. "Look, no more," she said after a few snips on the "customer's" hair. When asked what she was doing, she answered, "cutting hair," to Celeste's amusement.

ADVERTISEMENT - CONTINUE READING BELOW

It was actually Celeste who did Zia's first-ever haircut last year. In a video posted on the Dantes' Youtube channel in December, Zia knew exactly what she wanted her hair to look like. "I want to have bangs!" she told mom Marian on their way to Celeste's salon. Now she and her mom can do not only twinning outfits, but also twinning hairstyles!  

What other parents are reading

UP, DLSU make it to world's top universities list

Two Philippine schools made it to the Times Higher Education (THE)'s list of Emerging Economies University Rankings this year: the University of the Philippines in 87th place while De La Salle University was included in the 251-300 bracket. There were 442 universities from 43 countries that were included in the list, and seven of the top 10 instituions are from China, with Tsinghua University making it to number 1. THE is the leading provider of higher education data for the world's research-led institutions, according to its website. 

ADVERTISEMENT - CONTINUE READING BELOW

Benefit Cosmetics introduces first model with Down Syndrome 

A 20-year-old with Down Syndrome has been named as the newest face of cosmetics brand Benefit in the United Kingdom — a first for the brand. 

"Meet your new WING woman! 😘 The gorgeous @kategrantmodel using our new #rollerliner liquid eyeliner to create these sharp wings!" was the caption for a photo of Kate Grant posted two days ago on the Benefit cosmetics UK Instagram account. Kate's mom couldn't be any prouder! She told Metro, "Kate ...wants to spread awareness about inclusion for people with disabilities and that is what she has done from the very start. She is using her voice for them." Hooray for inclusivity!  

ADVERTISEMENT - CONTINUE READING BELOW

Kramers' new home almost finished 

"Konti na lang!" This was Doug Kramer's caption for a photo of their dream home that is almost nearing completion. The pro baller and his wife Chesca have been documenting on social media the construction of their dream house, which began early last year, and four days ago Doug uploaded two photos to show their progress. "Feb 2018 - Jan 2019! What almost a year from construction to finishing looks like!"

ADVERTISEMENT - CONTINUE READING BELOW

Chesca, on the other hand, gave her followers a peek into what their view from the master's bedroom would look like with a post on Instagram. "The view from our masters bedroom balcony. A view that I will very soon be waking up to. I am already imagining all the many new memories we will be making here," she captioned it.

ADVERTISEMENT - CONTINUE READING BELOW

Their three kids Kendra, Scarlett, and Gavin are just as excited for sure. We can't wait to see the rest of their new home! 

Trending in Summit Network