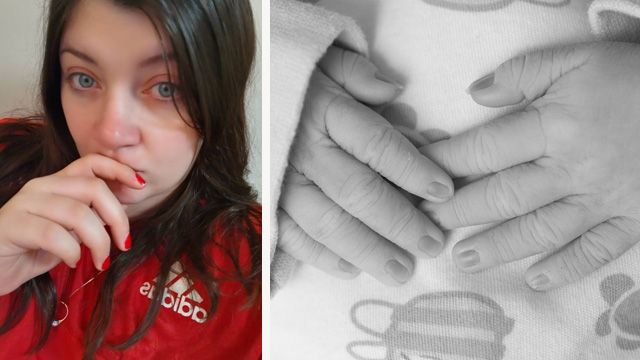 Georgina Hardy of Essex, England, is pregnant with her second child. She should be ecstatic as she awaits the birth of her baby, but instead she lives every day in fear. She hasn't quite recovered from the trauma of losing her first child in utero in February this year.
Her first child died by strangulation when her own umbilical cord wrapped around her neck too tight after doctors failed to induce Georgina's labor early enough. 
Babygaga reports, the 26-year-old had no problems with her pregnancy in the early stages. She and her partner Dave Squire were only worried about her giving birth prematurely, but after reaching the 39th week — what is considered full-term — the couple began to relax.
They did, however, notice a decrease in the baby's movements at 39 weeks, so Georgina went to consult the doctor. After some tests, the doctors sent her home and was told nothing was wrong with her baby. (Learn about monitoring your baby's fetal movement here.)
However, at 40 weeks, there were still no signs that Georgina was going to give birth anytime soon. She was already on her 42nd week of pregnancy when the doctors decided to induce labor. Only this time, the scans could not detect a heartbeat. Georgina gave birth to a stillborn baby.
"We never for one second thought we wouldn't have a baby at the end of it," Georgina told Metro. The photos embedded here were taken with their stillborn baby by a charity called Remember My Baby.
Pregnant women who reach their 40th week of pregnancy normally shouldn't have to worry about going overdue since the estimated due date (EDD) is really just an approximation. As long as both mother and baby show no health issues during the prenatal checkups, doctors usually let nature take its course. 
In Georgina's case, the decrease in fetal movement may have been the red flag the doctors should have noticed immediately. 
Georgina's baby, whom they had already named Rosie Melanie Joyce, grew in size from the last scan on the 39th week, and the umbilical cord wrapped around her neck eventually restricted her blood supply.
Georgina says the doctors admitted letting her go up to 42 weeks was a mistake.
"I went home and started searching online – was this something I did wrong? What should I have done differently? 
"Then I discovered all these risks associated with going overdue. I was horrified. Not once was I told anything about the risk of stillbirth after 40 weeks. 
"I understand they don't want to scare mums – but we are told about the 12 week mark, why aren't we warned of the post-40 week mark too?" she lamented.
Georgina has started an online petition to change the protocol of letting women go over 40 weeks of pregnancy.