My family and I had the perfect summer vacation in Caramoan in Bicol a few weeks ago. A trusted friend, who operates a rent-a-van business, recommended it because it was one of the most popular tourist destinations among his local and foreign clients.
We set off for Caramon during the long weekend when April 9 was a holiday. We traveled as a group of 12 including my kids, ages 14 and 11. Caramoan was also a 10-hour land trip with rest stops — you want to be in good company. We bought and shared snacks and saved Netflix videos to reduce those "are we there yet?" moments. But we left Manila by 7 p.m, so the kids practically slept the entire trip.
By sunrise, we found ourselves at the Sabang port in San Jose, Camarines Sur. The kids couldn't contain their excitement when they saw the boat.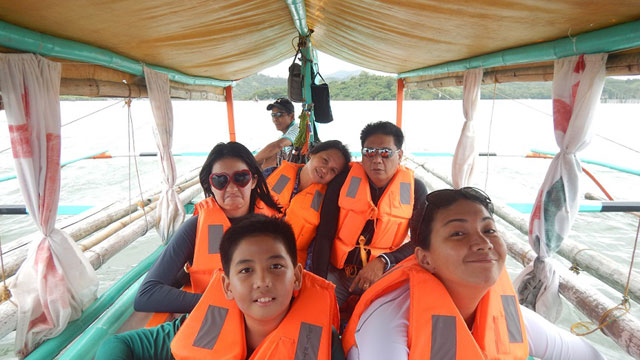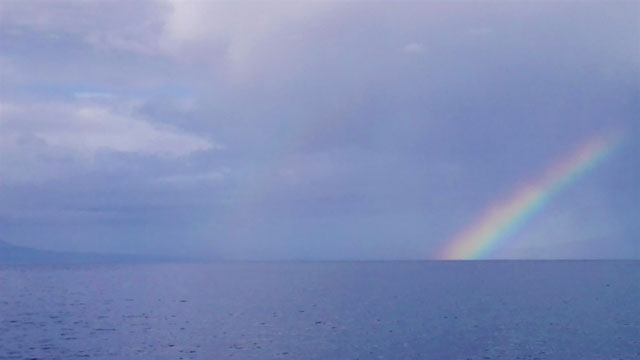 ADVERTISEMENT - CONTINUE READING BELOW
It was a good thing the weather and waves were cooperative because the boat ride to Guijalo port took two hours. You might want to consider motion-sickness chewable. But it was more than enough time to set your camera and take pictures of the "sea-nery" (we were greeted by twin rainbows!).
Once you disembark at Guijalo port, you pay an environmental fee (Php30 per person). Depending on your accommodations, you can take a van service or the local eight-seater tricycle (Php300/group).
By the time you reach your accommodation, your family would have traveled a total of 15 hours. So our group was happy when our family owned house-turned-resort, Al Del Rio Villa Resort, greeted us with a much-needed big breakfast. The resort provided all our meals, which was convenient and you get to go on vacation. We booked the resort's barkada room that comfortably accommodated all of us. By the way, the resort only has six rooms. (Scroll down to see contact details and our expenses as a group.)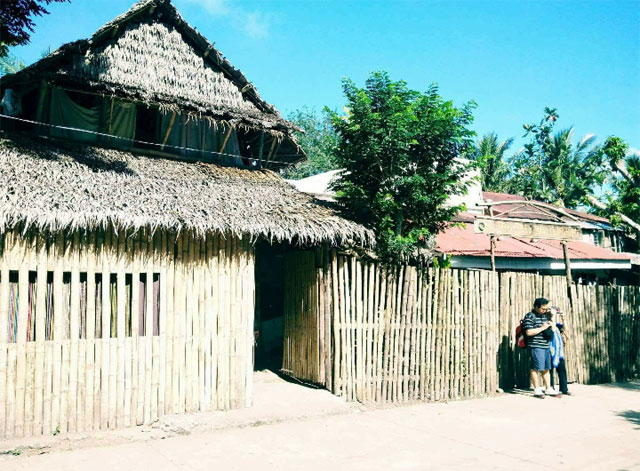 ADVERTISEMENT - CONTINUE READING BELOW
Recommended Videos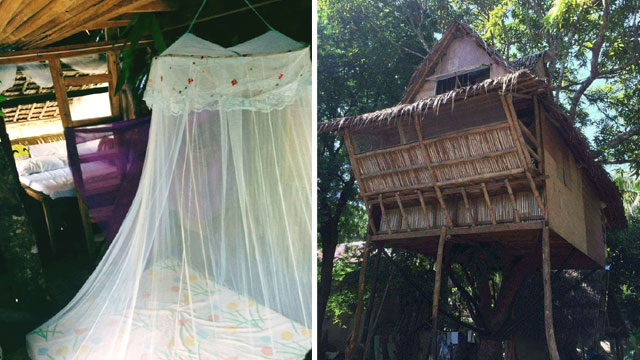 We spent the vacation island hopping, and for a few moments, you can claim the white sands as your beach for the day. It was crystal clear waters everywhere you looked, and the kids had fun digging for clams, picking up starfishes, and collecting hermit crabs (even this mom got addicted to small crab hunting). We released them all at the end of the day.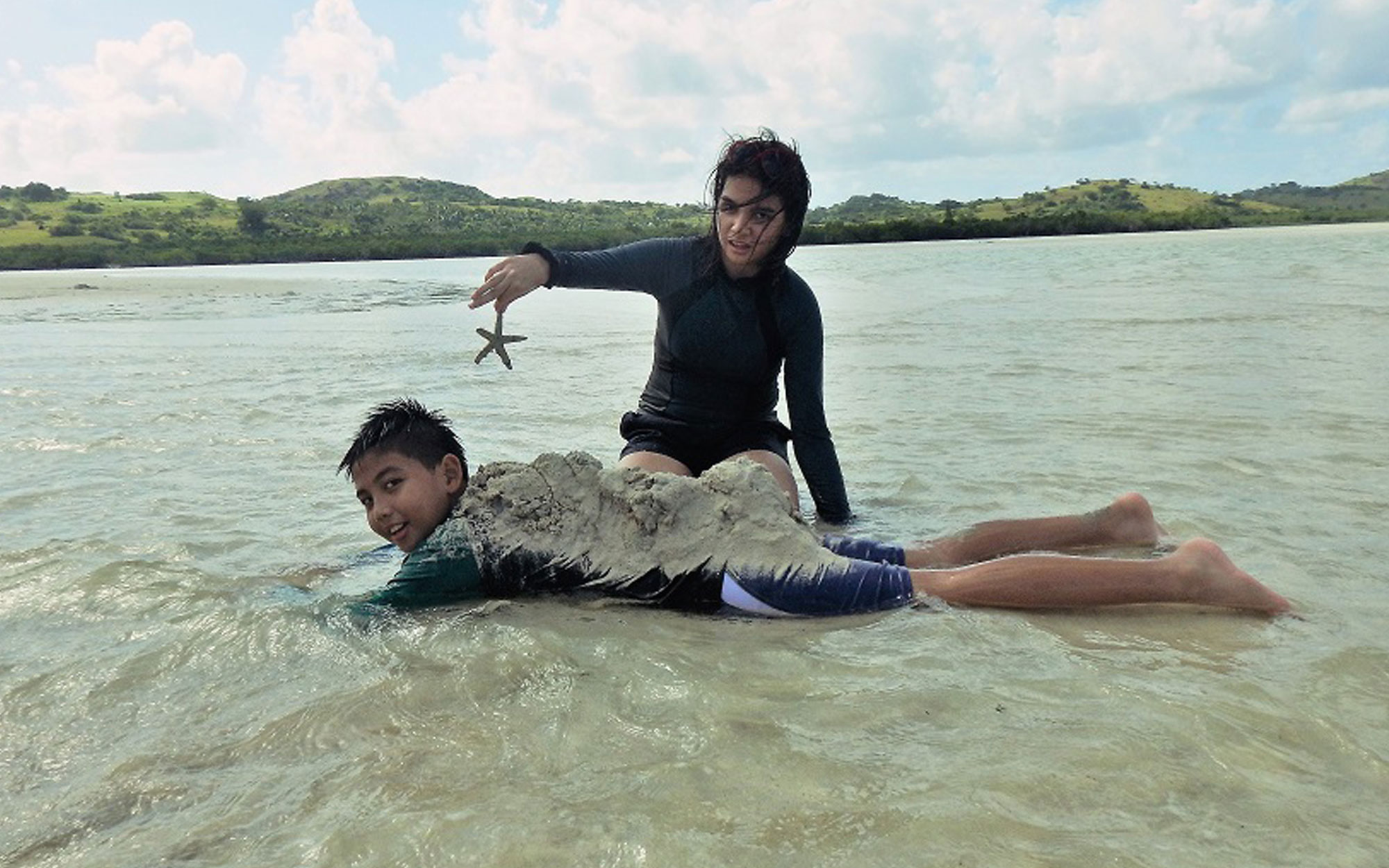 While the moms enjoyed lounging in water that didn't even go past our knees, the dads went fishing. The lines weren't strong enough to catch the big fishes ("it always snap, and the fishes got away," as my son told me), but the fun was in the game, not the catch. That day ended with determination to come back one day and finally show those fishes who's the boss.
ADVERTISEMENT - CONTINUE READING BELOW
One unforgettable experience was the uphill trek to the Guinahoan lighthouse where you can see where the East Philippine Sea meets the Pacific Ocean. We also had lunch on a floating cottage at Manlawi where we had a breathtaking view and the freshest catch offered by the locals who can cook it for you.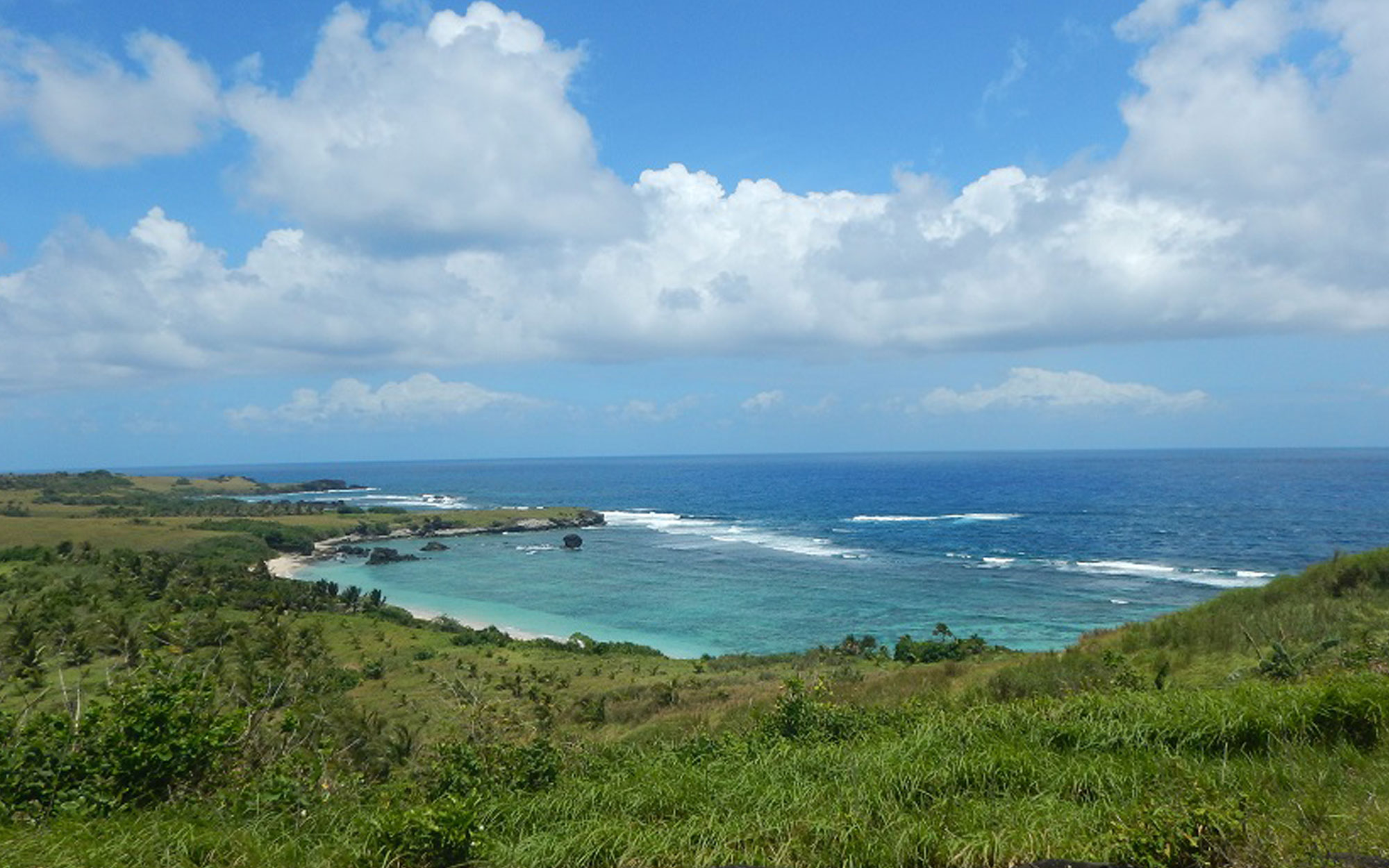 A breathtaking scene from the Guinahaon lighthouse, a view of where the East Philippine Sea meets the Pacific Ocean.
We had the 4 kilograms of "talakitok" (sadly not our catch) that was divided into "sinigang" and "inihaw" to feed our troop. It was not the best sinigang, but that fresh fish head made our lunch truly enjoyable. The vendors also sold as halo-halo. Then we went kayaking after lunch, which I enjoyed. It was easy to learn in calm waters.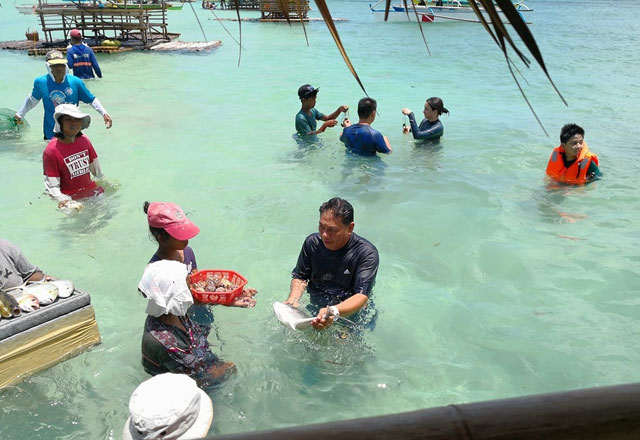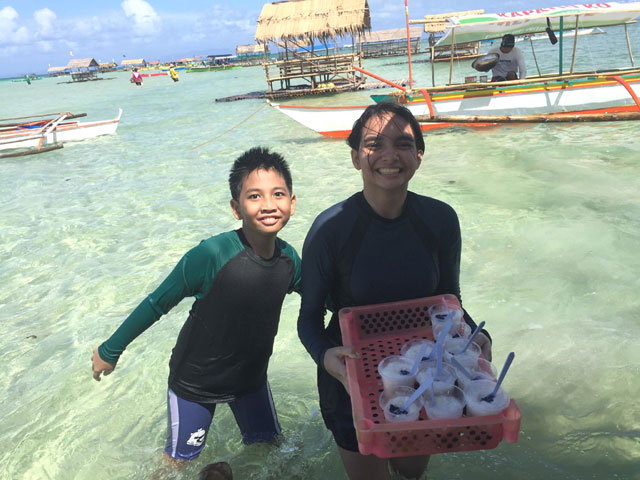 ADVERTISEMENT - CONTINUE READING BELOW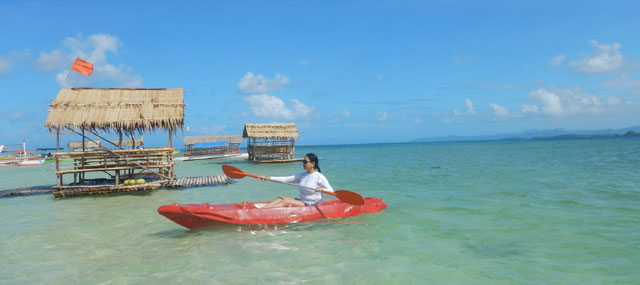 As the tide subsided in the afternoon, the sandbar started to appear 50 meters from our raft. When you've got two inches of clear water above your ankles and 360 degrees of spectacular view, this is where you need to come up with the most number of poses you can think of for your selfie and group shots. If kids abroad make snow angels, you and your family can make "sand angels,"as you wade under four inches of water, rolling over the shallows or just lay down on a kilometer-long waterbed.
Our inn welcomed us back with a boodle dinner followed by a karaoke nightcap. For breakfast, we had danggit, ham, fried eggs, unli-fried rice and bottomless coffee to get us going for another fun-filled day. Our souls were also fed with positivity whenever our host Maureen would hand us inspiring hand-written quotes and verses, a personal, "part of their family" kind of hospitality the Constantino family extends.
ADVERTISEMENT - CONTINUE READING BELOW
There was more island hopping, camping, and snorkeling. We went on a cave tour and stopped at the Matukad Island's enchanted lagoon. We headed to the islands on the west side where past guests swear their wishes got granted. We took 524 steps to reach Our Lady of Peace at Mt. Caglago. We saw the Hugsad and Layahan waterfalls.
After all that, we felt there was more to see, and we need to plan another trip to see it all.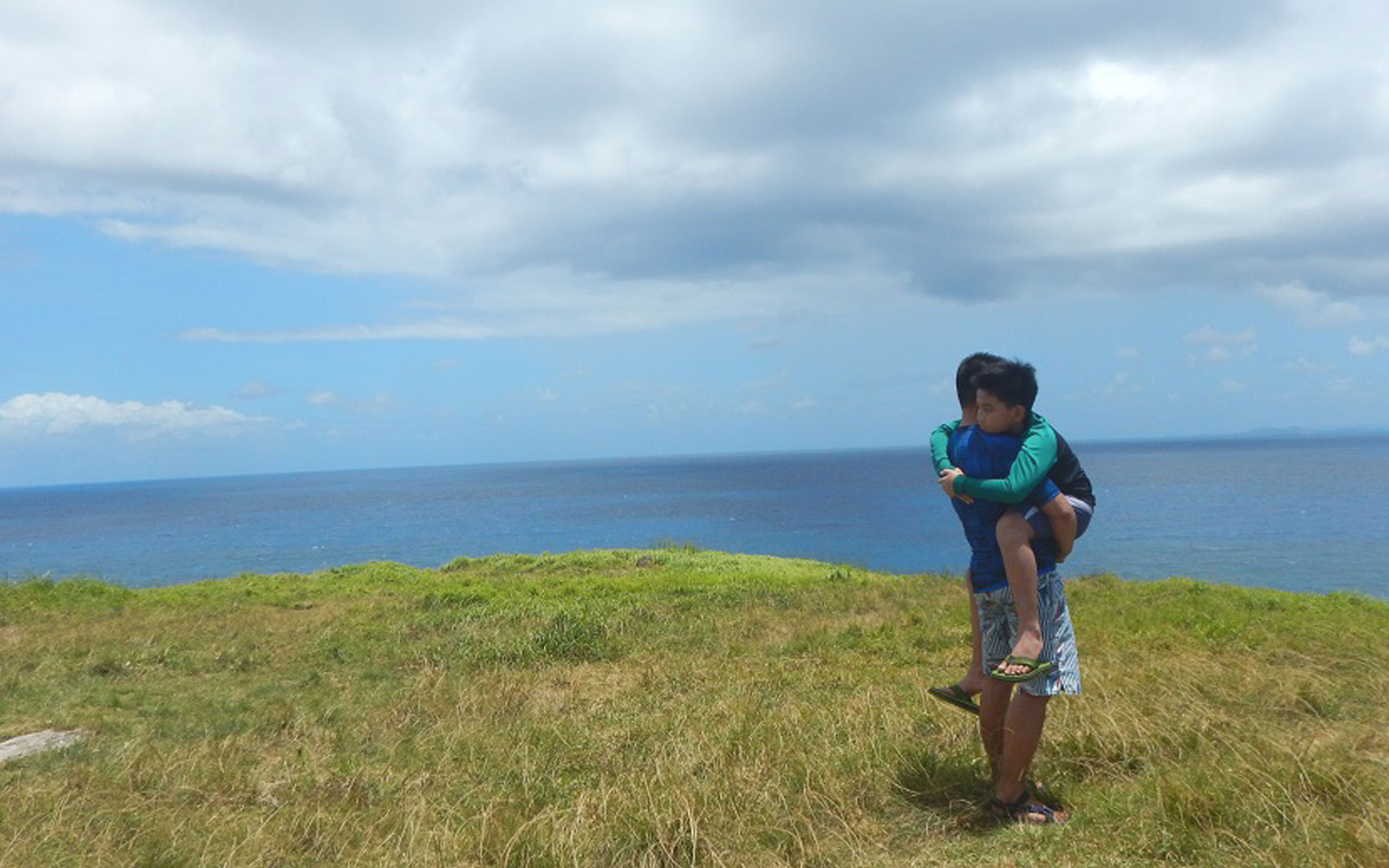 For our return to Manila, instead of going back to Guijalo port for Sabang, we took a public bus got on a Raymond bus at 9 a.m. The three-hour trip to Goa went uphill, downhill, zigzag — a rougher ride than we imagined, so you better take small sips or no drink at all to avoid having to go at public rest stops.
We were met at the Goa terminal by our friend who ran the van service for the one-hour drive back to Naga. He recommended we have lunch at Naga Garden Restaurant, close to the People's Mall where pili nuts and souvenirs are cheap. Movies stored in a USB played on the van's screen and saved us from complaints from the kids on our 10-hour trip back to Manila. If traffic is kind, you can still make it to the Palaisdaan restaurants at Lucban Quezon for dinner.
Leaving Caramoan can be a little heartbreaking, but it's good to go back to our ordinary lives after experienced a few days of bliss. The few circumstances we faced on this road trip gave the kids a good learning experience to be patient, resourceful and be responsible tourists. As they all say, "Leave only footprints, kill only time and take only pictures"….and pili nuts.
ADVERTISEMENT - CONTINUE READING BELOW
Expenses for this trip:
Our total expenses as a family of four were Php32,080 for the three-day adventure. Here's the breakdown:
15 seater van rental (Manila to Sabang Port and Goa Terminal to Manila) – PHP15,000 (Php5,000/day x 3 days excluding diesel and toll fees)
Boat ride from Sabang port to Guijalo port – Php120/head
Environmental fee (paid for by our host) – Php30/head
Accommodation for 3days/2night (room and board, full meals and boat tours) – Php4,900/head
Raymond Bus ride from Caramoan to Goa – Php120/head
This writer recommends:
Faderoga Van Rental (15 pax seater Foton)
Call +63 916 548-4790
Al Del Rio Villa Resort
Bikal Port, Caramoan, Camarines Sur
Call +63 905 472-6834 / +63 928 656-2637
Email aldelriocaramoan@gmail.com
MORE FROM Smartparenting.com.ph