On Holiday with a Big Group? Avoid These 7 Situations

Here are expert-approved ways of making sure there is only fun in your vacation.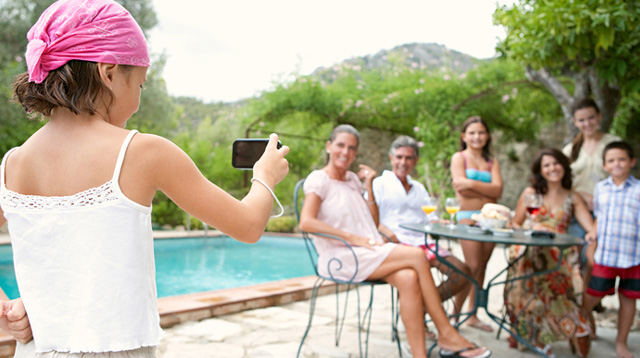 Photo from themileageclub.com

Filipinos pride themselves on having close-knit families and friends they treat like second family, and one of the activities they do to foster bonding is traveling all together. It's all fun and games at the onset -- until something unexpectedly goes awry and ruins relationships in the process.If you will be traveling soon with your extended family or long-time barkada and their families, heed our tips on making sure it goes well for everyone, and most especially for you.

UH-OH: Different sleep and waking habits
THE LOWDOWN: To help cut down costs, it makes sense to squeeze in as many people as possible in one hotel or apartment, but people have varying bedtime routines: Some are early birds while others are night owls. How does one respect the early sleep time of the others without sacrificing one's own fun, and vice versa?
GET-ALONG SOLUTION: "I recommend putting the early birds together in one room and the night owls in another," says Michele S. Alignay, M.A., registered guidance counselor, and co-author of Growing Up Wired: Raising Kids in the Digital Age. "It also helps to establish house rules that will benefit all."


UH-OH: Sharing the bills
THE LOWDOWN: This becomes an issue especially when the group is dining out. It's not a problem when everyone voluntarily pays for his share, but some don't, or say "Later" but then conveniently "forget" about it.
GET-ALONG SOLUTION: "Create a sinking fund at the start of the trip," suggests Alignay, who is also a part-time lecturer on family psychology at Miriam College. "Agree on an amount and collect it from the group members. Use this to pay for meals, transportation, and activities. This way, everyone has already paid in advance, and the burden of following up people to give their share is avoided."

ADVERTISEMENT - CONTINUE READING BELOW

What other parents are reading

UH-OH: The downside of pakikisama
THE LOWDOWN: There's a teetotaler in the group but he's being forced to drink, or a few want to go bungee-jumping but the rest do not like extreme adventures. It's stressful to be forced to do what you don't want to do. Decline and you risk being chided and humiliated.
GET-ALONG SOLUTION: "This situation can ruin one's vacation," says Alignay. "If you are the one being forced, say it outright: 'I am not going to do it.' Give them another option, another thing you'd rather do. It's harder to decline when you have nothing in mind to do instead. Now if you are the binder of the group, always have an alternative activity for 'sensitive' points of the itinerary, like if there is bungee-jumping; create another, friendlier activity for those who are not inclined to do extreme activities."


UH-OH: Slow movers and thinkers
THE LOWDOWN: Some people take forever in the shower and can be the cause of delay. Others just can't seem to decide which sight to see next, and often the indecision occurs just as they are about to ride the bus, train, or boat, causing further delay. How do you reach an agreement quickly? How do you request people to take a bath fast?
GET-ALONG SOLUTION: "Synchronize your watches and agree on a time to leave and meet up," advises Alignay. This way, everyone will have a sense of how long he is allowed to take a shower in relation to the others who are also going to use the bathroom. "As for conflicting sightseeing decisions, agree to have a 'free time' when people can roam around at their own pace. Pick some sights that all of you can see and the rest can be seen during your respective free times."

CONTINUE READING BELOW

Recommended Videos

What other parents are reading

UH-OH: Personality differences
THE LOWDOWN: The obnoxious, the aloof, the practical joker, Miss Congeniality -- you'll find them all in the mixed bag that is group travel. Their common goal is to enjoy and have fun, but they have various ways of expressing it. How does everyone get to be merry without getting on each other's nerves?
GET-ALONG SOLUTION: "People in the group have to accept and respect the fact that everyone has different ways of having fun," says Alignay. "'Walang basagan ng trip' is how we say it colloquially. They can interact, but they have to make sure that their kind of fun is not offensive to the others' sensibilities. If someone's already getting offended, it's all right to step in."


UH-OH: Forming cliques
THE LOWDOWN: Big groups have the tendency to break into smaller groups and sometimes, this results in factions. What used to be one group will become two or three and they will be harder to coordinate, especially if there is bad blood among them.
GET-ALONG SOLUTION: "When cliques form, it defeats the purpose of traveling with a group, because you're there to enjoy one another's company and bond," says Alignay. "People will naturally gravitate towards like-minded individuals, but set a lot of 'common time.' Your activities should encourage people to mingle. Pair 'travel buddies' or make 'triangles' with people who are not very close to encourage them to bond with other people in the group."

What other parents are reading

UH-OH: Fighting kids
THE LOWDOWN: Children and their petty fights are normal, but when their parents intervene and make a big deal out of them, things can get ugly really fast.
GET-ALONG SOLUTION: Alignay advises: "Respect that each family has its own rules. You can rein in your child from the fight and tell him that you need to speak to him in private. This way, you can talk to your child without putting the blame on the other child. Do not badmouth the other parents, and do not confront them. Do not make the issue bigger by saying, 'Bakit hindi niyo dinidisiplina ang anak ninyo?' It's best to let the kids fight their own battles, unless they start physically hurting each other."


HAPPY TRIP!
Even before you go on that trip, there are things you can do to ensure you'll have a great time with a big group. Heed these tips:

• Travel only with people you like. Make adjustments if it can't be helped.

• Set guidelines. Establish house rules, especially about waking and sleeping times, mealtimes, meeting spots, and who is responsible for what.

• Head off with an understanding that your companions have various needs, differences, and expressions of enjoyment. After the trip, follow through on your strengthened relationships by doing these:

- Set a date for a quick get-together (say, dinner) maybe a week or two after the trip, especially when the group members go their separate ways abruptly once they get back home.

- Share pictures of one another on your social networking sites (with their permission, of course).

ADVERTISEMENT - CONTINUE READING BELOW

This article originally appeared in the April 2014 issue of Smart Parenting magazine

What other parents are reading
Celebrate your pregnancy milestones!

Enter your details below and receive weekly email guides on your baby's weight and height in cute illustration of Filipino fruits. PLUS get helpful tips from experts, freebies and more!
You're almost there! Check your inbox.

We sent a verification email. Can't find it? Check your spam, junk, and promotions folder.
Trending in Summit Network