For The Young And Old: What To Do In La Union If You're Traveling With A Big Family

Here's a travel itinerary for a big family, young and old, in the the Surfing Capital of the North.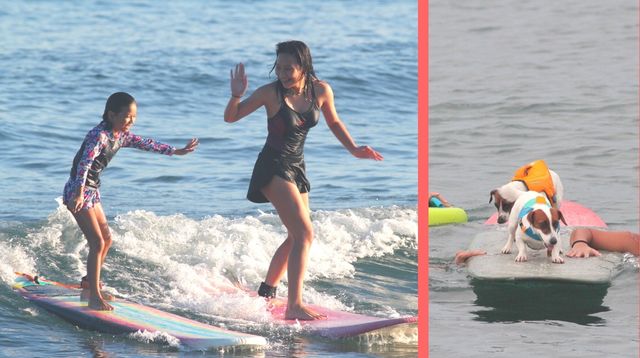 When traveling with a big group of people with a wide age range, the key to a successful trip is in the planning. My family made the trip to the North to visit my husband and I in La Union, and we had a grand time soaking up the sun and showing them our favorite local haunts.

In total, we were a group of 15 people with three kids and three dogs, and because of that we had to look for places that weren't only kid-friendly, but pet-friendly, too. The oldest member of our group was 70-years-old and the youngest was 8-years-old -- but we got to do all these things together.

Our (incomplete) family picture.

PHOTO BY

RAFAEL OCA (Courtesy of Janey Rivera)

ADVERTISEMENT - CONTINUE READING BELOW

One really important tip I can give is to message the places you're planning to visit ahead of time. Not only will you avoid overwhelming the establishment with your surprise visit, it also gives them ample time to prepare for your group's arrival. 

We made sure our furry family members weren't left out of the fun.

PHOTO BY

RAFAEL OCA (Courtesy of Janey Rivera)

Where to Stay

Urbiz Garden

This beachfront ancestral house is the perfect place to set up camp for a big group. It has a great view of the waves, a communal dining area and kitchen, and is a stone's throw away from most of Surftown's popular restaurants and cafes.

ADVERTISEMENT - CONTINUE READING BELOW

134 Beachfront Beds

If the little ones want a designated kid's room for their cousin sleepovers, then 134 Beachfront Beds' dorm room is it. Also managed by Urbiz Garden, the cozy dorm room comfortably sleeps eight and boasts a clean and minimalist look. My nieces and nephews especially loved the bunk beds, which had multiple storage options, a sliding screen for privacy, and a personal reading light per bed.

ADVERTISEMENT - CONTINUE READING BELOW

Kabsat

Note: Not pet-friendly

For my parents, we booked them a sleek and modern beachfront villa at Kabsat. They loved how the staff was very attentive, the internet was really strong, and the cinematic views that came along with a beachfront sunset. For our last night, we decided to order room service and dine in their room. The villa was spacious enough to fit our entire group of 15, and we even had game night after.

Where to Eat

ADVERTISEMENT - CONTINUE READING BELOW

Little Canggu

After an early morning call time and long drive, brunch is in order! Begin your beach getaway at Little Canggu, a beachfront restaurant that serves all your Balinese faves (like nasi goreng and mie goreng) with an interesting twist. One example is their Bagnet Guling, a Filipino take on the Indo Babi Guling that combines bagnet from Ilocos, garlic kangkong, and pickled bamboo shoots on top of rice.

ADVERTISEMENT - CONTINUE READING BELOW

Little Cat Coffee

If you're looking for a no-frills caffeine kick with an unobstructed view of the beach, Little Cat Coffee is a spot definitely worth visiting. The crowd favorite Nitro Foam drinks are the cafe's must-try items. Try an Iced Latte with Nitro Foam if you're feeling a little indulgent or go with an Iced Americano with Nitro Foam if you like your coffee with just a hint of milky sweetness.

ADVERTISEMENT - CONTINUE READING BELOW

Makan

Cap off the first day of vacay with a meal that will leave your taste buds guessing. As an experimental Filipino restaurant, Makan takes familiar comfort dishes and infuses them with unexpected flavors and surprising textures. My family enjoyed eating here, and after dinner my brother declared, "Everything I put in my mouth is so good, nakakaiyak. This is the best day."

ADVERTISEMENT - CONTINUE READING BELOW

Clean Beach

Located conveniently beside Urbiz Garden, my family would frequent Clean Beach for breakfast. Aside from their menu's varied options (from silog meals to pancakes and bacon), the solar-powered cafe also serves coffee and cocktails.

TIP: Have your family work for their breakfast and organize a mini beach cleanup. For every basket of trash you collect on the beach, you get a free Beach Clean Up Iced Tea.

ADVERTISEMENT - CONTINUE READING BELOW

Irugi

With Irugi located far away from the main tourist stretch, you can experience the slower, quieter side of San Juan without the hustle and bustle. Try a variety of their espresso-based drinks or skip the caffeine and order a refreshing home-brewed Iced Tea "by the Peach" -- you won't regret sipping on this fruity concoction. 

ADVERTISEMENT - CONTINUE READING BELOW

TIP: Irugi is housed inside Burt Select Shop, which is perfect if you're looking to do a bit of home shopping, too. Burt Select Shop is a store that offers various hand-selected vintage home items like ceramics, furniture, art prints, soap, essential oils, and more. The best thing about it is the items are beautifully curated and displayed throughout the store in a thoughtfully organized way that helps you visualize the items in your home.

ADVERTISEMENT - CONTINUE READING BELOW

Curo

Note: Not pet-friendly

With a spacious roof deck dining area and variety of menu options, Curo is a no-brainer for big groups. Choose from their selection of pancakes and waffles, Filipino breakfasts, pasta, and salad. But don't leave without ordering their Spam Chips. My family ordered a variety of dishes from Curo, but the clear winner for everyone in my family were the thinly sliced, crispy Spam Chips.

ADVERTISEMENT - CONTINUE READING BELOW

Mai Kai Shaved Ice

On a hot, sweaty beach day, a cone of flavored shaved ice can be a godsend. Reminiscent of school fairs and birthday parties, this nostalgic treat is perfect for kids and kids at heart.

Great Northwest Philippines Travel Stop and Viewing Deck

If your family is up for an outdoor dining experience with plenty of cuisines for them to choose from, head on over to this coastal food park. Aside from being the home of everyone's favorite La Union coffee stop, El Union, there are a few other establishments you should definitely check out. My family's favorites include the Singaporean flavors from Papa Bear, the crispy fried chicken from Sabong, and the kansi soup from ScallywagRnDClub.

ADVERTISEMENT - CONTINUE READING BELOW

BONUS: Eat at your own hotel

With almost all of the establishments on this list offering a delivery option, you and your family can always opt to stay in if the crowds get too big for your liking. Plus, after an active day spent on the beach, it's nice to wind down and spend quality time with just the family.

What to Do

ADVERTISEMENT - CONTINUE READING BELOW

Visit the weavers in Bangar, La Union

If you're up for a scenic 40-minute drive, you and your family can head to Bangar to visit the hand-loom weavers and witness a centuries old tradition in action. It's great fun for the kids, as they'll be able to see just how meticulous it is to make textiles without the help of a machine. And it's also a good opportunity for the adults to purchase well-made inabel items that don't only show off our heritage, but will last for years to come. 

TIP: DO NOT HAGGLE. The weavers take their whole lives to learn their craft and each piece they weave takes hours of painstaking labor. Instead, honor their craftsmanship and support the weavers' work by paying their asking price. 

Surf

Of course, a trip to the surfing capital of the North wouldn't be complete without a little surfing. To make sure you and your family learn the sport effectively and safely, look for a La Union Surfing Club-certified surf school. My family chose Four Aces Surf School located in front of Flotsam and Jetsam, and after a few lessons on land, they were ready to hit the water.

ADVERTISEMENT - CONTINUE READING BELOW

Four Aces surf instructors Jericho, Dags, and Dennis made sure everyone had fun.

PHOTO BY

RAFAEL OCA (Courtesy of Janey Rivera)

It would be an understatement to say my family had fun. As soon as they got the hang of balancing on the board, they were even asking their instructors if they could race one another. Their surf instructors were very knowledgeable, and ready to answer any surfing question my family could throw at them. They also made sure the waves my family caught were an appropriate size for their skill, making everyone feel safe in the water.

ADVERTISEMENT - CONTINUE READING BELOW

My niece looking very, very stoked.

PHOTO BY

RAFAEL OCA (Courtesy of Janey Rivera)

Send a message to Rafael Oca if you want photos of your family trip while in La Union.

Trending in Summit Network