Watch Out For Mini Push-Ups! 6 Milestones Your Baby Can Already Do At 3 Months

It's been a quarter of a year of rapid growth and development — here's what to expect in the next!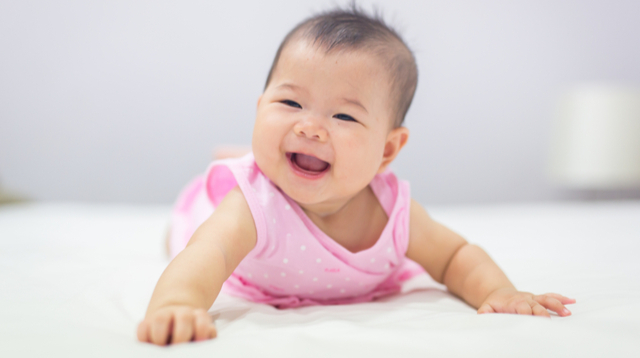 Congratulations! Your baby just hit their first three months. This first quarter, also referred to as the "fourth trimester," is marked with immense and rapid growth of your baby.

3 Month Baby Milestones 

Typically, a three-month-old baby would have added an approximate 30% of their body weight at birth and would have increased in height by 20%. The next months will also see leaps and bounds in development, but not as rapid as the first quarter.

Here are the 3 month baby milestones you can look forward to.

Physical development

Baby mini push-ups

Your baby is more active than ever! While lying on their stomach, they can now raise their head and chest by using their arms and upper body. Aside from doing mini push-ups, they're stretching and kicking more often, building up leg strength.

Don't worry if your baby still can't do a mini push up at this stage! Some pediatricians believe that babies won't hit this milestone until they are 6 months old, according to BabyCenter. 

Baby is building core and limb strength

You'll notice as well that when you prop your little one up on a standing position, they're confidently pushing down on their legs. "Can a baby sit at 3 months?" many may ask. While they're definitely getting stronger, your baby is still not ready for that yet. They will still need assistance and need more time to build their core muscles.

Better eye and hand control

On the bright side, their eye and hand coordination is improving. When toys or food are held within their sight, they'll reach for these with their hands.

ADVERTISEMENT - CONTINUE READING BELOW

Your baby will often open and close their hands, practicing their grasp. And as they follow objects with their eyes, they may become cross-eyed. But this is still considered normal as long as it just happens occasionally.

As they're gaining more control of their movements, this is the best time as well to introduce soft toys and crib mobiles, which will definitely get their attention. Play and engage with your baby to stimulate brain and body development.

Developmental red flags

Consult your pediatrician if you notice the following: 

Your baby doesn't push down with her legs when you hold them upright on a flat surface
They still cannot support their head well when being carried or when on their stomach
They don't reach for toys and try to bring these to their mouth
Their eyes are crossed most of the time

Cognitive development

Baby recognizes faces and voices

What can a 3 month old see? At this age, your baby will recognize objects and people, is now more curious about their surroundings. You'll notice that they're more engaged and they'll watch your face more intently, smiling and cooing as you talk to them.

When they hear a loud noise, they'll turn their head to check it out and follow moving objects. Good news for parents and family: your baby can recognize familiar objects like their favorite toy and even people from a distance.

In addition, babies at this stage are growing more attuned to familiar sounds and voices, and so will delight in hearing your voice and your "conversations."

CONTINUE READING BELOW

Recommended Videos

Baby will start to imitate sounds

As they become more talkative, your baby will start to babble and imitate the sounds that you make. You can start with simple sounds and words, like "mama," "dada," "ah ah," and so on.

Developmental red flags

Consult your pediatrician if you notice the following:

Your baby has difficult controlling one or both eyes
They are unable to focus and follow objects with their eyes
Your baby doesn't respond to the sound of your voice and loud noises
They don't smile when they see your face
Your baby doesn't try to imitate the sounds you make

Social and emotional development

Baby enjoys play time and is more expressive

As they interact with more people, your baby will also learn to engage and enjoy being the center of attention. They'll smile and laugh, and will love playing. When you stop, they may cry.

Overall, they're becoming more expressive and use their face and body to communicate. It's a fun time to play as they'll imitate expressions and movements such as smiling, blinking, and the like.

Developmental red flags

Consult your pediatrician if you notice the following:

Baby still doesn't smile at familiar faces
They're not interested or don't pay attention to new faces

At three months, your baby is such a joy to be with, especially as they're becoming more communicative and want to play more often with you.

Keep these milestones in mind to track the progress of your child's development. However, do not be too alarmed if your baby is falling a behind on some as each baby develops at their own pace.

ADVERTISEMENT - CONTINUE READING BELOW

If you do have any concerns about the growth and development, consult your pediatrician. Early intervention, especially when it comes to baby development, will lead to better outcomes down the line.

What other parents are reading

Celebrate your pregnancy milestones!


Enter your details below and receive weekly email guides on your baby's weight and height in cute illustration of Filipino fruits. PLUS get helpful tips from experts, freebies and more!

You're almost there! Check your inbox.


We sent a verification email. Can't find it? Check your spam, junk, and promotions folder.
Trending in Summit Network