Know What Your Baby Is Telling You From Birth to Avoid That Helpless Feeling

A baby sleep coach says babies have a secret language from birth to 3 months. You just need help decoding it.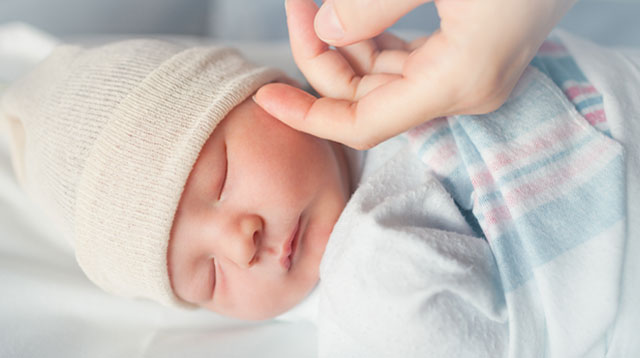 When my son slept his first 12-hour night at 2.5 months, I decided to share this "magic" with Filipino parents, and it was the beginning of my baby sleep coaching practice over three years ago. Since then, seeing what the baby human body is capable of doing concerning sleep has never disappointed me. My passion for baby sleep and parenting has never waned because baby sleep coaching was unheard of here in the Philippines, yet the majority of my clients are Filipino. 

It's has been an incredible journey so far as a mother and educator to see how Filipino parenting styles are changing. There's more awareness, more hunger to learn, which makes me excited to teach parents about decoding their newborn baby's language, which I believe is instrumental in baby care and the foundation for securely attached children.

I often get asked why I don't start sleep coaching before a baby reaches 4 months of age. One reason is newborns are not fully capable of organizing their sleep until 4 months. But your baby is talking to you from birth instead — LITERALLY TALKING TO YOU!

What other parents are reading

Are you really listening to your baby?

Nothing short of a miracle happened when Patricia Dunstan, an Australian, first-time mother began to notice her baby speaking distinct patterns of sounds at certain moments. Her auditory gift allowed her to memorize these patterns of sounds occurring repeatedly, which she then began to document. It led to eight years of research involving Brown University and data from 30 countries. 

Now, millions of parents around the world use Dunstan's baby language theory that ALL babies have, which remained undiscovered until just 20 years ago. There are those that remain skeptical due to the variants in babies' pronunciation, making it difficult for some to tune into the sounds. But probably the skepticism is because it was discovered not by a scientist, academic or qualified medical professional but by a desperate, first-time mother instead. What she found has thankfully touched families more positively than not.

Putting your newborn on a timed sleep and feed schedule suggested by someone other than your baby goes against listening to the one person who knows best: your baby! Why do so many parents continue to struggle with newborn care despite so much information available with the internet full of every piece of information you could possibly dream of? Why does neonatal care remain such a mystery?

ADVERTISEMENT - CONTINUE READING BELOW

What other parents are reading

Your baby is trying to tell you something

None of the popular and readily available newborn care guidance and scheduling suggestions (including "feeding on demand") are actually taking your baby's opinion into account — not one. Parents using these methods are hearing their baby, but none are listening to what they have to say. And let's face it: it's pretty unbelievable that a newborn can communicate more than feed, sleep, pee, and poop. 

What happens during the first three months with baby, just when communication pathways are being established, you inadvertently ignore what your baby is telling you, and you don't get to attend to all his needs. The notion of "feeding on demand" fundamentally disempowers parents and caregivers by teaching parents to wait for baby's next demand based on their baby being upset, sometimes paired with some physical clues (such as sucking, crying or both) to mean that their baby is hungry. This also ignores all other needs that your newborn can have before hunger and can be somewhat inflexible. 

A newborn's other needs are never the first choice when parents are trying to understand their baby — the first thing that comes to mind will always be to feed. The baby's other needs automatically become second or third choice. The whole experience makes parents feel nervous and helpless not knowing how or what can calm their baby down when feeding, for example, has not been successful.

What other parents are reading

Know what baby-led caring on demand looks like

It is not always easy for parents to hear their baby talking to them once I share with them when I am listening to it during our sleep coaching sessions. Unfortunately, the only word parents seem to hear is "sleep" since this is the nature and focus of my work. However, there are over 20 needs that your newborn baby can share with you!  Wouldn't it be so amazing if you could hear your baby talking to you telling you exactly what they need from birth? 

CONTINUE READING BELOW

Recommended Videos

My experience since becoming certified to teach the language has been nothing short of inspiring! Babies settle quicker, and there is less crying. There is improved feeding, and there's a 50% increase in uninterrupted sleep for both baby and parents (baby sleeps on demand!). It's not just the baby who benefits — moms and dads become confident of their parenting skills.

Feel empowered! Know precisely what is true baby-led feeding, sleeping, caring on demand looks like and how to master it with ease.

Gabrielle Weil, the only certified Baby Language™ instructor for babies from birth to 3 months in the Philippines. Weil is the Philippines' pioneer and no.1 Baby Sleep Coach since 2015. After training with two UK-based baby sleep trainers using various sleep training methods, she began her sleep coaching practice based in Makati. She has a 95% success rate in helping families reconnect through sleep and is currently completing a UC San Diego Psychology course on the Science of Parenting. Her baby sleep coaching services are done on a one on one basis. Visit her on Instagram @babysleep.ph or Facebook @BabySleepPH

What other parents are reading

Celebrate your pregnancy milestones!


Enter your details below and receive weekly email guides on your baby's weight and height in cute illustration of Filipino fruits. PLUS get helpful tips from experts, freebies and more!

You're almost there! Check your inbox.


We sent a verification email. Can't find it? Check your spam, junk, and promotions folder.
Trending in Summit Network