Shopping for Baby Loungers As Co-sleeping Beds? They Could Pose SIDS Risks

They seem harmless until you read the fine print.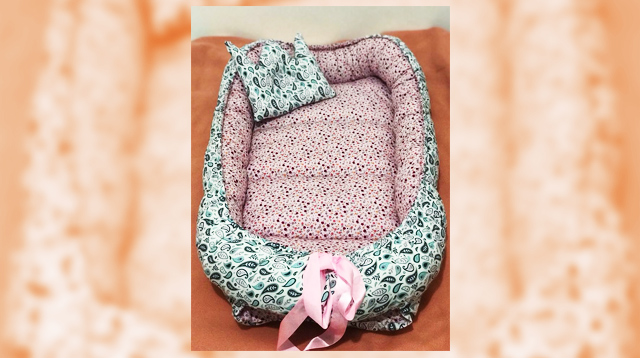 Over on the Smart Parenting Village Facebook group, a number of moms have been discussing baby loungers (also called baby beds), asking if they're useful, worth the money, and if they should buy one. But what exactly are baby loungers and, more importantly, are they safe to use by infants? The answer is No, especially if they are used as a sleeping space for baby because they increase the risk of sudden infant death syndrome (SIDS).  

What a baby lounger is

Think of a nest, with a flat bottom and raised sides, that's soft and made of material similar to a pillow or mattress — that's what a baby lounger looks like. It's typically rectangular or circular in shape and acts as an easily-transportable baby mattress where a parent can lay an infant down. It's useful when you want to put your baby down while you, for example, work, and want to keep an eye on him/her. 

In the Philippines, baby loungers are often marketed as co-sleepers. The baby lounger is placed on mom and dad's bed with the assumption that, because baby has his own designated sleeping area, co-sleeping becomes safer. Hence, moms typically inquire about them with the intention of using them as such. However, the fine print on these baby loungers tells a different story.

What other parents are reading

The safety issue of baby loungers

Foremost, the safety use guidelines from one of the brands selling baby beds in the Philippines read, "Parent supervision is required whether baby is awake or asleep." It's clear that mom or dad needs to be watching the infant whenever she's in the baby bed, and for that, the parent must be awake—therefore it can't be used for co-sleeping. 

Taking safe sleep guidelines into consideration, a baby lounger is also a dangerous place for an infant to sleep. Baby loungers go against several recommendations from the American Academy of Pediatrics (AAP) when used as a sleeping space. Doing so may increase the risk of SIDS. Here's why:

ADVERTISEMENT - CONTINUE READING BELOW

1. Same bedroom, but not the same bed, says guidelines

The AAP recommends that the baby should sleep in the same bedroom as the parents, but in a separate sleeping space—meaning, not on the same bed as mom and dad. This is to prevent suffocation, strangulation, and entrapment. 

"Some parents think if baby is right next to them, they can tell if there is a problem...and protect the baby," says pediatrician Dr. Rachel Y. Moon. "The safest place for the baby to sleep in is in a crib, a bassinet, or a playpen which is separate from where the parent is sleeping," stresses Dr. Moon, the lead author of the AAP safe sleep guidelines and chair of the Task Force on SIDS. 

What other parents are reading

2. Soft mattresses and bumper pads can suffocate a baby

Even if they're not used as co-sleepers, baby loungers are still not safe for baby to sleep in because of their soft surfaces and the pads surrounding the sleeping area. 

Safe sleep recommendations state that a baby's mattress should be firm. Baby's sleep space should also be empty — no pillows, blankets, or stuffed toys. Padded bumpers, placed around the baby with the aim of adding a layer of soft protection, are not safe either.

"Bumper pads have been implicated as a factor contributing to deaths from suffocation, entrapment, and strangulation," says the AAP. Explains Dr. Moon, "Everybody thinks if it's soft, then it can't hurt the baby. But soft bedding is actually really a problem because it's so soft, they sink into it. People will often use pillows to 'cushion' the babies, and babies sink into them."

CONTINUE READING BELOW

Recommended Videos

What other parents are reading

Real story: tragic accident from a baby lounger

Shared by news outlets and websites including Kidspot, Marie Claire, and Yahoo, this was how one mom lost her daughter. Two-month-old Zara Skye died of autopsy-confirmed asphyxiation while asleep in the portable bed. 

Mom Carly Wowk shares that she put her daughter down to sleep in the baby bed and went to sleep on the couch herself. She writes on Facebook, "When we went to check on her, she had rolled over, and pushed herself all the way to the top. We picked her up, and she was limp and blue. We called an ambulance, attempted CPR until the ambulance came, then they worked on her for an hour. It was too late." 

"These are sold and promoted as sleeping aids, [but] you have to watch your kids if you use these. They are a massive suffocation risk," she told Kidspot. "I do not want any more babies losing their life over something so stupid."

"If I hadn't used [that bed] Zara would still be here," she adds. "No parent deserves to feel the overwhelming pain I feel"

What other parents are reading

Be a smart buyer

Jill Green, from Australian non-profit organization SIDS and Kids, says parents should be wary of buying into baby products without thoroughly scrutinizing them. "If a baby rolls over on a soft and puffy bedding, the risk of sudden infant death is greatly increased because of face-down suffocation, or rolling towards a side which can cause carbon dioxide re-breathing."

Green told Kidspot, "Parents are confronted with so many products, they believe something must be safe if it's sold in Australian stores. That's not fair to a parent. It's up to the manufacturer and stores to have a duty of care to make sure what they are selling is a product that is safe in all circumstances." 

ADVERTISEMENT - CONTINUE READING BELOW

What to remember when using a baby lounger

Always, always watch over your child while she's in a baby lounger. Do not lay her down on a baby lounger with the intent of placing her there to sleep. If you do notice that she has fallen asleep in her baby lounger, transfer her to her crib.

What other parents are reading

Celebrate your pregnancy milestones!


Enter your details below and receive weekly email guides on your baby's weight and height in cute illustration of Filipino fruits. PLUS get helpful tips from experts, freebies and more!

You're almost there! Check your inbox.


We sent a verification email. Can't find it? Check your spam, junk, and promotions folder.
Trending in Summit Network