Should You Put Your Baby on a Strict Schedule? Experts Weigh In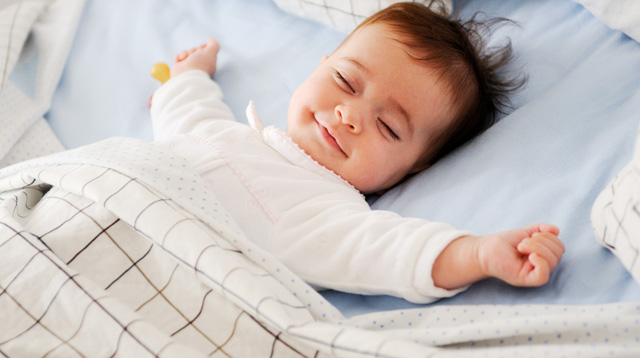 First-time (and even veteran) parents already know to expect sleepless nights while caring for a newborn, but have you ever heard of a baby schedule? It's when you create a routine for you and your little one to follow every day at around the same time.

It's a modern concept, but some experts believe it can be beneficial for both the parent and the baby. "Babies come into the world as a blank slate, and they depend on you to teach them routine," Nina Vaid Raoji, RN, MSN, APN, and author of Raising Baby: A Pocket Guide to Baby's First Year tells The Bump. "When the same thing is done at approximately the same time interval, the baby quickly learns the sequence and will anticipate the next step."

What other parents are reading

More importantly, having a baby schedule can help keep a mom sane. "Once a baby adapts to the set schedule, you can make plans accordingly knowing that during certain times baby will be sleeping or will need to eat," Raoji says.

But while all these sound heaven-sent, it will still depend on whether your baby can adapt to the routine or not. "Every baby is different and has different needs," says Dr. Tanya Altmann, a pediatrician, parenting expert, and a spokesperson for the American Academy of Pediatrics, in an interview with Romper. "While some may do well on a schedule, others need to feed on demand. If schedules are too rigid, they may not get enough nutrition the first few months of life."

If you're interested to try a baby schedule, here are a few tips and reminders.

ADVERTISEMENT - CONTINUE READING BELOW

What other parents are reading

What to expect when creating a baby schedule

For the first few months of baby's life, you will find it hard to establish an exact time for feeding and napping. Instead, you'll have to learn to interpret baby's existing cues and to focus on the loose routine he's already keeping.

An example would be to make a "sleep, eat, play" routine if you notice that baby gets hungry after naptime then becomes a bundle of energy after a few hours' rest. There will be days when your baby wakes up earlier than usual, or she will feed a little longer, but in general, you and your baby will naturally develop the same pattern and timing from one day to the next. According to The Bump, that's what you can call a solid baby schedule.

What other parents are reading

When to set a baby schedule

Newborns won't be able to adhere to a baby schedule — they want to sleep and do lots of it — so just go with the flow. According to the U.S. National Sleep Foundation, you can expect your baby to sleep anywhere from 14 to 17 hours a day, in increments of two to three hours. As your baby gets older, those increments will stretch to three to four hours. He may finally sleep through the night as early as 8 weeks old, but some newborns won't be able to do this milestone until she reaches five or six months.

Baby sleep coach Gabrielle Weil suggests using this time to listen and observe your baby. "You may be surprised to see some patterns of his behavior in the day," she writes in an article for SmartParenting.com.ph. "I recommend keeping a log because it can help in establishing a sleep/feed schedule."

At three months, your baby will get into rhythms, according to Cheryl Wu, M.D., a pediatrician at LaGuardia Place Pediatrics in New York City, in her interview with The Bump. "At three months, you'll notice that baby has some sort of pattern throughout the day," she says. "Usually around six months, they'll get into a rhythm for nighttime sleep, sleeping about 12 hours a night and waking up two or three times throughout the night. A daytime schedule emerges for most babies around 9 months of age."

ADVERTISEMENT - CONTINUE READING BELOW

Recommended Videos

What other parents are reading

How to start a baby schedule

Dr. Altmann suggests a very gentle start at scheduling. "As babies get older, I usually recommend trying to feed more during the day, then start a regular bedtime routine that ends with babies self-soothing in the crib, and allow them to learn to sleep through the night."

Dr. Agnes Tirona-Remulla, head of the Sleep Lab at Asian Hospital and Medical Center, recommends self-soothing to help older babies (and parents) sleep through the night. "[Babies] will wake up at night, but they need to learn that most of the time, it's all right to wake up, calm down, and just go back to sleep," she tells Smart Parenting.

But not all babies can adhere to a schedule, says Dr. Wu, so it's important to pay attention to your little one and decide if a baby schedule will work for the two of you or not. "There are three kinds of babies: ones who are very easy to get on a schedule, ones who are very difficult to get on a schedule, and ones who are somewhere in between," she shares. "Ask yourself, 'Do I have a baby that will respond to a schedule or not. You might love the idea of a baby schedule, but if your child's not having it, it might just stress both of you out trying to create one."

What other parents are reading

Remember, getting your little one to follow a schedule means tweaking her routine a little, like extending the time before feeding, or moving up bedtime in 10-minute increments every day. But never ignore a hungry baby or keep a sleepy baby up so late that he ends up overtired. "If baby's under six months old, within two hours of waking, she should be asleep again," Wu reminds.

"Slight changes in routine won't affect baby too much," Raoji says. "But a big change in schedule like a missed nap or a delayed feeding may leave you with a really cranky kid. When it comes to baby schedules, your child has learned to anticipate the next step, and when that routine gets messed up, they can become very irritable."

Your baby's personality can give you a clue on what kind of baby schedule to implement — a baby-led routine, which is easier on baby, and easier to happen — or a parent-led one. "Baby-led schedules mean that parents follow the baby's cues for feeding, sleeping and play," Raoji explains to The Bump. "Parent-led schedules require 'training' baby to feed at certain times, sleep at certain times, and play in between as desired."

ADVERTISEMENT - CONTINUE READING BELOW

What other parents are reading

As your baby gets older, she will get used to the routine and be able to follow it better. She'll also become more adaptable that you can tweak it a little bit, like skipping a late afternoon nap and heading out for a quick walk with her instead.

But just when you two have established (and nailed!) the baby schedule, you might suddenly see a big change in your little one. "At times, you may feel like you have taken a few steps backwards, like during baby growth spurts or if baby is sick," Raoji explains. Your baby might decide that she no longer wants afternoon naps, and there's nothing you can do about it. When that happens, just think of this as baby's next phase, and set up a new, slightly different routine, starting with putting her to bed earlier at night.

Setting up a baby schedule takes time and patience. And if it feels like it doesn't work for baby, then don't push it. Remember, all babies are different!

Does your baby follow a schedule? Share what works for you in the comments!

What other parents are reading




Celebrate your pregnancy milestones!


Enter your details below and receive weekly email guides on your baby's weight and height in cute illustration of Filipino fruits. PLUS get helpful tips from experts, freebies and more!

You're almost there! Check your inbox.


We sent a verification email. Can't find it? Check your spam, junk, and promotions folder.

Trending in Summit Network