How to Stimulate Your Newborn's 5 Senses to Help Them Develop

What can your baby hear or smell or taste at birth?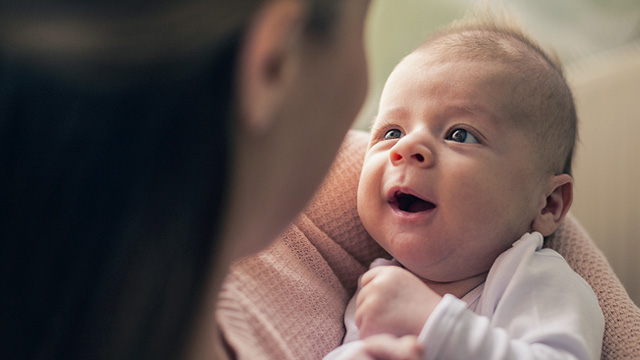 At birth, a few of your baby's facilities (like his eyesight) are yet to function fully and may need more time to develop (his fontanelles, the soft spots on your baby's skull, won't completely close until he's about 18 months old).

Nevertheless, a baby is born with most of his senses developed already. How does your baby use them to explore the world around him? More importantly, what can you do to stimulate them further to full development?

What other parents are reading

Baby's sense of sight: Fuzzy at best

It's always amazing once you see your baby opening his eyes for the first time. And although we parents would like to believe that our baby could see us waving at him, the truth is he doesn't — at least not in the first few months. 

In a Parents article, Ray Tsai, M. D., says that at birth, what your baby actually sees is a fuzzy version of you: your shape, if something is dark or light, and only if it's within a foot from him.

Around the 4th month, he'll be able to see more objects in the distance and even follow them as they move. He'll only be able to see color between the 4th and the 6th month, so save those items for later.

How to stimulate your baby: Put your face within a short distance from him while you try to make sounds and faces. A good time to do this is during breastfeeding when he can focus on just you. See how he reacts to your voice and your smile. 

ADVERTISEMENT - CONTINUE READING BELOW

What other parents are reading

Baby's sense of touch: He will use his mouth to "touch"

Babies seem to put everything into their mouths because it allows them to discover their texture. They'll know if it is hard or soft, smooth or rough when they let their mouths explore it (of course, you'll need to be on close watch because toys with small parts, for example, could quickly become choking hazards). 

How to stimulate your baby: Make your baby feel different textures on his skin: your strong arms when you hug him, the softness of a plushy, the solidity of a wooden toy, etc. Provide toys of different shapes and textures as she grows.

Baby's sense of taste: He can detect what you ate through your breastmilk

Of the five senses, your baby's sense of taste is one of the most fully developed at birth. They can indeed taste what you ate through your breast milk. And because babies have a natural preference for sweets, you may notice he is eager to drink up all your milk after you've had a slice of cake or a serving of halo-halo.

How to stimulate your baby: Once he starts on solid food at 6 months, get him acquainted with the different flavors of food by introducing a wide variety. Be mindful of possible allergens though (your family history of allergies will clue you in on what might not be safe to give).

What other parents are reading

Baby's sense of hearing: He will mimic sounds at 2 months

ADVERTISEMENT - CONTINUE READING BELOW

Recommended Videos

A baby's sense of hearing is almost perfect at birth. He'll be most familiar with his mother's voice, which he already knows from his stay inside her tummy. At around 2 months, he will start to coo in an attempt to imitate you or the sounds he hears around him. 

How to stimulate your baby: Read books to your baby — don't think that he's too young for it. Carry on a conversation, and sing to him your favorite songs. He'll learn from what he hears, and by the 4th month, your baby should be babbling already. Being familiar with the spoken word will also help develop his language skills faster. 

Baby's sense of smell: He recognizes your scent

How does your baby know that you're around even when he's too young to see? By your scent! Your newborn's sense of smell helps him "find" breast milk, or know when he's in safe company, such as his family.

How to stimulate your baby: Being around your baby is like introducing yourself to him by your smell. Avoid using strong scents (which may be possible allergens too), and talk to him when you're nearby so he can associate your smell with love and comfort. 

Celebrate your pregnancy milestones!


Enter your details below and receive weekly email guides on your baby's weight and height in cute illustration of Filipino fruits. PLUS get helpful tips from experts, freebies and more!

You're almost there! Check your inbox.


We sent a verification email. Can't find it? Check your spam, junk, and promotions folder.

Trending in Summit Network