Baby Talk Milestones: A Guide to Your Baby's Speech Development (6 to 24 Months)

A timeline of when to expect your baby's first words to first sentences.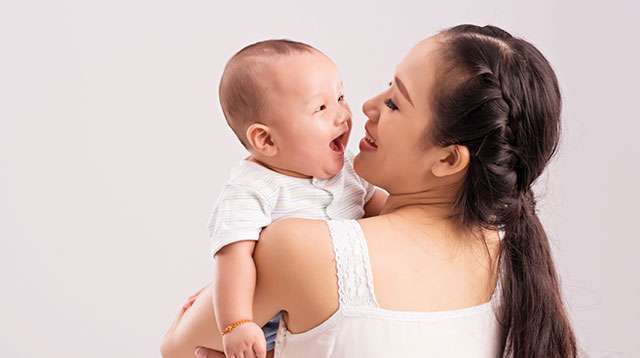 Along with the first smile and the first step, every parent eagerly awaits the moment her little one says her first word. And each new word she learns fills you with glee and pride. If you're excited to find out when she'll be able to say her first full sentence, the timeline below shows the typical rate of speech development in babies. 

But first, remember that every child develops at different paces, and each one has his own timetable, so to speak, says Liza Bulos, a speech therapist at the Hope Developmental Center for Children in Las Piñas. "Some children may just not be at ease with words. Some children can understand but just have difficulty expressing themselves. Many times labeling a normal delay as autism or hyperactivity or mental retardation is more damaging." (See when you need to worry about delays in development here.) 

What other parents are reading

6 to 11 months: Babbles ("Ba-ba-ba") 
Before your little one says her very first word, she will make a lot of babbling sounds first. Around 6 or 7 months, you and your baby can have pretend "conversations." When you talk to her, she'll respond with sounds of her own! She'll even try to imitate the intonations, like "bah-BAH-bah!" for example, according to BabyCenter. 

Top tip for this age: Even if she hasn't said her first real word, say the names of the objects she encounters with every day. According to experts, babies at this age learn best when you speak to them about things they can see. While doing activities like bathing or eating, point to and talk about the toy or object she's holding or playing.

12 months: First word!
What a milestone! At around his first birthday, your little one will surprise you with his very first word. Common first words are "mama" and "dada." Making up their versions of words is also common such as "mi" for milk. Some babies this age can also say a handful of words, but they might not be able to pronounce them.

Top tip for this age: Use gestures together with your words. When you tell her "yes," nod your head along and shake your head when you say "no." Wave when you greet hello, and hold out your hand when you ask for an object.

Gestures are tools of communication and can boost your child's speech development. "The early differences in the use of gestures predict children's vocabulary skills as well as executive function at age 4 years," said literacy expert Meredith Rowe and Boston Medical Center pediatrician Barry Zuckerman in a commentary published in JAMA Pediatrics.  

ADVERTISEMENT - CONTINUE READING BELOW

What other parents are reading

15 to 16 months: Knows up to six simple words
Your toddler may have a handful of words by now! She'll be able to raise the tone of his words at the end of words to ask very simple phrases. "More?" is an example. You may also see her using gestures to emphasize what she's saying like nodding her head when trying to tell you yes. Soon, she'll be able to call you ("Mama!") when trying to get your attention. 

Top tip for this age: Want your baby to learn how to say "dermatologist" just like celeb tot Scarlet Snow? Repetition is key. "Infants are more likely to learn a word if they hear that word repeated multiple times during engaging interactions," said Rowe and Zuckerman.  

18 months: Knows up to 20 words
Your little one's bank of words will be growing. It will be at around 10 to 20 words. Commonly, these will be names of family members ("Mama," "Ate," "Yaya," etc.) and words related to her daily routine ("eat," "car," etc.). 

She can now say "I love you" back too! "It usually happens sometime between 18 and 24 months, although at first, your child may just be mimicking your own words. But eventually she'll come to understand what the words mean by the warm smile and voice you use when you say it," says Leslie Gross Klaff in an article for Parents 

Top tip for this age: Expose your child to as many words as possible. A great way to do this is through children's books. Add to your child's storybook collection with books on all sorts of topics and subjects that have words your child hasn't encountered yet. 

ADVERTISEMENT - CONTINUE READING BELOW

Recommended Videos

What other parents are reading

24 months: Strings 2 to 3 words together to make phrases
Your child may know around 50 words by now, and she'll be able to use them to form simple phrases and sentences! You'll hear him say things like, "More milk" or "Bye-bye, Dada!" Exciting, right?

Top tips for this age: "Don't be afraid to use words that you think your child will not understand," advised speech-language therapist Anthony D. Koutsoftas, Ph.D. "The way toddlers quickly learn how to use the phone or play with it shows you how ready they are to learn. If they can learn [how to work gadgets], they can learn about words like 'allergy.'"

Happy chatting!

Celebrate your pregnancy milestones!


Enter your details below and receive weekly email guides on your baby's weight and height in cute illustration of Filipino fruits. PLUS get helpful tips from experts, freebies and more!

You're almost there! Check your inbox.


We sent a verification email. Can't find it? Check your spam, junk, and promotions folder.

Trending in Summit Network