Babies 3 to 6 Months Old Go to School at U.P.'s Child Development Center

Mom start applying when they are still pregnant at U.P.'s infant program at the Child Development Center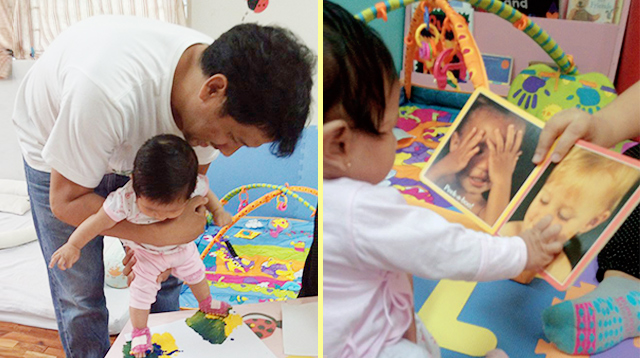 Most parents think about putting their kids in school by age 3 or 4, and others enroll their kids already in play classes as early as age 2. But can you imagine a 3- or 6-month-old baby going to class every day for an entire school year?

If you cannot, then you probably have not heard of the "Infant Development Program" (IDP) of University of the Philippines Child Development Center (U.P. CDC). Moms who know about the program are as excited to gain admittance where the application begins when the baby, er, student, is still in the womb.

IDP serves two purposes. It's a laboratory school of the Department of Family Life and Child Development (FLCD). "The IDP is a class where the FLCD students can observe, train and research on topics on or related to early childhood development or early childhood education," according to Katrina Paraiso-Ballester, or Teacher Kat.

What other parents are reading

IDP's other purpose is to provide experiences for the children to develop their milestones. Paraiso-Ballester explains, "By planning and implementing age-appropriate activities, the children discover the things that they can do and at the same time hone the skills that they already discovered."

Faculty member Excelsa Tongson adds, "You have to stimulate the mind. So we play games, we introduce toys. All of these are aimed towards the holistic development of the child. We are not only targeting their physical development but the development of the self as well."



Babies are encouraged to crawl and move around. Teachers put an object in front of them, like a toy, and encourage them to reach for it.


ADVERTISEMENT - CONTINUE READING BELOW

How can your baby be part of IDP?
Paraiso-Ballester says the program accepts "infants who are aged three to 10 months old as of August, which is the beginning of the school year, following the U.P. academic calendar." 

Just like any school, the parents must go through the admission process, providing the necessary documents such as birth certificate, if applicable, or the ultrasound of the baby with the expected delivery date to verify the child's age. 

There is only one IDP class per school year, and in the coming academic year, the class will accommodate a maximum of 12 babies. The curriculum is highly individualized and designed to respond to the needs and interests of each child, which is why class sizes need to be small.

What other parents are reading

A class has an ideal 1:1 ratio between infants and adults. Paraiso-Ballester says, "If we do not have enough student teachers assisting the head teacher, we plan a schedule with the parents or companions so that they can take turns assisting inside the classroom."

Among the factors considered for admission is the parents' commitment to cooperate and participate in the program, which is why the IDP includes parent education sessions. 

According to parent Joy Reyes Madamba whose baby is enrolled in IDP, "There's a list of parenting topics that all
U.P. CDC parents choose from each semester, and there's at least one Saturday morning per semester where the most popular topic is discussed." 

Once the application is processed, parents are interviewed and evaluated by the U.P. CDC Admissions Committee. 

Babies are enrolled for the entire school year, and, yes, they go to class every day! Tuition is Php30,000 per school year meals included.

ADVERTISEMENT - CONTINUE READING BELOW

Recommended Videos

What other parents are reading



Parents and teachers read aloud to the babies (the first step to language development!) and show them faces with different expressions.

So what happens in class?
According to Paraiso-Ballester, "Most of our activities taps the different senses of the children. In our activities, we emphasize what the infants can see, hear, smell and taste that can be found in their immediate environment. Our activities also encourage movement appropriate for their age. 

"For example, children are expected to be able to reach for objects by 4 months, so they are provided activities that will encourage reaching out to objects. So we place a mobile that the child can reach while lying on his/her back.

"Our class routine is comprised of active and quiet times. Children are given time to warm up upon arrival so that they can adjust to the classroom environment. We have free play, where the children can engage in an activity of their choice. We have an outdoor play, where we do nature walks or other outdoor activities. We also have snack time, bath and changing time and even rest time. Only the sequencing varies depending on the batch of students we are handling."

ADVERTISEMENT - CONTINUE READING BELOW

What other parents are reading

But how do you hold similar activities for babies of different ages and capabilities? Paraiso-Ballester explains, "Activities are greatly dependent on our observations in class and the children's developmental milestones. 

"For example, Tummy Time, where a child is placed lying on their tummy, is emphasized most especially for the 3-month-old babies, to help strengthen their core muscles and provide them opportunities to establish neck support. It also provides an opportunity for children to learn to roll over as they get older. At 3 months old, tummy time can only last for only a few minutes, and babies are usually given something to look at. For older infants, they can be provided a toy or any material that would encourage them to move forward or sideways."

What does the class schedule look like? "The schedule varies depending on the children. We allow time observing their routine such as what time they usually become hungry or feel sleepy, then we design our schedule."

Tongson shares her observations based on her experience with the program. "When you look at them closely and you get to know them, makikita mo iba-iba talaga yung ways nila. May mga bata sobrang tahimik, may mga babies na slow to warm up. May mga babies na pagdating nila, laro na nang laro. 

"Makikita mo talaga na individually unique sila. Makikita mo talaga na not all children are the same, even when they are babies. Kaya individualized instruction yung ginagawa, kasi may iba-ibang needs and interests yung mga bata."

ADVERTISEMENT - CONTINUE READING BELOW

What other parents are reading



The babies are encouraged to move by making them reach for strings and letting them feel the different textures.


Is it worth enrolling my baby when she is just months old? 
Mom Joy and her husband felt that U.P. CDC had been good for their eldest daughter, Vivi, and they wanted the same for their second daughter Vanna. "We've seen firsthand their style of teaching and the sense of community that they foster, so we knew our baby would be in good hands."

Did Joy notice any differences between her two daughters? "My two kids were fundamentally different in terms of behavior when they were babies, so it would be hard to attribute their differences to IDP. 

"For example, Vivi was more of a talker, and Vanna is more active in terms of movement. However, I can say that Vanna's propensity for action —dancing, walking, running, being active in the playground — was definitely enhanced because she had more opportunities to do that than if she just stayed at home with yaya. Being in school was helpful for her to use her energy. 

"I would recommend it to other parents because it also helped me and my husband in assessing Vanna as she progressed in her skills. Admittedly, she's also our second child, so there's definitely a difference on how we took care of Vanna and how we took care of Vivi."

ADVERTISEMENT - CONTINUE READING BELOW

Tongson explains the benefits of early childhood education. "Yung sa bata, meron silang early stimulation. Magkakaroon agad sila ng friends. Ma-e-expose sila sa ibang bata agad. Tapos hindi naman sila pine-pressure matuto dun. Laro, tulog, kain. Kaya yung mga bata, sa observation ko, nakaka-adjust agad sila dahil sa exposure sa maraming mga bagay. 

"Kailangan pa ito tignan ng mas maraming pag-aaral. But the literature I have read points to the benefits of enrolling your child in an early childhood development program. Nakita nila na may correlation ito sa academic achievements in grade school. Tumataas din yung chances nila of finishing high school."

What other parents are reading




One of the fun activities the babies do is feet painting! 


These activities can be done at home, right? So why even consider the program?
IDP serves as a training ground and source of knowledge for parents. According to Paraiso-Ballester, parents, most especially first-time parents, usually have a lot of questions as to what to do for their children, what activities to provide, what food to prepare as well as how to care for their child. IDP provides a community where parents can learn not only from the teachers but also from other parents as well.

ADVERTISEMENT - CONTINUE READING BELOW

"One of our favorite milestones is the introduction of solid food. We provide a seminar for the parents, arming them with knowledge as to what food to introduce first and how to prepare it for the children. There is a huge pool of information that parents can access nowadays, but not all information is true and based on research. In IDP, parents can be guided in raising their children by the teachers who studied early childhood development and can be supported by other parents as well. 

"Realistically speaking, not all parents have the time to prepare activities for their children. Some children are even left alone with the child-minder while the parents are away at work. The child-minder, if not given proper training, may not be able to engage the infants in developmentally appropriate activities and might be left engaged in simply watching videos via gadgets.

"Being in IDP ensures that the children are provided with activities tailored to their developmental characteristics while at the same time they are also being cared for."

What other parents are reading

Celebrate your pregnancy milestones!


Enter your details below and receive weekly email guides on your baby's weight and height in cute illustration of Filipino fruits. PLUS get helpful tips from experts, freebies and more!

You're almost there! Check your inbox.


We sent a verification email. Can't find it? Check your spam, junk, and promotions folder.

Trending in Summit Network