Babywearing 101: Learn Four Other Types of Carriers You Can Use for Your Baby

There are various type of carriers for the needs of your little one. How to choose what's best.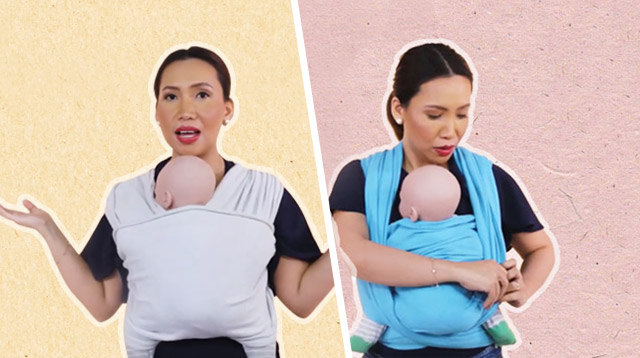 If you're interested in babywearing, the most common types of carrier you've likely come across are the ring sling and the soft structured carrier (SSC). Jennylyn "Jen" Alegarbez, a babywearing consultant and a mom of four, recommends these for beginners — not only are they easier to get on and off, but these two types of baby carriers are also versatile as they can be used until your little one reaches toddlerhood.

But as you grow more confident of your wrapping and babywearing skills, it is important that you pick one type of baby carrier that will suit you and your baby's needs best. Did you know that apart from the ring sling and the SSC, there are at least four other types of baby carriers out there?

We asked the help of Jen to share with us alternative wraps and carriers that you can use for babywearing. Watch the video below and see which one can work for you!

ADVERTISEMENT - CONTINUE READING BELOW

 

When choosing a baby carrier, Jen Alegarbez has the following additional reminders:

1. Know your base size if you're going to order a woven wrap. This is especially important to achieve a front wrap cross carry. If you've mistakenly bought the wrong size, there are still some other babywearing techniques that you can do but Jen recommends to do your research first. "Kailangan mong pag-aralan ang bawat estilo na pwede sa size ng carrier mo," she says.

CONTINUE READING BELOW

Recommended Videos

2. Stretchy wraps are recommended for preemies and newborns that are not too heavy. It is also not recommended for back carrying, according to Jen, "kasi nag-sa-sag ang fabric."

3. The Mei Tai carrier has four straps and like the SSC, has no waist pad or belt. However, it provides an equal distribution of weight and can carry newborns to toddlers, according to Jen. It can also be used to carry your child on your back.

ADVERTISEMENT - CONTINUE READING BELOW

4. The Onbuhimo carrier is recommended if you want to carry a child on your back. It can also be used by pregnant moms especially if they don't like the feel of a waistbelt (which most carriers have).

What's your favorite type of carrier? What do you use? Share it with us in the comments!




Trending in Summit Network