The Eleventh Month
Baby is now steadier on her feet and loves to "walk" everywhere. You may feel a twinge of sadness as you realize that she is not a baby anymore, but well on her way to becoming a toddler. A budding independence starts to develop as she discovers her world from a different viewpoint and as her thumb and forefinger dexterity is fully developed. Continue to be patient as she tests limits and indulges in her curiosity. If she does something that she is not supposed to do and gets a shriek from you, she will do it again (and again) just to see how you react. Again, baby-proof everything and keep dangerous or unsafe things out of sight.
Here is what you can typically expect during the eleventh month: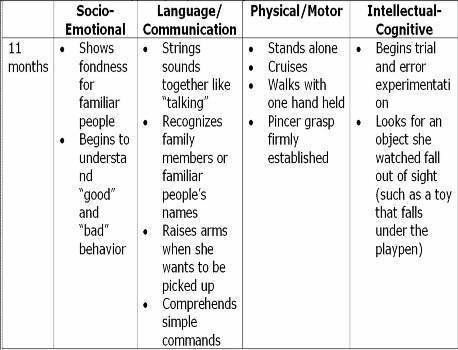 How to interact with your 11-month old:
• You don't need fancy and elaborate toys for baby. Often, it is the simplest items you find around your home such as plastic containers, lids, yogurt cups, shoeboxes, and empty toilet paper tubes that are great toys for babies at this age. You can hide small objects (but not small enough for baby to choke on) under the plastic containers and encourage your baby to look for them. You can teach the concept of "empty" and "full" by putting things into and out of the shoeboxes. Toilet paper tubes can be rolled on the floor. Yogurt cups can be used for water play!

• If you do get toys for baby, she will love shape sorters, push toys, and blocks.

• Baby will be pointing at things that interest her so when she does, be sure to name it and describe what it does.
• Board books with lots of pictures will not only help baby with language, but will also encourage her to use her hands to open and close the book and turn the pages.
SOURCES:
Curtis, G. B. & Schuler, J.  (2000).  Your Baby's First Year Week by Week.  Cambridge, MA:  Perseus Publishing.
First 5 Commission of San Diego.  (2008).  How Kids Develop.  Retrieved from http://www.howkidsdevelop.com/developSkills.html
Orenstein, J.  (2000).  365 Tips for Baby's First Year.  Holbrook, MA:  Adams Media Corporation.
Powell, J. and Smith, C.A. (1994). The 1st year. In Developmental milestones: A guide for parents. Manhattan, KS: Kansas State University Cooperative Extension Service.  Retrieved from http://www.nichcy.org/Disabilities/Milestones/Pages/Default.aspx