The Seventh Month
With the onset of crawling comes the necessity of baby-proofing your home. Little fingers and toes can get caught in between doors, delicate heads can get bumped and bruised on the edges of chairs and tabletops, little bodies can roll down a flight of stairs (or even simple steps!), and tiny objects will find their way into baby's mouth and cause her to choke (not to mention get a tummy ache). These beginning crawlers may not yet be savvy, but they can be fast as lightning. Vigilance is key. Now that baby can explore the world by moving from one place to another, she is now capable of moving towards her toys that are out of reach rather than simply trying to rake them back with her fingers. If there is an obstacle blocking her path, she may be able to think of a way to get past this. It will be amazing to watch your baby's body and mind in action at this time.
Here is what you can typically expect during the seventh month: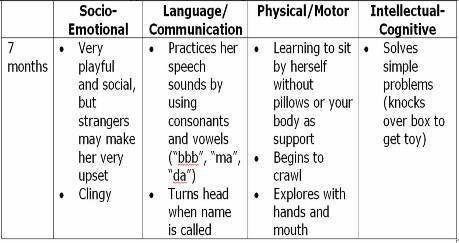 How to interact with your seven-month old:
• Play with your baby a lot—do peek a boo, hide toys in different places, roll a ball back and forth, blow bubbles, crawl over things together (obstacle course), sing action songs, play musical instruments (feel free to use kitchen utensils such as measuring spoons, pots, and pans), read books—be creative!

• Although baby can be very clingy and can become anxious when meeting new people, do not shy away and turn her into a hermit. Continue to expose her to other people (adults, children her age, or even older children) so that she can get used to this experience. Remember to do this gently and gradually, so as not to cause her any anxiety. Why is this upsetting to her? Now that she can crawl away from you, there is a sense that she may lose you forever if she goes too far.





SOURCES:

Curtis, G. B. & Schuler, J.  (2000).  Your Baby's First Year Week by Week.  Cambridge, MA:  Perseus Publishing.
First 5 Commission of San Diego.  (2008).  How Kids Develop.  Retrieved from http://www.howkidsdevelop.com/developSkills.html
Orenstein, J.  (2000).  365 Tips for Baby's First Year.  Holbrook, MA:  Adams Media Corporation.
Powell, J. and Smith, C.A. (1994). The 1st year. In Developmental milestones: A guide for parents. Manhattan, KS: Kansas State University Cooperative Extension Service.  Retrieved from http://www.nichcy.org/Disabilities/Milestones/Pages/Default.aspx