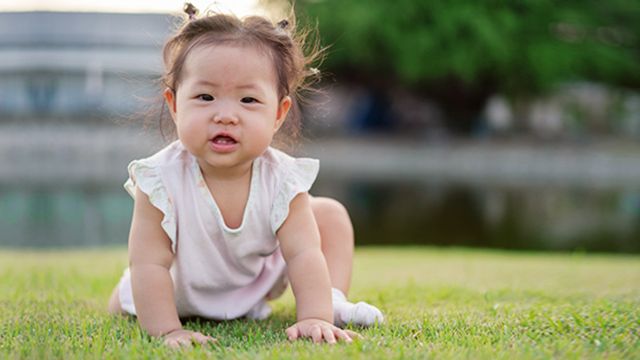 Achieving milestones for gross motor skills is one that's relatively easy to spot. When babies first gain control of their neck, they'll typically try to roll over, sit or crawl, pull themselves up to stand, and eventually take their first steps!
Sometimes, some parents observe their little one isn't exactly crawling but she's "sweeping the floor with her tummy" or scooting around on her bottom. Some jump instead of taking it one limb forward after the other. Are these a cause for concern?
Ways to encourage your baby to crawl
"Crawling is not a prerequisite to walking; pulling to stand is the skill infants must develop before they take their first steps," according to the American Academy of Pediatrics (AAP). What is essential is you give your child the freedom to move independently and explore his surroundings.
That said, having your child crawling have advantages. Pediatric occupational therapist Felice Sklamberg from New York University's School of Medicine says crawling helps strengthen a baby's hands, wrists, and elbows as these body parts support her weight as she crawls. And not using these muscles as effectively may affect the child's motor skills later on in life.
Here are some AAP-recommended ways to encourage your baby to crawl:
Give your baby enough tummy time, which is essential for your child to learn proper head control.
Provide a safe space for your baby to move and explore. Do a crawl test so you can see from your baby's point of view and eliminate any safety hazards so your baby may encounter.
Present him with toys and objects that are just a bit beyond her reach — and you can gradually make the gap bigger going forward to encourage your child to move.
Place your baby near things that he can use to safely hold on to as he pulls himself up, such as the crib railings, low tables or shelves.
As your baby becomes agile, let your baby crawl into safe miniature obstacle courses and tunnels using pillows and cushions. Join her to help her just in case she falls and has trouble getting back up and ensure she doesn't develop a fear of falling down.
Getting your baby to crawl up the stairs is potentially dangerous — you need to supervise your child as she tackles the stairs attentively. If you don't have stairs at home, heavy-duty foam block or sturdy cardboard cartons are okay alternatives.
Warning signs that your child needs help
You don't need to force your little one to crawl. Other movements and activities can boost your baby's hands, wrists, and elbows, as well as his whole arms and legs. While doctors assure parents that crawling isn't a requirement for standing up or walking, observe and discuss with your child's pediatrician if you notice these warning signs.
When a baby isn't using all her limbs to move around
Whether your baby is scooting around or sweeping the floor on his tummy, your little one should try using both his arms and feet. "If parents notice they're not using one of their at arms or legs and they can't bear weight on it, that would be concerning," said pediatrician Dr. Aishwarya Deenadayalu. If one arm or leg only appears to be stronger or preferred to use by your little one, continue to observe and let your doctor know if you feel he isn't using his limbs actively. 
When baby can't sit upright on his own
If your baby is having trouble sitting upright or he still needs some kind of support when sitting, it might be a sign of a problem. By the end of a baby's 9th month, he is crawling ideally. If he is not crawling, then he can sit on his own, sit upright independently, and may even start to pull himself up to a stand while he holds on to, say, the sides of his crib.
Crawling is a fleeting milestone for most kids. As soon as they learn the skill, they're already more interested in learning how to walk.