3 Expert Baby Care Tips to Demonstrate Your Love

How you care for your child early on in his life makes an impact in his overall development.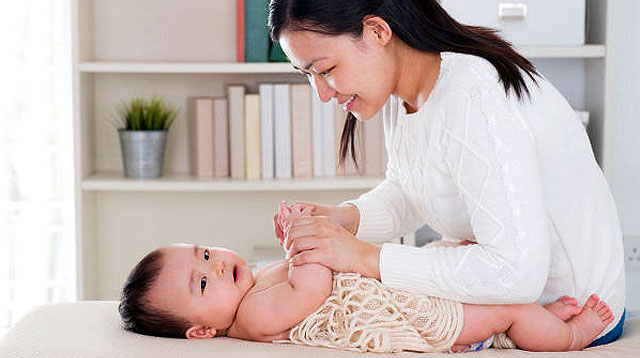 It's a cliché, but all parents want the best for their kids. And the minute you find out you are pregnant, no one needs to convince you to make lifestyle changes if it means nurturing the baby inside your womb. It's not different once you finally meet your little angel. You want to provide the best infant care possible, and one expert says if moms can set aside three years to care for their baby, "you are actually giving your baby the best gift ever."

"The best care is the mother's care," explains Menchit Ordoveza, owner of My Dearest Nanny and RIE Educaregiving Resources and one of the speakers at The Smart Moms Birth & Baby Workshop held last month at the Discovery Suites in Pasig City. "The first three years of the child is when his growth and development area are paramount, which means anything that you do to them enters their sensory motor program, affecting their growth and developmental stage."

Keeping this in mind, Ordoveza ascribes to an "educaregiving" approach when it comes to infant and toddler care. It means being mindful, instead of doing our caregiving routines in a mechanical manner, which can happen when we bathe, feed or even put baby to sleep. With educaregiving, we "demonstrate our love and teach our babies respect." How? 

1. Before you do anything to your baby, ask permission.
We know -- it sounds weird, but you may already be doing it, say, during his bath time. Ask him, "Baby, can I give you a bath?" just before you start the process. Of course, an infant will not answer but by doing it, Ordoveza says you are already showing your child what a respectful act looks and sounds like, and he will bring this with him when he grows up. 

2. Tell your baby what you're doing. 
You may sound like a crazy woman detailing to your baby out loud what you're doing to or with him. But we actually think it's soothing. "You're like a teacher, telling your baby the procedure of what you are doing. The often you do it, the more it enters their mind. And they'll know it when they grow up," Ordoveza says.

ADVERTISEMENT - CONTINUE READING BELOW

3. Talk to your baby directly.
Some parents have a tendency to refer to baby in the third person, like "Yaya, kumain na ba si baby?" Your baby is already a person in his or her own right, so you should directly address him, Ordoveza advises. Say, "Baby, have you taken a bath yet?" He won't likely answer, but his yaya should can answer for him like this: "Yes, I already took a bath, Mommy." 

Educaregiving also emphasizes that even if you have a yaya, there should be certain parts of baby caregiving that you need to take charge of.  

What other parents are reading

Play time is also a crucial element in educaregiving, but in this approach, parents shouldn't push gadgets or toys on their kids. "Time to play is allowing your infant or toddler to explore by themselves through indiscriminate or selective intervention," Ordoveza clarifies.

You can look at it this way: you let your baby fnd ways to entertain himself. Some of the things you can do: 

Invest in a play area.
It can be any space at home where your baby can safely explore with minimal intervention. Have toys and other things your baby can explore at their own pace and time. Put in place safe boundaries or child-proof your home to allow babies and toddlers free movement and exploration.

Practice sensitive observation.
"Babies develop on their own even without you doing anything for them. Parents should really just enjoy their baby," Ordoveza says. Give them time alone and participate only minimally in their play. This also encourages independence. "Also let them interact with other kids even if they fight," she adds. Don't intervene right away unless absolutely necessary as babies would need to learn how to behave with their peers.

CONTINUE READING BELOW

Recommended Videos

Accept a child's right to show both positive and negative feelings.
"At 10 months, babies can already bring out their emotions. So when they cry, allow them. Newborns cry out of need, and most of the time they're just hungry, sleepy, tired or they need to be burped, tired, but they're never bored," Ordoveza explains. She adds that the only time babies are bored is if they're growing into a stage wherein you already need to give them new exploration experiences so they can learn new things.

You can contact Menchit Ordoveza of RIE Educaregiving Resources and of My Dearest Nanny at (02) 852.5778; (02) 852.6020 (0917) 807.1064, or e-mail dearestnanny@yahoo.com.

What other parents are reading

Celebrate your pregnancy milestones!


Enter your details below and receive weekly email guides on your baby's weight and height in cute illustration of Filipino fruits. PLUS get helpful tips from experts, freebies and more!

You're almost there! Check your inbox.


We sent a verification email. Can't find it? Check your spam, junk, and promotions folder.

Trending in Summit Network