How to Clean Your Baby's Bathtub: Keep It Free From Mold and Bacteria

These chemical-free solutions are found in your pantry.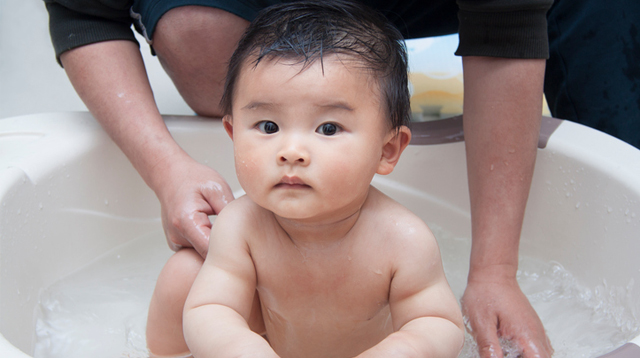 You've put a lot of thought of what tub to buy for your baby's bath. But are you doing the same when it comes to cleaning it? That plastic tub accumulates dirt, soap scum and yep, baby poop, with each use. When left to sit, it can form mold, mildew, and bacteria, which exposes your little ones to viruses, infections, and other illnesses.

That said, don't go overboard with cleaners and solutions when it comes to cleaning the tub. Your baby's sensitive skin might get irritated by its ingredients of harsh chemicals. Unless your baby pees or poops, cleaning your tub may be something as simple as wiping it down with disposable wipes! Make sure to keep some near the tub so you can quickly clean the tub after baby uses it.

More from Smart Parenting

Here are other tools and baby-friendly solutions that you can use instead.

Cleaning expert Jolie Kerr over at Offspring recommends three tools: 

ADVERTISEMENT - CONTINUE READING BELOW

• Microfiber cloths. Use water with this multi-tasking fabric to quickly get rid of soap and other residues. 

• Lemon and salt. The acid in lemons makes them great natural cleaning solutions (calamansi works, too!). Cut in half and sprinkle with salt then rub on the tub to clean. Rinse with water and let dry.

• Vinegar. This acts as a disinfectant and is an effective non-toxic solution against mold and mildew. It's also mild enough that its residue won't harm sensitive skin. Dilute equal parts of white vinegar and water and pour the solution into a spray bottle. Spray the tub, let it sit for 5 to 10 minutes and wipe it down using a rag or paper towels.

CONTINUE READING BELOW

Recommended Videos

More from Smart Parenting

Even if you meticulously wash your baby's tub after each use, it's also a good idea to do a deep clean from time to time. You can use a gentle multi-purpose cleaner, vinegar or liquid soap, but use a cleaning pad or toothbrush to scrub the tub and remove stubborn buildup. 

ADVERTISEMENT - CONTINUE READING BELOW

If your tub gets stained, don't be tempted to use bleach. Instead, try baking soda. To use, mix with water to form a paste and rub. (It's great for getting rid of stains in baby clothes, too!)

After cleaning the tub, make sure to wipe it with a clean rag to dry. Make sure NOT to clean the tub right before bath time. Give it some time to air out before use to avoid irritating baby's skin.

Trending in Summit Network