Music Boosts Your Child's Brain! 5 Ways To Do It Without The Use Of Gadgets

There are more ways to engage your child musically than just playing songs on YouTube.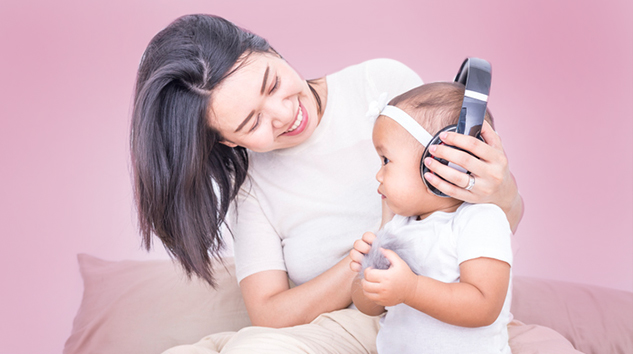 Learning through music is actually an old trick to teach children knowledge, values, and culture. And your child does not need to be the next pop superstar or a renowned classical musician to engage them in early music education.

Laura Brown of PBS mentions some areas that benefit from music education: holistic and interrelated learning, language development, spatial-temporal skills, and improved IQ test scores.

How to gain the benefits of music

The benefits of music do not just apply to cognitive and physical development. Music education also teaches cultural values in the context of a nurturing environment. It is evident not just in the preschool classroom (think nursery rhymes and transition songs on packing away, lining up, and falling in line) but in indigenous knowledge systems and practices (IKSP) as well.

Philippine ethnolinguistic groups like the Tagakaolos of Sarangani have parents telling stories with good values through songs that their ancestors passed down from generation to generation. (You can also read this Smart Parenting article on teaching through play.)

As an early childhood music educator, here are some recommendations on how to musically engage with your child – without the use of gadgets and at a minimal cost (even for free):

1. Sing your child to sleep.

While it is convenient to just play an online playlist of lullabies on loop, singing to your child is one of the ways you can bond with him/her. (See this Smart Parenting article on favorite lullabies of all time) According to Mother.ly, lullabies help "establish a bedtime routine," serving as your child's aural cue for bed time.

ADVERTISEMENT - CONTINUE READING BELOW

Tip: Ask your older relatives for songs they sang to you when you were young. If there is no one to ask, here are some resources to check out:

Antukin, a book written and edited by musicologist Felicidad A. Prudente and with illustrations by Joanne de Leon, is a good collection of folk songs and lullabies from Luzon, Visayas, and Mindanao. The English translations are perfect for multilingual families.
Mama Lisa's World  gives free access to children's songs and rhymes from cultures all over the world. (Word of caution, though: Leslie Ann Bird of Teaching With Orff says one should do more research when using indigenous stories, songs, instruments to ensure cultural sensitivity and appropriateness.)

2. Tell a story.

Stories are good takeoff points for singing, playing, and moving activities. Make the story more alive by inserting a related song, creating radio drama-like sound effects, and doing a mini-musical — all using just one material! Involve your child by letting him/her think of the actions and sound effects to make as you go along the story.

Tip: Choose a storybook with onomatopoeic sounds for your radio drama-like storytelling. Here are some recommended children's books:

Annie Pacaña Lumbao and Anelka Lumbao's (mother-daughter authors) But That Won't Wake Me Up!  gives your child an overview of both the urban and rural Filipino soundscape — the mangtataho, a rooster, your local marching band, and much more.
Philippine Folktales, edited by Joanne Marie Igoy-Escalona, is a good complement to singing Philippine folk songs. This book is helpful for parents who choose homeschooling because it is compatible with DepEd's Mother Tongue-Based Multilingual Education (MTB-MLE).
A picture-less book for children? That's right! The Book With No Pictures by B.J. Novak lets you play with your imagination. Use your voice to interpret the typography of the words. Each storytelling session can be a different interpretation!

3. Attend your fiestas.

Do you know that babies and young children should not be regularly exposed to loud sounds in enclosed spaces as they are more prone to hearing damage? It is why babies and young children are discouraged from watching concerts in halls and movies in cinemas without ear protection. Fear not — musical experience is still possible! Go to your local fiestas and experience music al fresco for free!

Tip: Check out your local parks, churches, and malls (with outdoor events venues) around the neighborhood). Check out church-related celebrations for choral music. You can also wait for your marching band to pass by your house and listen to them perform local music traditions. Here are some festivals you might want to see:

4. Lastly, you can join a community group.

Instead of just watching the town band or church choir, you might want to consider joining the group! Depending on the group director, community music groups are inclusive of a broad age range, which means you can bring your child along with you. Children who grew up in community music traditions often take up a career in music when they grow up.

Community music is "an escape from digital bombardment, where simple human interaction is enough," relevant to the isolation brought about by dependence on social media. Music making with your child is one way to eliminate or lessen gadget use as it promotes face to face interaction. According to Asst. Prof. Charla Saamong-Santiago, mother to a toddler and a faculty member of UP Department of Family Life and Child Development, face-to-face interaction is a "key element in fostering early communication and socialization skills."

ADVERTISEMENT - CONTINUE READING BELOW

Tip: Join the local church choir, town band, community orchestra, or after-work rondalla. You can even go as far as establishing a home-based band or small musical ensemble. If your child is old enough to join a group, you may want to consider letting them sit in a few rehearsal sessions.

Special thanks to Asst. Prof Jocelyn Guadalupe of the UP Department of Music Education for the socially and culturally relevant input on this article.

Click here to learn about another way that music aids in a child's brain development.

Trending in Summit Network