Join the next Smart Parenting Giveaway and get a chance to win exciting prizes!
Join Now
Nothing I Did Worked, So I Hired a Sleep Coach for My Baby

At 6 months, this mom's daughter still fed like a newborn, waking to nurse three to four times since the night she was born. Here's how a sleep coach helped her.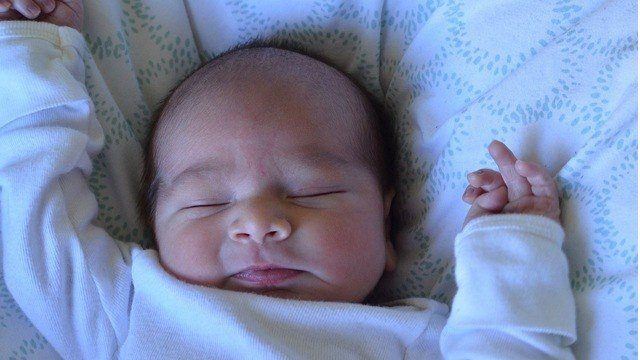 Like all new moms, I wanted "the best" for my baby. Before I even gave birth, I was all set to devote myself to breastfeeding. Martina's birth weight was below 6 pounds, but it quickly doubled in her first month and tripled in her fourth month. I was pretty sure it was because I was breastfeeding. 

On her fifth and sixth month check-ups, however, we got non-stellar growth stats. I was still breastfeeding on demand, so I didn't understand why. We religiously kept a record of her daily activities since birth. When I resumed work, she would sometimes hold out on her bottle feeds, drinking only 5-8 ounces (10 ounces if we're lucky) during the day. At first, I thought nothing of it. Whatever Martina didn't consume in the day, she would make up for it with direct feeds once I was with her at night. 

As soon as the nanny turned her over to me, however, she'd go into this feeding frenzy. After a couple of feeds, Martina would be hyper. All I could do to calm her down was to keep nursing and playing with her until she finally slept at 10 or 11 p.m. "My baby must just miss me," I always thought. 

ADVERTISEMENT - CONTINUE READING BELOW

More from Smart Parenting

But, at 6 months, Martina still fed like a newborn, waking to nurse three to four times each night. It became a vicious cycle. The more she woke to feed at night, the less sleep she got. The crankier she was the next day, the harder it became to feed her, to make her nap during the day, and to put her to sleep at night. All the signs showed I had an overtired baby. 

Getting up three to four times every night since my baby was born six months ago was also taking a toll on me. I was waking up feeling "wasted" every single day. "Oh, I should just cherish these times when she still needs me," I would say to my tired self. 

More than anything, however, I worried Martina's growth would fall below the curve. I felt I had to do something for both of our well-beings.

One of my very first "new mom lessons" was accepting that it was completely okay to ask for help. So when I learned that breastfeeding was not necessarily intuitive for every baby, I got a lactation coach. She helped to make sure my baby was latching correctly, to manage my milk supply, and she taught me how to avoid breastfeeding-related health issues. 

ADVERTISEMENT - CONTINUE READING BELOW

But the idea of working with a sleep coach is unheard of for most moms and families here in the Philippines. Co-sleeping is the norm since our moms did it with us. We know it isn't the safest option, but it was an effective way to get babies to sleep. Besides, babies will eventually "outgrow" their sleep issues since, at 4 months, they are said to be biologically capable of organizing their sleep. 

That wasn't happening with my 6-month-old. So I was so astounded when one of my good friends told me her baby slept for 12 hours each night AND fed 25-30 ounces a day after working with a sleep coach for two weeks. I was willing to do anything to get my baby to feed and sleep right so I got in touch with her sleep coach, Gabrielle Weil, to sleep-train my baby.  

More from Smart Parenting

Gabrielle describes sleep training as "respecting a baby's fundamental survival needs." It isn't just about getting the baby to sleep through the night. It's taking a step back and committing to a full circle approach to your baby's growth and development. 

Throughout the two-week period, at each nap time, I would report what was happening, and at the end of each day, we had a telecon with Gabrielle to check on issues and progress. 

Our sleep coach stressed the huge importance of proper feeding for sleep training success. When the baby consumes her milk requirements during the day, that would eliminate the need for night wakes. So we did feeds on schedule and no longer on demand. 

We had a new schedule with fixed times for naps and bedtime. The schedule wasn't something that our sleep coach simply decided for our convenience; it was designed to respect and to follow Martina's natural circadian rhythm. We learned that babies naturally wake when the sun rises, and should naturally fall sleep when the sun goes down. "A baby's schedule is not your own," stressed Gabrielle. "It is more damaging for the child to have her up two hours past her bedtime than to let her cry for 10 minutes."

We were taught to break old sleep crutches like bouncing, rocking, shushing, and nursing, as these ways made Martina dependent on us to make her sleep. We were guided in creating our own pre-sleep ritual that helped Martina ease into the idea of falling asleep on her own and not while being held by papa or nursed by mommy. Ultimately, sleep training is about communication with your baby. A baby who cries is a human being expressing herself. 

ADVERTISEMENT - CONTINUE READING BELOW

More from Smart Parenting

As a new parent, it was a revelation when I understood what I really needed to do for my daughter. "Mommy doesn't have to swoop in to help you at every cry," I would tell Martina, especially if I knew that all of her major needs have been addressed before putting her down to sleep. I heard and understood her cries better. The back-of-the-throat cries meant "I'm so tired! I just want to sleep!" or top-of-lungs cries told she needed something urgently, while her soft moans were her way of "singing" and lulling herself to sleep. Most importantly, her pauses within cries told me she was trying to figure things out for herself. 

Sleep training felt like my crash course in parenting -- I learned my real place as a mom. I didn't have to do everything for my baby. I began to trust that even at 7 months, with guidance and consistency, my baby was perfectly capable of giving herself the gift of good sleep. 

On our third sleep training day, Martina slept for 12 straight hours. With consistency and repetition, we successfully instilled a love for sleep in Martina. There were still times when she would wake at night but only to change position, sometimes with some moans involved. There were times when there were wild cries, and I would go in to give her the assurance she needed. 

ADVERTISEMENT - CONTINUE READING BELOW

In the morning, Martina now wakes up happy, no longer startled that she is by herself. She patiently engages in quiet, private play. She knows mommy or papa will come for her. There is no more need to cry. 

I no longer worry about growth stats, seeing how many milestones she's hit since we completed sleep training. I like to look at it this way: sleep training gave her a sense of security, a sense of confidence. Her sleeping through the night was merely a bonus. 

Nothing empowers me more as a new mom than seeing my baby come into her own. It is happy-sad and beautiful, just watching her. I feel an even stronger bond with her now as I aimed to teach baby, but she ended up also teaching me. 

Our sleep coach, Gabrielle Weil, has trained with two UK-based baby sleep trainers using various sleep training methods. You may reach her at babesofbliss@gmail.com.

ADVERTISEMENT - CONTINUE READING BELOW




Get real and practical parenting advice