Why Your Baby Loves to Hear You Sing Lullabies Even When You're Off-Key

Plus, different songs you can use to usher your little one off to dreamland.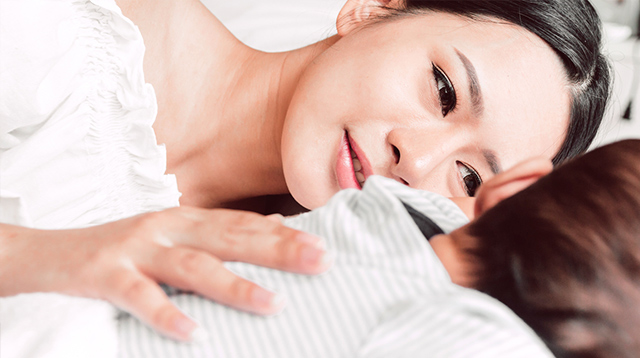 All parents know the struggle of getting a child, especially a baby, to sleep through the night. It pushes new moms and dads to get creative in finding ways to usher their little one to sleep with techniques like tummy time and foot reflexology. But a simple thing parents can do to help carry their babies off to dreamland is by singing to them!

Many studies have discussed the benefits of singing. A study published in the journal Infancy in 2015 tested how the act of singing can calm babies down. The study, which was performed by researchers from the University of Toronto, Mississauga, was executed in two parts.

First, babies from French-speaking families were placed in a room with no other person or stimuli and were made to listen to audiotapes of unfamiliar people either singing or speaking in an infant-directed way (engaging, rhythmic, and singsong-y) in the Turkish language. The researchers found that the babies who listened to music remained calm for a longer period, compared to the babies who heard speaking voices.

For the second part of the study, a new group of babies were placed in a similarly distraction-free room and made to listen to audiotapes of unfamiliar people either singing or speaking, but this time, the recordings were in French, the native language of these babies' families. The researchers gleaned a similar result — the babies who listened to singing remained calmer longer than babies who listened to speaking — leading them to conclude there must be something about the act of singing itself that can calm babies down, even though the voice of the person singing is not necessarily familiar to them.

ADVERTISEMENT - CONTINUE READING BELOW

This study, along with numerous other research on the same topic, actively support the theory that newborns and babies show responsiveness to the act of singing itself. Aside from calming them down, singing can also cause a positive impact on a baby's cognitive development, as well as provide them a sense of comfort and security, and even help strengthen the bond between them and their parent. You don't have to worry if you can't carry a tune — your baby will love it anyway!

If you're thinking of starting the habit of singing your child off to bed, here are some songs—from classic nursery rhymes to pop songs that you may never have expected you can go for—that you can use to help make bedtime a sweet and enjoyable moment for you and your baby.

Studies have shown that singing to your baby can help in their development as well as in calming them down.

ADVERTISEMENT - CONTINUE READING BELOW

Recommended Videos

"Twinkle, Twinkle, Little Star"

No list of lullabies is complete without this iconic nursery rhyme. Its simple melody and lyrics are familiar to all of us and even helps us relax.

Notable lyrics: "Twinkle, twinkle, little star/How I wonder what you are/Up above the world so high/Like a diamond in the sky"

"Rock-a-bye Baby"

Another classic nursery rhyme, this is perfect for when you are rocking your baby in your arms.

Notable lyrics: "Rock-a-bye baby, in the treetop/When the wind blows, the cradle will rock"

"Over the Rainbow" by Judy Garland

"Over the Rainbow" was originally performed by the actress Judy Garland in the well-loved movie The Wizard of Oz and has received much love even by more contemporary audiences. Encourage your little one to dream big through this song.

Notable lyrics: "Somewhere over the rainbow, skies are blue/And the dreams that you dare to dream really do come true"

What other parents are reading




"You Are My Sunshine" by Johnny Cash

This song, originally from the late 1930s, has been re-interpreted countless times by different artists. It contains lyrics that speak of heartbreak, but its well-known chorus describes a deep and genuine love that put into words how all parents feel about their kids.

Notable lyrics: "You are my sunshine, my only sunshine/You make me happy when skies are gray"

"Make You Feel My Love" by Adele

You may be surprised to find a song by the British songstress here, but her emotional ballads can rock every member of the family to a calm sleep.

ADVERTISEMENT - CONTINUE READING BELOW

Notable lyrics: "When the rain is blowing in your face/And the whole world is on your case/I could offer you a warm embrace/To make you feel my love"

"You'll Be In My Heart" by Phil Collins

This original song by Phil Collins is featured in the Disney film Tarzan. It is the music you hear when Tarzan's adoptive gorilla mother tries to calm him down by promising him that she will always be there to protect him and keep him safe. Isn't that how all moms and dads feel?

Notable lyrics: "For one so small/You seem so strong/My arms will hold you/Keep you safe and warm/This bond between us can't be broken"

"Baby Mine" by Alison Krauss

This song is also part of the soundtrack of another Disney film, the 1941 feature Dumbo. Another great film song, "Baby Mine" will definitely help you show your little one how precious they are to you.

Notable lyrics: "From your head down to your toes/You're not much, goodness knows/But you're so precious to me/Sweet as can be, baby of mine"

What other parents are reading




"Beautiful Boy" by John Lennon

Written by John Lennon for his own son, this song is a great way to comfort your child and tell him that there's no need for them to be afraid because you are by their side.

Notable lyrics: "Close your eyes/Have no fear/The monster's gone/He's on the run and your daddy's here"

"My Love, My Life" by ABBA

ADVERTISEMENT - CONTINUE READING BELOW

If you have seen the film Mamma Mia! Here We Go Again, you probably remember that scene where Meryl Streep, Lily James, and Amanda Seyfried sing this tender lullaby together. Originally, the song's lyrics spoke of two lovers' separation, but for the film, it was changed to speak of a mother's passionate love.

Notable lyrics: "Images passing by/Like reflections of your mind, my love, my life/Are the words I try to find, my love, my life/But I know I don't possess you/With all my heart, God bless you/You will be my love and my life/You're my one and only"

"Butterfly Fly Away" by Miley Cyrus

This sweet song was originally performed by real-life father-daughter duo Billy Ray and Miley Cyrus, in the film Hannah Montana: The Movie. Though it describes a child going into adulthood, its moving message makes it perfect to sing for a child at any age.

Notable lyrics: "Wish you may and wish you might/Don't you worry, hold on tight/I promise you that there will come a day/Butterfly fly away"

"Sa Ugoy ng Duyan" by Aiza Seguerra

If you want to sing to your little one in our native tongue, one song you should definitely use is "Sa Ugoy ng Duyan." The lyrics are written from the point of view of a child who longs for the joy of being in his mother's presence and of listening to her singing to him.

Notable lyrics: "Sana'y di magmaliw ang dati kong araw/Nang munti pang bata sa piling ni nanay/Nais kong maulit ang awit ni inang mahal/Awit ng pag-ibig habang ako'y nasa duyan"

ADVERTISEMENT - CONTINUE READING BELOW

"Hawak Kamay" by Yeng Constantino

Another contemporary song that has a tender and moving message is Yeng Constantino's classic hit "Hawak Kamay," which talks of a promise to be there to help your loved one through the challenges of life.

Notable lyrics: "Hawak kamay/Di kita iiwan sa paglakbay/Dito sa mundong walang katiyakan"

What other parents are reading




Celebrate your pregnancy milestones!


Enter your details below and receive weekly email guides on your baby's weight and height in cute illustration of Filipino fruits. PLUS get helpful tips from experts, freebies and more!

You're almost there! Check your inbox.


We sent a verification email. Can't find it? Check your spam, junk, and promotions folder.

Trending in Summit Network